Feather tattoos: meaning and popular styles
Feather tattoos are popular among men and women of all ages.


The body images with feathers look aesthetically pleasing and have a special meaning that contributes to the popularity of the design.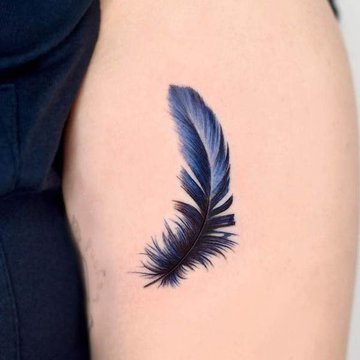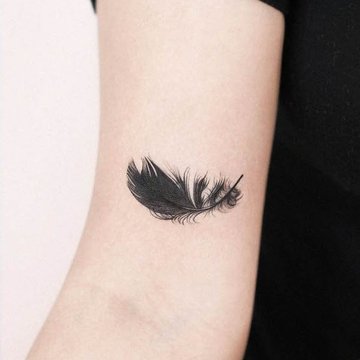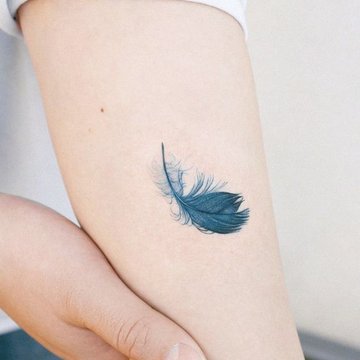 Feather tattoos: what do they symbolize?
American Indians used bird feathers in rituals and different ceremonies.


A feather means a connection with the spirit world. Some tribes have high social status. Chiefs wear feathers on their heads. In African and Asian cultures, it is a symbol of courage, luck and love. The feather tattoo indicates a desire to leave the problems behind, as birds shed feathers during seasonal shedding. Another interpretation is the transition from one phase of life to another. General meanings:


Loss and memory of beloved ones.

The desire to fly high and achieve extraneous goals.

Guardian angel, protection from trouble and evil spirits.

Spiritual development and self-improvement.

The ability to adapt to new circumstances and find solutions to problems.


Feather tattoos indicate freedom of spirit and independence, speed and persistence, lightness and balance of nature. Feather tattoo may have a new meaning depending on the color:


Black. It symbolizes sorrow and loss, respect and memory of beloved ones. Other meanings are determination, intransigence in the position, straightforwardness, idealism.

Brown. It is about comfort and stability, unity with nature, protection in travel.

White. It is a symbol of purity and chastity, peace and prosperity.

Red. It means energy and passion, fire, strength and sensual relationships. The red color of the feather indicates a person's desire to attract luck.

Blue. It symbolizes calm, balance, unity and order. People who get tattoos with blue feathers seek to achieve well-being and happiness in life.

Green. Meaning - spiritual growth, renewal and renovation.

Yellow. The symbol of joy and happiness, faith and hope.

Pink. It indicates the romance of nature. The body image reflects love, tenderness and care for beloved ones.


The reasons for tattooing feathers are aesthetic body decoration, an opportunity to show individuality. Such tattoos help to create a free and casual atmosphere by associating with the hippie culture. To personalize the tattoo, the artist adds certain elements and other details to the story.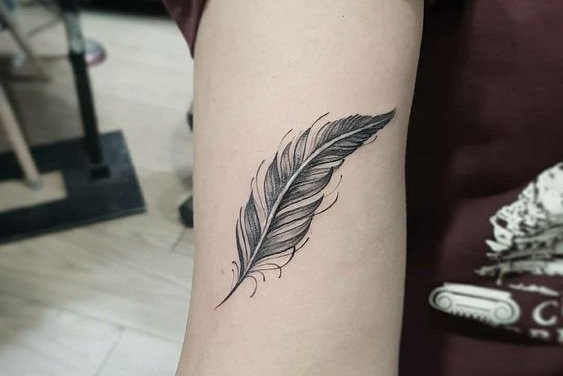 Types of feather tattoo sketches
Feather tattoos differ in style, color and size.


The usage of bright colors (yellow, red, orange pigments), gives the pattern brightness. Feathers of different birds have special features that also determine the appearance and meaning of the body image. Different designs:


Peacock feather. Bright feathers symbolize honor and dignity, pride and nobility. It is worth choosing the design to give the image of royal charm.

Eagle feather. It represents strength and independence, wisdom and leadership, self-sufficiency and self-confidence.

Turkey feather. Bird feathers feature a striped pattern that cannot be confused with another. The aesthetics of the drawing is complemented by symbolism. Indicates the variability of life, in which dark, rainy days are replaced by sunny weather. Other interpretations are eccentricity and emotionality, activity and persistence.

Phoenix feathers. It is associated with mysticism and revival, overcoming adversity and resilience, luck and well-being.

Owl feather. It represents wisdom and intelligence, knowledge and ability to make informed, serious decisions.

Cardinal feather. It means superior knowledge, intuition, the ability to foresee the future, freedom and independence.

Crow feather. It symbolizes wisdom and bravery, magical strength and protection from evil spirits.

Hawk feather. It represents agility and ingenuity, ability to plan and achieve goals.


A feather in the form of an arrow symbolizes impulse and speed, faithfulness to the chosen life path. The figure combined with the crown indicates power, loyalty, and strength. To personalize the tattoo, a master may add names, quotes, and other inscriptions or elements. A feather with a butterfly means easy and free flight, luck and benediction. Design with a rose indicates love and loyalty, successful romantic relationship.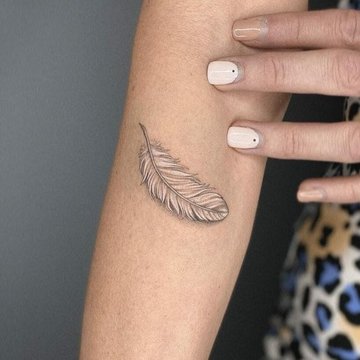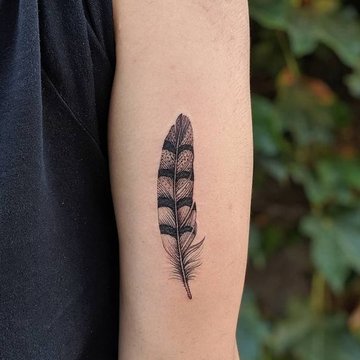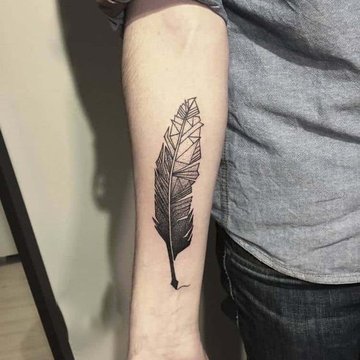 Different styles
Different styles are suitable for feather tattoo.


The choice depends on personal preferences. Tattoo abstraction or minimalism will be a graceful addition to the elegant body image, in the style of Neo traditional or New school – it might be a vivid accent. Popular Styles:


Traditional. Clean and clear contours are optimally great for large body images.

Watercolor. Aesthetic design that attracts attention and opens up wide prospects for creative experiments.

Tribal. The usage of elements of different shapes to create complex ornaments requires skill and professionalism. Conventional design, recreated on the body in this style, acquires a special flavor.

Realism. Designs that show all details and elements with photographic precision.


The feather tattoo looks good in any part of the body. This is ideal for a small drawing in the area of the wrist or it might cover the entire area of the shoulder. Multi-layered design looks impressive and spectacular.