What type of person gets
a swallow tattoo?
One of the most popular and interesting tattoo ideas is the swallow tattoo design.

This small bird will look aesthetically in any part of the body. This drawing has a deep meaning and significance. Who chooses it most often?
Girls and women prefer graceful small birds on the shoulde, wrists and hands. Romantic natures manifest their sensuality, tenderness, perception of the worlin such way. Successful will be combinations with flowers, clover, ribbons and a nautical theme. Here, such styles as minimalism, whip shading (black and white), dotwork, sketch, watercolor will become relevant.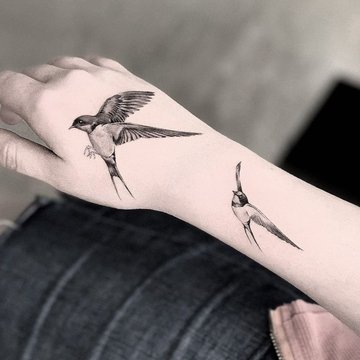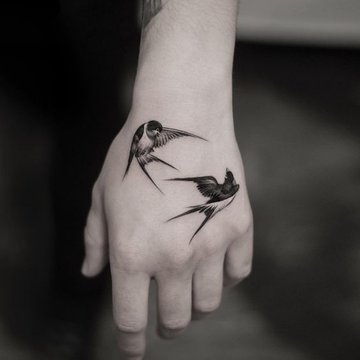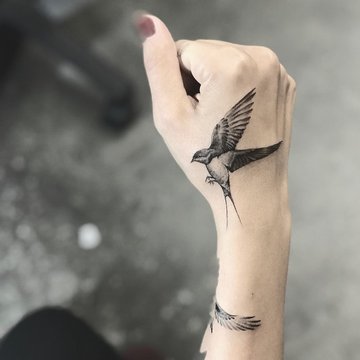 If the tattoo is performed in a classic old-school syle, it is the moment when it is made for a man.

Why? An expressive thick contour gives the bird power, strenth and authority. Swallow tattoo for a man looks great in a black color with the addition of red, blue, blue, green and yellow. The original sketch of the swallow tattoo will look super-cool with inscriptions, key to the castle, roses, heart and other images. Once you have already chosen the right option for yourself, feel free to go to a professional tattoo artist for a real masterpiece.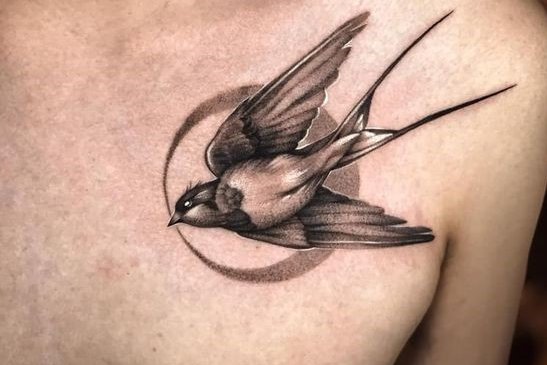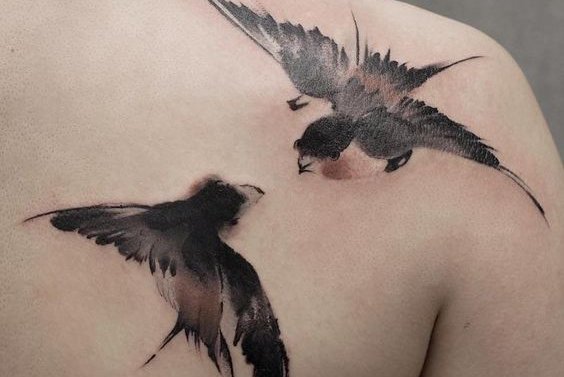 What does the swallow
tattoo symbolize?
Swallow tattoo design has an extremely positive meaning in different nations and nationalities.

The most interesting interpretations:


This bird is associated with beauty, youth, kindness.

Attracts creative ideas, inspiration.

It can mean freedom of thought and action, a passion for travel.

In ancient Greece, the bird was compared to the goddess Aphrodite and considered a sign of longevity, fertility, love and prosperity.

In China, the swallow signified the changes to come, and in Japan it is considered as a symbol of comfort and home.

The Slavs saw the bird and believed that good news was to be expected.


Today swallow tattoo is a favorite one among other pictures because it attracts by its beauty and sophistication. It's known as a good luck charm.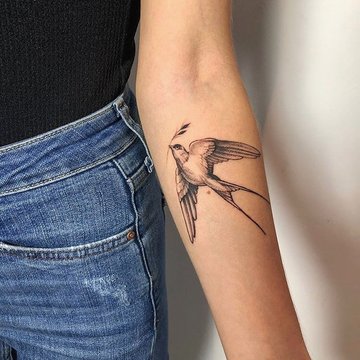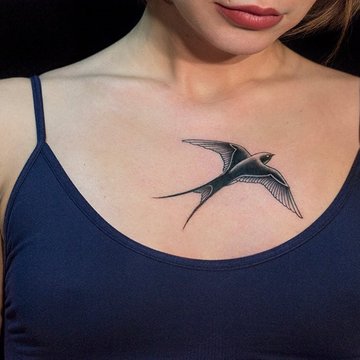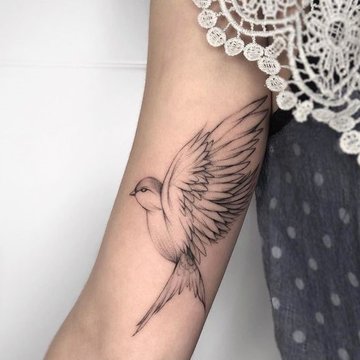 Best Styles
This tattoo will look great in any technique.

But the main thing here is semantic load. When choosing a style you should think about the meaning that is put into the picture. Men and women get a swallow in such styles as Oldschool, New School, Realism, Watercolor, Graphics, Traditional and others.
Swallow tattoo design will look harmonious with other birds or little chicks in the nest. It is often depicted on the fly, with its wings spread open. Popular is the drawing where the bird sits on a branch. Bright colors give the picture realism and effectiveness. Clear lines allow you to feel the realism of the image and enjoy the skill of the tattoo artist.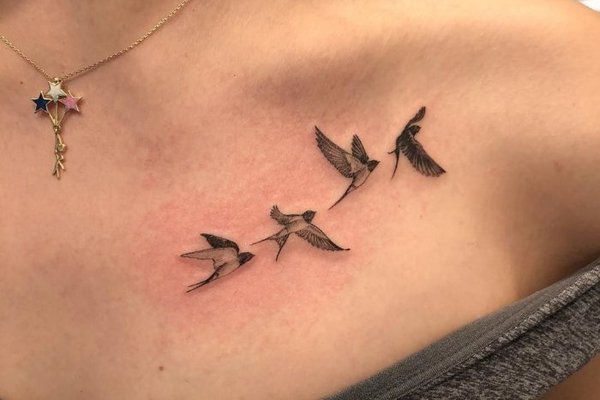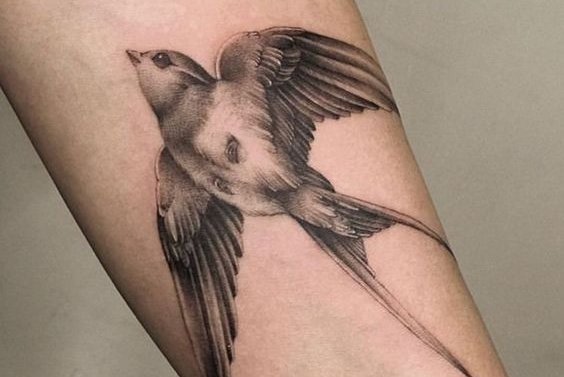 Where does
the swallow tattoo look great?
The answer is obvious - on any part of the body.

All because the picture is most often has a small size. Therefore, it can easily be got on the neck, shoulder, hand, ankle, ribs, shoulder or elsewhere. Women place a swallow tattoo on the clavicle, inner part of the hand, shoulder and neck.
Men prefer some other parts of the body: shoulder, forearm, back and chest.
If you need a quality, unique tattoo sketch - the ideal option will be a network of tattoo salons "VeAn". Professional tattoo artists work here. We use only first-class consumables and European equipment. Every client has a possibility to have a free consultation and the best conditions of cooperation. No pain or fear. Modern local anesthesia allows you to get rid of unpleasant symptoms. Makes the procedure as comfortable as possible. Come and see for yourself. Quality of work is guaranteed!