What does
a medusa tattoo symbolize?
Medusa are not among the most popular options among tattoo admirers, but still deserve our attention.

This mysterious creature attracts attention, provokes imagination, and is associated with calmness. In this article we will talk about the peculiarities, possible variations, and some of the most common medusa tattoo meanings.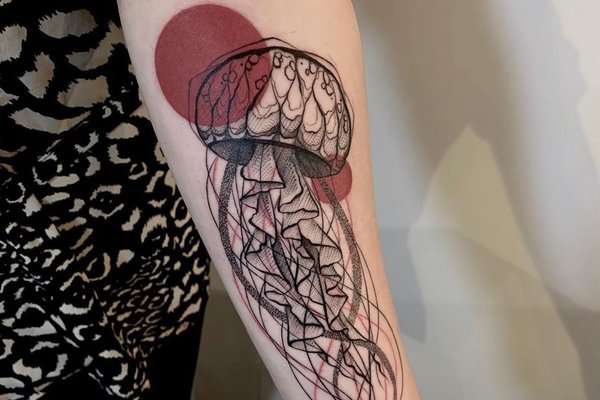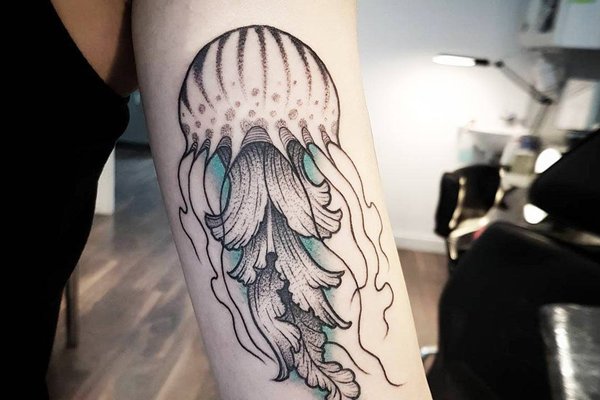 Medusa tattoo:
why do people choose it?
Medusa is an underwater animal that can be seen in seas and oceans.

This creature is peaceful, but only if it doesn't feel danger. Otherwise, it may use its stings to protect itself. Some medusa species are life-threatening to human lives and are better to avoid.
Isn't it strange that most people associate jellyfish with unpleasant shocks and water-like texture and still choose it for making tattoo sketches?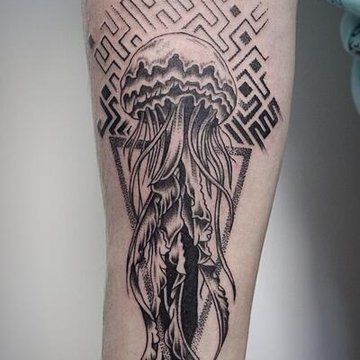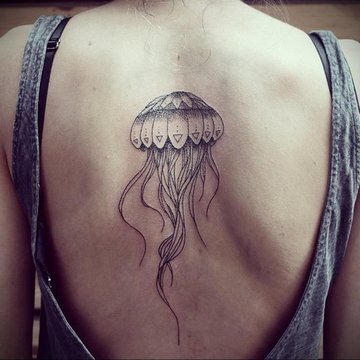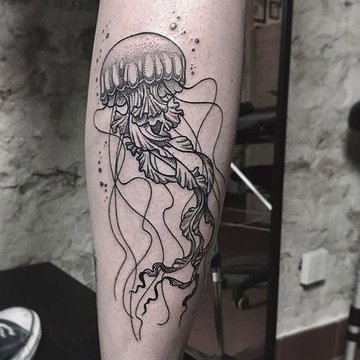 Reasons for
medusa tattoo popularity
Common associations: for many people, medusa symbolizes calmness and tranquility. This creature moves slowly and gracefully. And since medusae are so unusual, they are believed to be magnificent and even mysterious animals;

Sketches variety: medusa tattoos can be made in a range of styles, colors, and sizes. Because of this, people tend to experiment with sketches and apply their creativity at full;

Tattoo locations: you can get medusa illustrations at any part of your body. The tentacles of this creature allow you to place the tattoo at any angle and combine it with other body illustrations.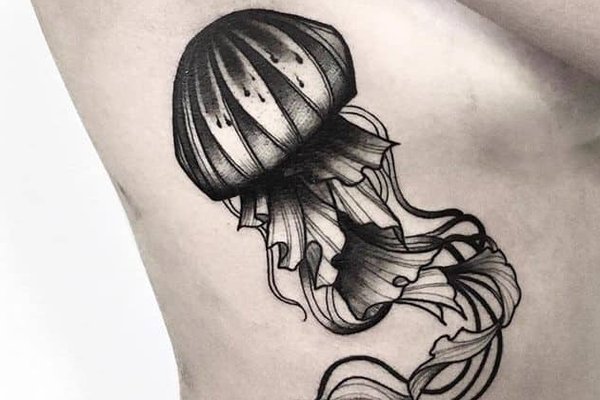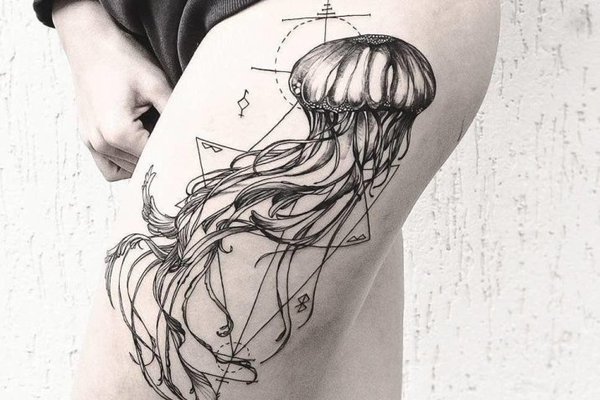 The most
popular medusa tattoo meaning
As mentioned, medusa tattoos can have various definitions.

Anyway, below you will find, some of the most widely spread associations with medusae:


Tranquility: The life of the medusa itself can't be associated with the hustle and bustle. These creatures are very quiet and slow. Instead of being in a hurry, they follow the water flow. The medusa tattoos owners usually doesn't tolerate fuss, and want to live calm and stress-free life;

Hidden danger: Despite its beauty, medusa is very dangerous. Sometimes tattoo admirers choose medusa sketches to emphasize their originality and extraordinary nature;

Elegance: Anyone who has seen medusae in motion cannot deny the fact that these creatures look very elegant and gentle. For that reason, some medusa tattoos associated with grace and outstanding beauty;

Beginning of something new: As you may know, medusae can regenerate and replace almost all their cells. Therefore, tattoos with this creature can serve as a symbol of faith in eternal life or reincarnation;

Individuality: Medusa is considered to be not a very communicative creature. They usually don't take part in fights with other underwater inhabitants and prefer to live a relatively secluded life. It makes a medusa tattoo a perfect symbol for introverts and those who value their inner peace.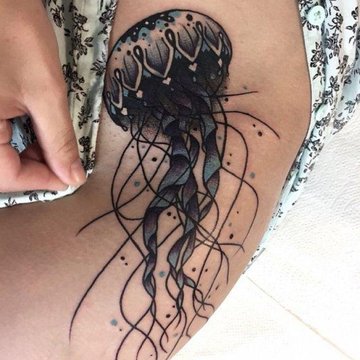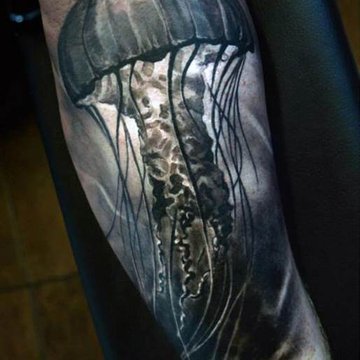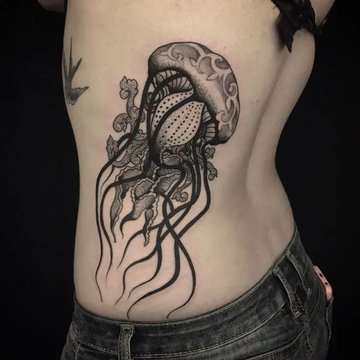 Medusa tattoo locations
As mentioned, there are no strictly defined locations for medusa tattoos.

Some people believe that this creature has magic powers and make such tattoos as an amulet. In such cases tattoo admirers prefer hidden body areas like hips, ribs, back, etc. On the other hand, some people make tattoos just because they look visually attractive. So, they make medusa tattoos on the visible parts of the body.
Among popular medusa tattoo locations:


Forehand: it is a popular body part for tattooing this animal when people opt for creative sketches. In such a way people want their tattoo to be in the center of attention;

Hands: medusa are frequently used as elements for tattoo sleeves. They may be done in various colors, styles, and sizes;

Thighs: this part of the body is especially popular among women. They usually choose a medusa tattoo to underline their natural beauty.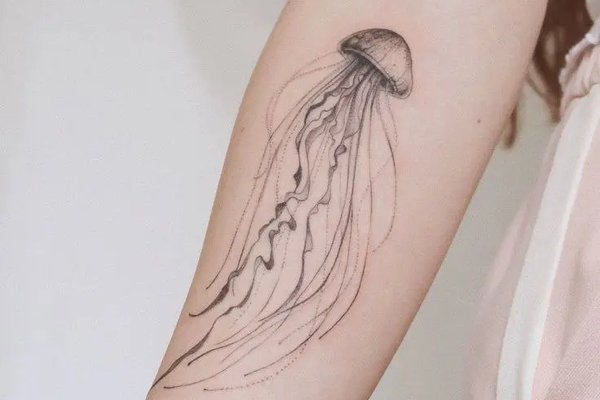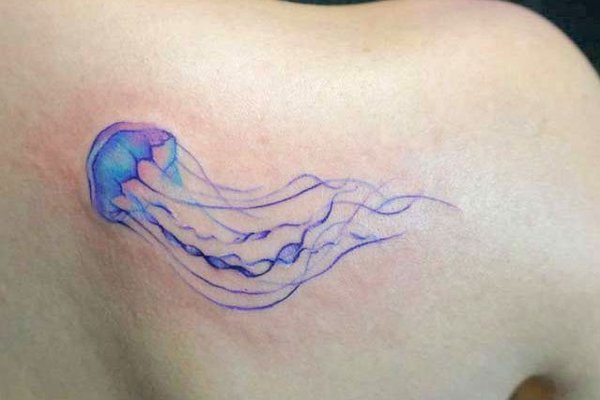 Interesting
medusa tattoo ideas
If you are thinking about getting a medusa tattoo, consider the following options:


Abstract medusa tattoo:

a good tattoo variant for those who like to attract attention and to stand out from the crowd;

Tattoo with angry medusa:

if you prefer brutal tattoos, this option is for you. Such tattoos are especially popular among rock fans.

Medusa tattoo with flowers:

a perfect way to add visually attractive elements to your skin. Such tattoos are associated with beauty, grace, and femininity.