What does a
mandala tattoo symbolize?
Mandala tattoos originated from Eastern cultures and nowadays, they are popular all around the world.

It is believed to be one of the most symbolic and at the same time serious body illustrations, since they may convey very powerful meaning.
Mandala is a tattoo usually done in the form of a circle with various geometric elements from outer and inner sides. If you are looking for an effective amulet, a mandala tattoo will be a great option. In this article, we will consider all you need to know before getting such a body illustration. So, here we go!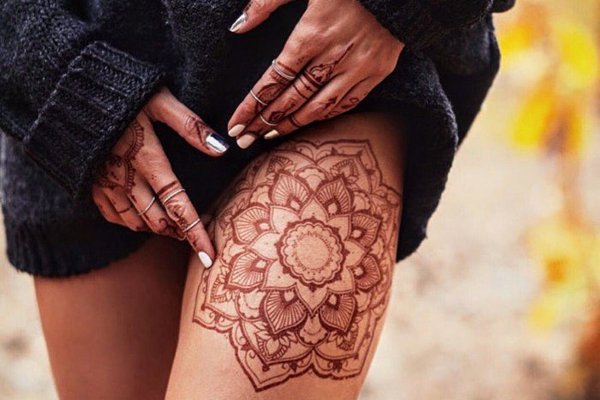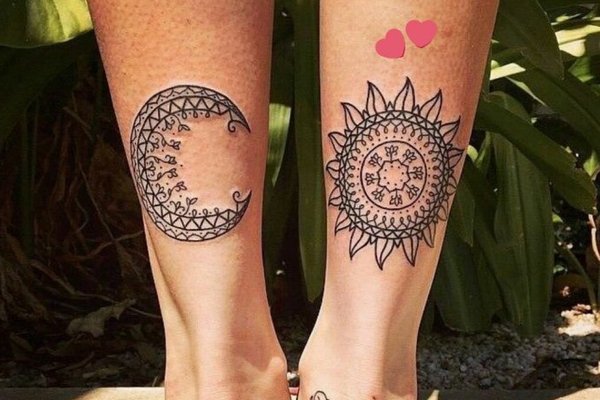 Why is mandala tattooing
so popular?
The main reason for mandala tattoo popularity lies in its history.

This symbol was widely used in teachings of Hinduism and Buddhism cultures and was associated with harmony. For that reason, mandalas can be seen in meditation and prayer rooms even today. People believed that this symbol protects its owner and helps to find appropriate life balance.
Today, people actively use mandalas for tattoo scratches. These illustrations leave space for imagination and allow you to impart any meaning you want. Deep symbolism, visual attractiveness, and believed sacral power are the main reasons why people choose mandala tattoos.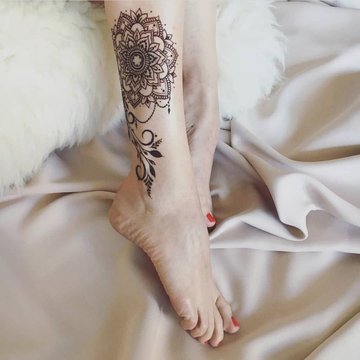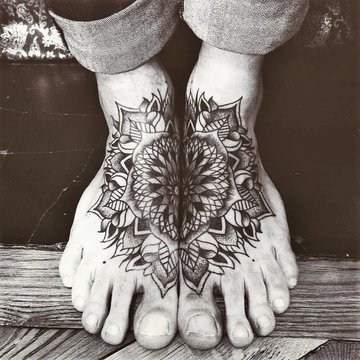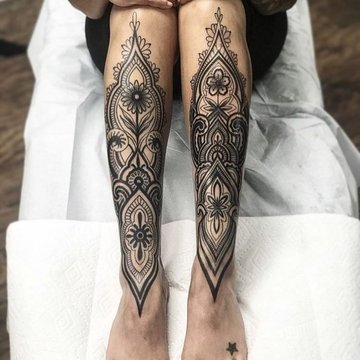 The most popular
mandala tattoo locations
There are different mandala tattoo variations that can be adopted to any part of the body.

However, there are some places that are especially popular among men and women for making such body marks:


Thigh:

it is one of the most popular mandala tattoo locations among women. A tattoo made on a thigh is usually seen only by the nearest, and acquires special meaning for its owner;

Neck: mandala tattoo on the neck looks very impressive. However, it is better to make such tattoos on the back of the neck. In such a way it will be hidden from public view or covered with hair but create a strong connection between you, your consciousness, and the spiritual world;

Forearm:

mandala tattoos on forearms are usually massive and stylistically complicated. They usually serve as a stylish element of personal image;

Hand: mandala tattoos always look very attractive on hands. They attract the attention of other people and serve as a reminder of the tattoo owner's self-promises.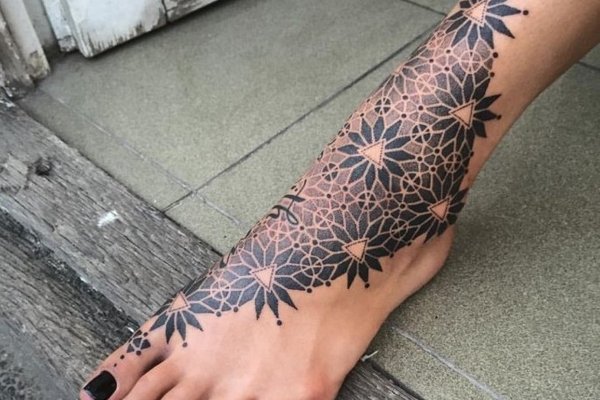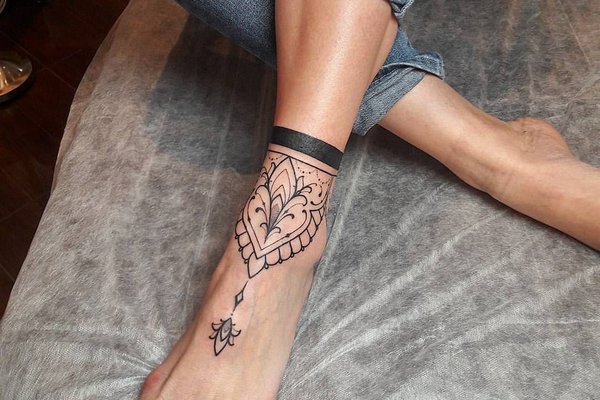 Mandala tattoo meaning
As mentioned, mandala tattoos have powerful meanings that may differ considerably depending on the tattoo color, geometry and size.


Possible mandala tattoo meanings in terms of applied figures:


Round and oval shapes

– symbolize integrity, personality. Such a tattoo protects its owner from negativity coming from the outside;

Squares and triangles

– show the ability to show feelings and emotions. Depending on elements, such mandala tattoos can indicate both a closed personality, and the ones who are frequently hit by a storm of emotions;

Spirals

– may indicate that a person is in a continuous process of spiritual development;

Hearts

– symbolize love: internal - to oneself and external - unconditional, to the environment and the world as a whole.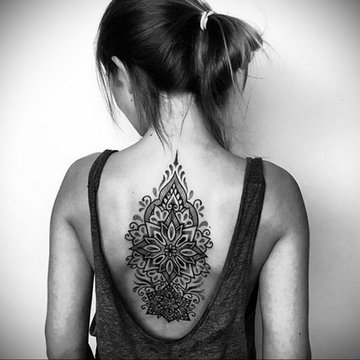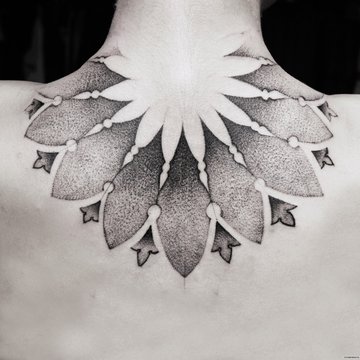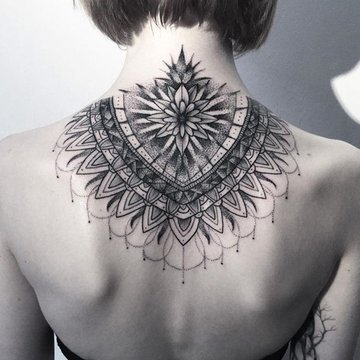 Mandala tattoos for men
Among distinctive features of mandala men tattoos may be the patterns strictness, black colors, and larger sizes.

Men prefer to place such tattoos on their calves, forearms, back, nape, neck, and ink them as sleeve elements. Among popular tattoo elements may be found starts, since they are associated with masculine energy.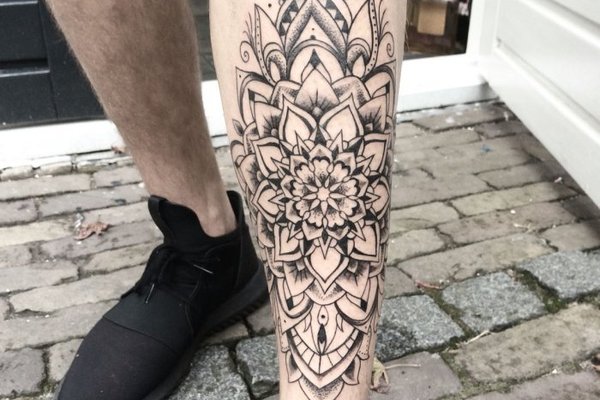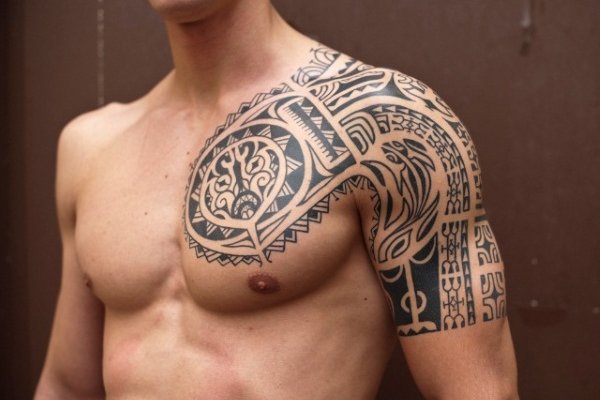 Mandala tattoos for women
Women's mandala tattoos usually have many floral patterns, complicated geometrical figures, and curled edges.

Such tattoos are frequently performed in a range of colors, and may be found at any part of the body. Among the most popular mandala tattoo locations for women are hips, solar plexus area, and hands.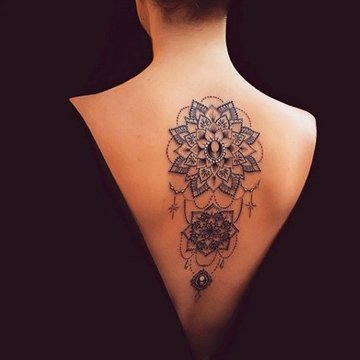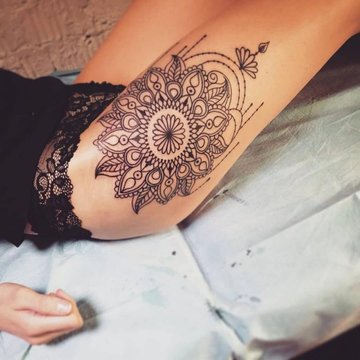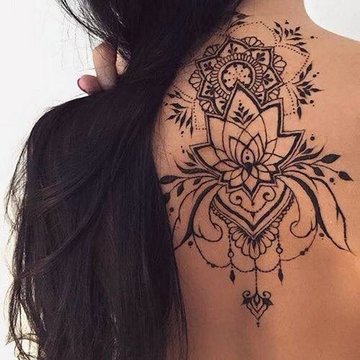 Interesting
mandala tattoo ideas
Mandala tattoos can be done in various ways.

You can surf the Internet to find interesting sketches or learn the definition of different mandala elements and create your own and unique body illustration. If you haven't found an option for you, you can consider the variations below:


Geometric mandala tattoo: such a body decoration is associated with balance, eternity, and perfection;

Lotus mandala tattoo:

it will always remind you of the necessity to maintain the purity of your thoughts and deeds;

Mandala tattoo with sun and moon:

symbolizes strong connection with the ancestors;

Tiny mandala tattoo: may become an elegant body decoration and a powerful amulet hidden from the eyes of your enemies.