What does
the dandelion tattoo mean?
Beautiful, graceful, translucent, weightless, fragile.

All this can be said about the dandelion tattoo sketch. There is no single meaning of this drawing. After all, each individual composition has its own meaning. Yet, the image resembles childhood, carelessness and lightness. Often used to denote the transience of life and time. It can symbolize experience and feelings.
This body pattern is chosen by girls and boys, showing love, joy, gratitude. At the same time it can testify about suffering, sorrow, sadness. Tattoo with dandelions can be found on the body of travelers and people who stubbornly go through life, overcoming obstacles. Each person gives the image his or her own meaning, manifesting their own creativity, showing the world view, extraordinary thinking. And in all cases it looks beautiful, fascinating with its magic, ease. Often, masters and clients choose monotony. But it happens that the drawing is shown bright, unusual, eye-catching. In any case, it looks stylish, fits all age categories.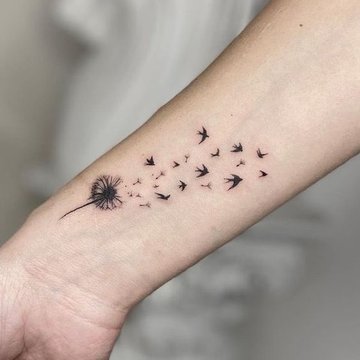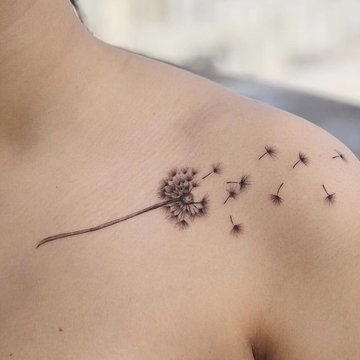 Origin of the symbol
Today, one in two people associates dandelion with a plant that is not of great value.

Yet in ancient times it was famous for healing properties that were able to save human life. Christians compared it to the torments of Christ, the Son of God. After all, the plant tasted bitter, reminiscent of suffering, pain, sorrow. In England, it was believed that the plant was able to implement any desire. It is enough to think about them and slightly blow on the flower. Its seeds fly to the wind, and the thought of the intended goes to the universe.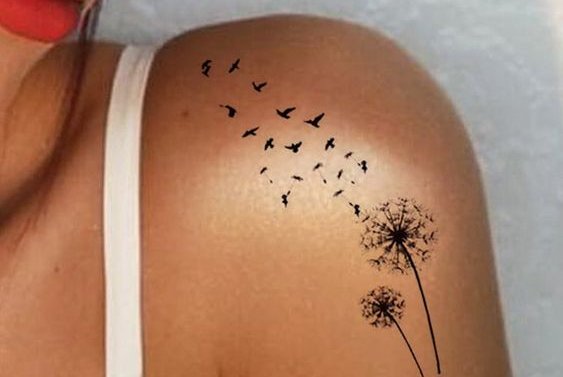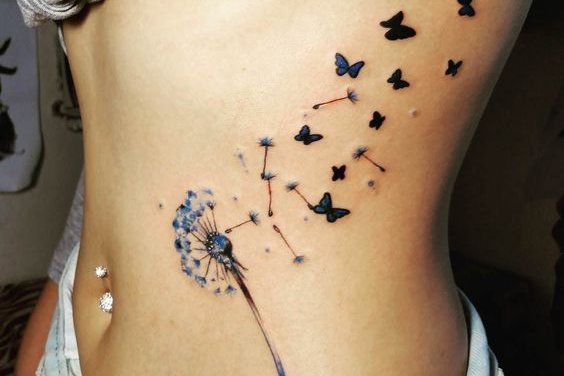 Interesting ideas
for a tattoo
A Dandelion tattoo sketch can be presented in the most unusual way.

Made in a mini format or big one. It can be made in the right color. For fans of minimalism - the picture black and white is available. Complement flowers, birds, animals, patterns, inscriptions. What to choose? The most popular and interesting sketches you can see below:


Dandelion in black and white, which flies in the wind - symbolizes the course of life, deep, spiritual experiences, sadness and sorrow. But also the attachment to travel, movement. Optimistic attitude, regardless of the situation. Endurance and ability to survive in any conditions.

With birds - means a desire to be free, independent.

In combination with quotations - speaks about the specific meaning that is embedded in words.

Contrasting pictures of a young flower and a dandelion that sheds seeds - shows a parallel between youth and old age, life and death.

When combined with cartoon characters, fairies, and children, it will be a sign of pleasant memories, thrilling feelings.


Dandelion tattoos are most often performed in minimalist style, using black pigment. But if you show imagination, the picture will play in a new way. It will attract attention, will raise the mood, will be remembered for its originality, style, technique of execution. Thanks to the experience of the master, it will become a real decoration for years.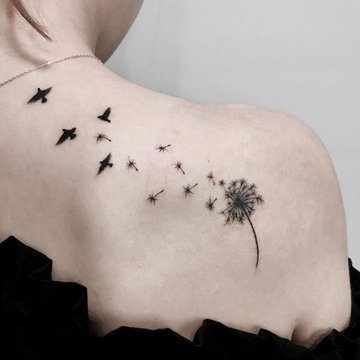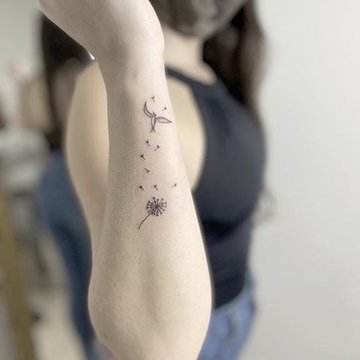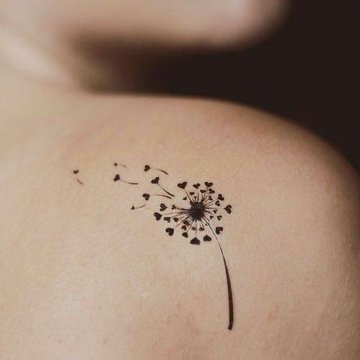 How to find
the perfect place for a tattoo?
After a certain sketch of the dandelion tattoo was chosen, it is necessary to determine its size, the placement on the body.

What's the perfect place?


Men prefer areas such as the inside of the hand, shoulder, back, chest, foot.

On a woman's body, a dandelion looks elegantly on the neck, near the ears, shoulder, collar, ribs, thigh.


Women tend to show the beauty of the picture to others. Men on the contrary, often hide it under clothes.
If you need a quality, a unique dandelion tattoo sketch for men and women - VeAn Tattoo specialists will help you to choose the perfect option. We do our work quickly, with maximum comfort and pleasure.