Meaning
of cross tattoos
The cross had its meaning in different religions and cultures.

It was often associated with the herald of happiness, God's blessing. They thought they were protected against evil and bad people with the help of a cross. At the same time in the Christian religion Jesus was crucified on the cross, therefore the image is a symbol of faith, spirituality, torment for good.
Today, the cross tattoo design is chosen by men and women of all ages. Inscriptions, ornaments, flowers, heart, wings and other elements are added to the drawing. The drawing acquires a new meaning and can mean power, strenth, faith, memory of the beloved one, rebirth, suffering, love through pain and loss. The body symbol has many variants. It is only necessary to choose a suitable one, so that this body art can please the owner with its beauty every new day.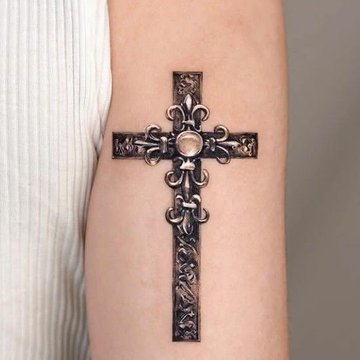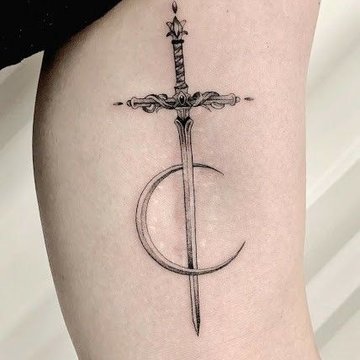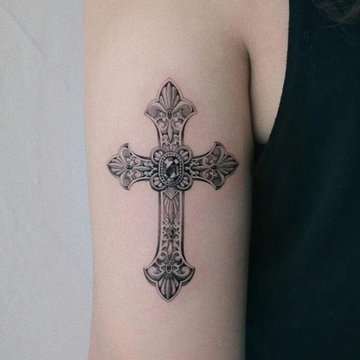 Which cross
tattoo to choose?
Ankh (originating from Ancient Egypt) - in the upper part has a ring, is a charm, symbolizes wisdom and immortality.

Celtic - such a cross is placed in a circle, with many patterns and lines. Represents the sun, shows the cycle of life, attracts luck.

Latin or Orthodox - a crossbar, a classic variant, which means earthly life and attitude to Christianity. Become a sign of courage, honor, kindness and justice.

Greek - has an equal aspect ratio. The image was associated with the sun god, and today he is a medical symbol (red cross).

Maltese - more of a Catholic faith, has 8 angles and is a symbol of mercy, innocence, courage and spiritual purity.

Tau Cross - in form resembles the letter T, popular in Europe, is considered a death guard.


It should be noted that any sketch of the cross tattoo can be supplemented with the necessary elements. It is carried out in a certain size - large and miniature format. In bright colors or monotone color. The client may choose any variant.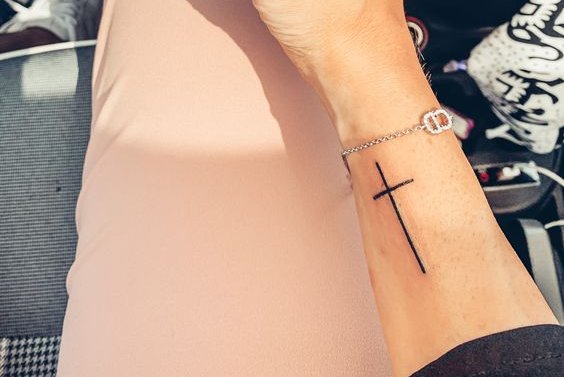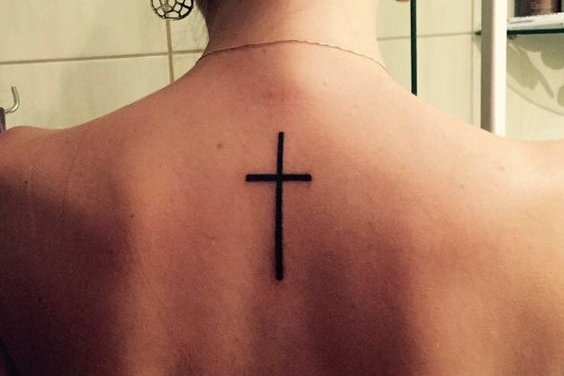 Best place
to get a tattoo
Before you discuss possible place for a tattoo with the master, it is worth to determine some parameters for yourself.

It is important to choose what size will be the picture, what threshold of sensitivity in a person (perhaps you should choose a less painful place), whether it is necessary to expose tattoo to the public.
Most often tattoo with the cross is placed in such places:


On the inside part of the hand, on the wrist - will become a real protection from unhappiness, will emphasize the individuality of a man/ a woman .

On the back - here we may create real paintings, masterpieces, whole compositions, because there is plenty of space for such an idea. The classic variant is the crucifixion of Jesus, which shows the deep faith, the search for its own purpose. Also sketches with wings, human image, decorations are in demand.

On the chest - any tattoo in this place means humility, love for God.

On the shoulder - here are actual options with roses, hearts, ribbons, inscriptions. Popularity of color compositions in different styles.

On the neck, behind the ear, between the shoulders - in these places it is appropriate to apply the cross tattoo sketch in the minimalist style. Clear lines, miniature size, monotony - all this looks neat and tasteful.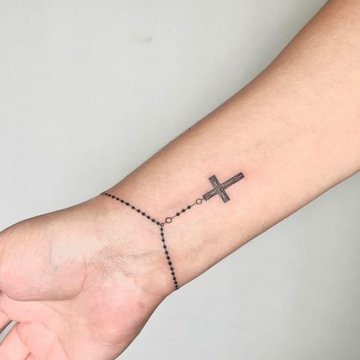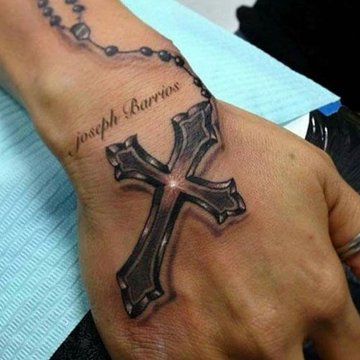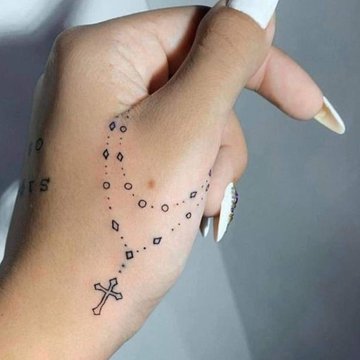 Best variants
for men and women
Cross tattoo for men is seen as a symbol of courage, honesty, adherence to principles.

So, they try to put the body image on display, showing their charisma, their individuality. Choose large-format drawings, with a predominance of dark shades. Often men put a special meaning in such tattoos. So, they can look very realistic and effective. Ideal places on the body for men - back, shoulder, leg.
Women get a cross tattoo sketch on their hand to confirm their inner strength, tenacity and spiritual development. Women eant to have a bracelet on the wrist to emphasize their femininity and tenderness. It is possible to add inscriptions to specify the meaning. You put in an idea that reflects character traits.
Do you want to reach your potential through a tattoo? Then sign up for VeAn Tattoo, where a lot of great sketch ideas, professional tattoo artists and the best service. First consultation is free of charge!