What does
a butterfly tattoo symbolize?
Butterflies tattoo is one of the most popular options when talking about body illustrations.

Butterflies are usually associated with pleasant feelings, nature, and deep symbolism. And since such tattoos can be made in various colors, they are especially popular among women. But what do we really know about butterfly tattoos? What do they mean and where can they be located? The answers to these and related questions you will find below.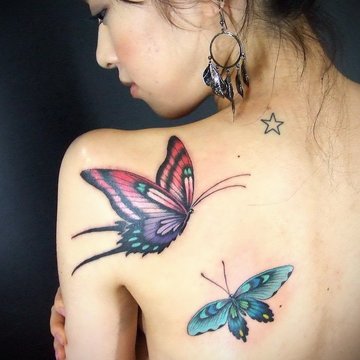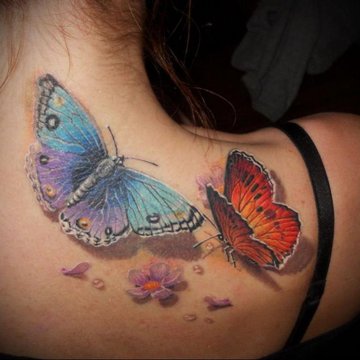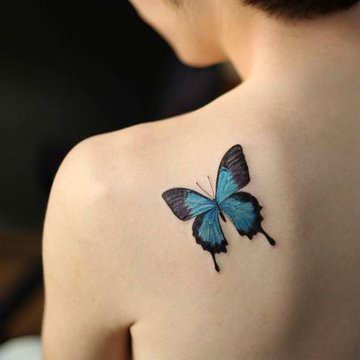 Butterflies tattoo:
reasons for the popularity
Butterflies are not only popular among devoted tattoo admirers but also frequently used for making the first tattoo.

What are the reasons:


Sketches variety: in nature we can find various butterfly species. They differ in size, color, place of living, and even life expectancy. It allows you to work out a creative sketch in any stylistics;

Wide choice of tattoo locations: butterflies look good at any part of the body. Some people even place them at the inner part of the ear or between the fingers. But among the most popular butterfly tattoo locations are neck, ribs, ankles, and wrists.

Visual attractiveness: butterfly tattoos are extremely popular among women for their beauty. Such tattoos are usually associated with tenderness, grace, and femininity;

Combination with other elements: you can get a butterfly tattoo alone or place this magnificent insect on flowers, inscriptions, or any other compositions.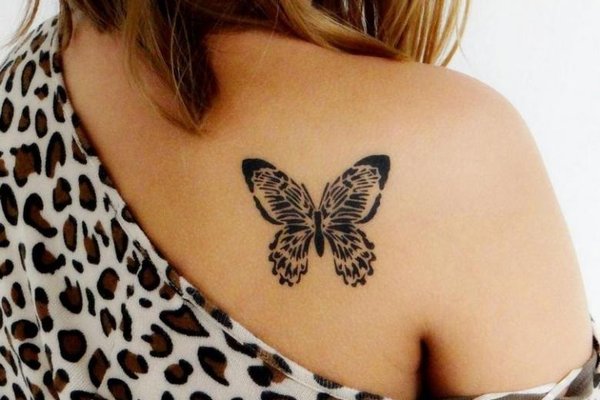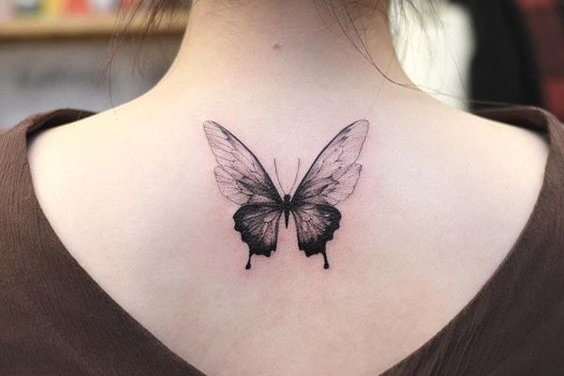 Butterflies tattoo meaning
There are no bad interpretations of butterfly symbols.

In all cultures, this insect is associated with freedom, beauty, and spirituality. What's more, butterflies are a symbol of reincarnation, rebirth, and new life. For that reason, people often get butterfly tattoos to mark the beginning of new life.
Did you think about the evolution stages of this insect? At first, it exists in the form of a caterpillar, then transforms into a cocoon. During this process, it can hardly be called a cute or beautiful creature. However, after a while, a cocoon becomes a butterfly – a colorful and eye-catching insect.
Because of this phenomenon, butterfly tattoos usually have metaphoric meanings:


In Germany, butterfly is a symbol of a new life;

In some cultures, this insect is believed to be a spirit of a dead person who has returned to Earth;

Butterflies are frequently associated with magic powers, so previously such tattoos were worn by witches.


However, modern tattoo artists consider this insect as a symbol of freedom, beauty, and sensuality. What's more, since butterflies are visually attractive, some people make tattoos with them just to get an interesting body decoration. Yes, not all tattoo admirers like deep senses, some of them are just having fun and adding interesting elements to their images!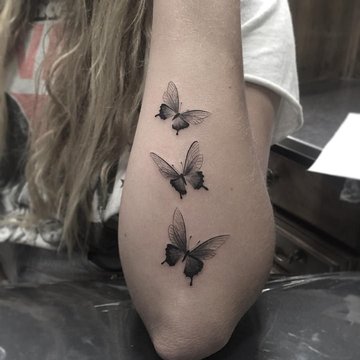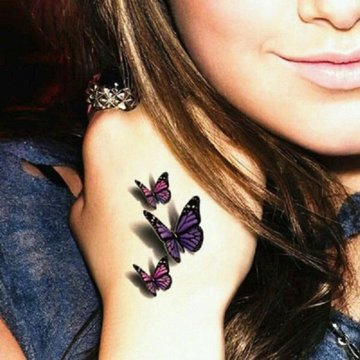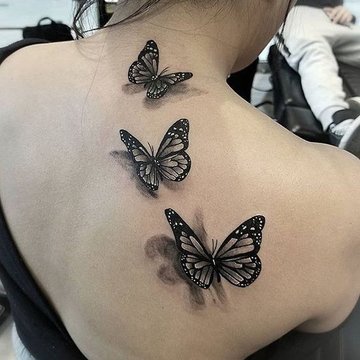 Butterfly tattoos
for women
As mentioned, butterfly tattoos are more common for women.

Colorful sketches of middle sizes with additional elements are viral among this target audience. In such a way, women emphasize their femininity and attract the attention of other people.
They usually place butterfly tattoos on the lower part of the back and abdomen, wrists and shoulders, feet, shoulder blades, arms, legs, neck, etc. In any case, this tattoo looks good at any location.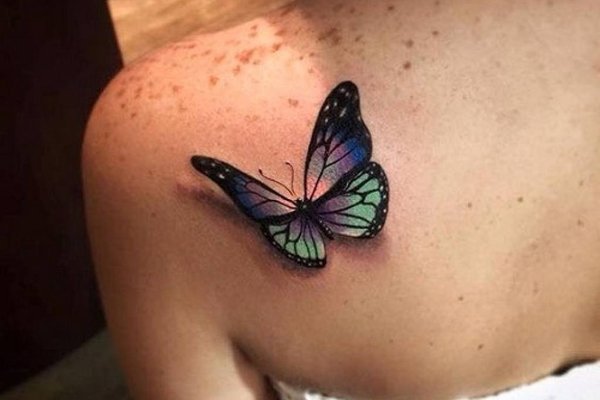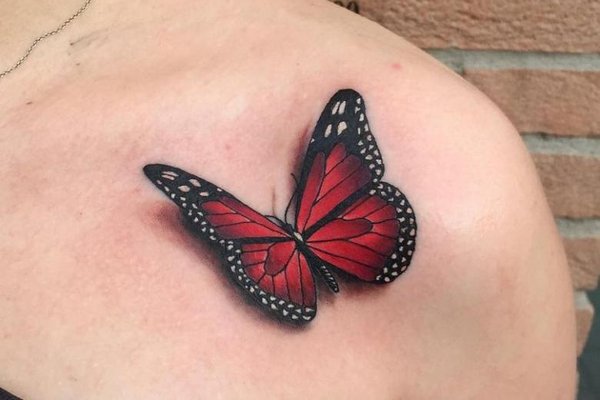 Butterfly tattoos
for men
Butterflies should not be considered an exclusively female symbol.

Tattoos with this insect can also be found among men. However, they usually opt for more brutal sketches. To make it possible men apply black, dark green and red colors, prefer large sizes, and add various elements.
And while women combine butterflies with flowers and other insects, men prefer skulls, swords, and even barbed wire. Butterfly tattoos are also made in memory of a deceased love.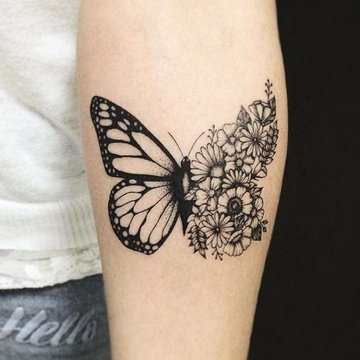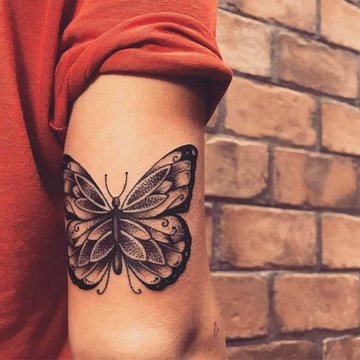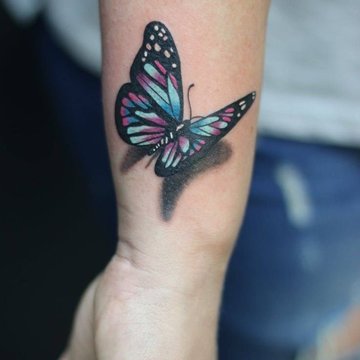 Butterfly tattoos may have various meanings, but in most cases, they are associated with rebirth and the beginning of new life.

These tattoos allow you to choose any location, color, and size. You can experiment with style, use additional elements, and work out unique sketches. All you need to do is to listen to yourself and make a tattoo that corresponds to your inner self.