Virgo tattoo tutorial
People born between August 23 and September 22 belong to the Virgo zodiac sign.

The character and life of Virgos are ruled by the Earth element and the Red Planet – Mercury.
This is one of the most far-sighted Zodiac signs. Among the most distinguishing Virgo character traits are the following:


Endurance;

Caution;

Mistrust;

Punctuality;

Attentiveness,

Reliability.


Virgos are realists. They are not afraid to take responsibility, know how to earn money and become successful. The values of Virgos often do not coincide with the values of most people. Among the most important things for them are: order, stability, and family.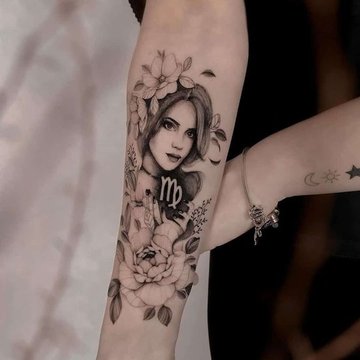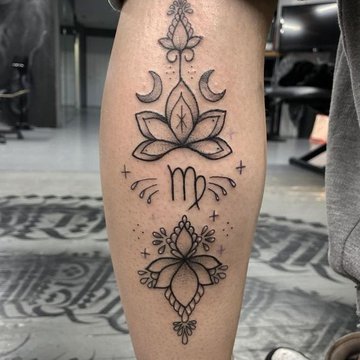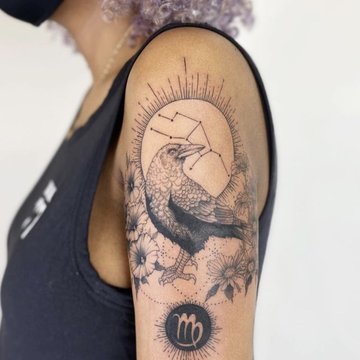 Virgo tattoo
peculiarities and meanings
Since Virgos are very attentive and meticulous, they usually pay great attention to their tattoos and rarely get them on a whim.

The representatives of this sign usually view tattoos not only as a body decoration but as a powerful symbol.
Among the most commonly used elements for Virgo tattoo sketches are:
Virgin:

Virgo is usually associated with the woman carrying a sheaf of wheat that symbolizes wisdom and well-being;

Glyph:

A Latin "M" with a specific tail is a Virgin symbol that is frequently used for tattoos. This glyph marks water and is associated with the beginning of everything alive;

Constellation:

The Virgin constellation is the biggest among all zodiac signs. Astrologers believe that it influences the character of the sign representatives and makes them calm and conscious;

Angel:

A virgin in the form of an angel with wings symbolizes deep spirituality, purity, modesty, and harmony. Such tattoos usually choose people who want to develop these traits.
Virgins are also a symbol of virginity, innocence and chastity. For that reason, girls often choose such tattoos to show the positive traits they have or want to develop. Like other zodiac symbols, a Virgo tattoo can bring luck and success to its owner. This tattoo can also help you develop intuition and make the right life choices. In addition, an original Virgo sketch will also allow you to become more mysterious.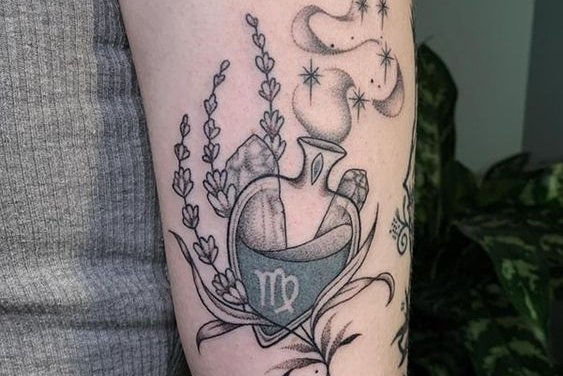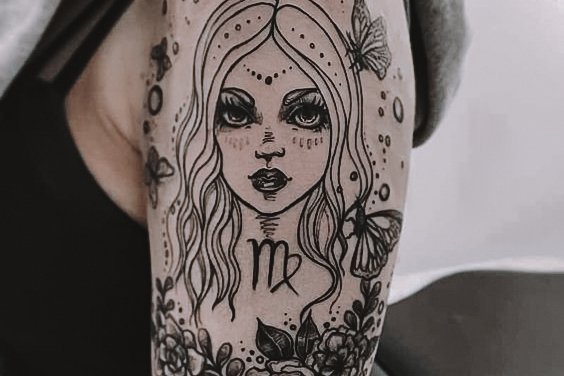 The best Virgo
tattoo locations and variations
Since Virgo symbols differ in size and style considerably, there are many locations for getting a zodiac tattoo depending on the chosen sketch.

Specialists say that the waist and ribs are perfect for tattooing the Virgo glyph. Such a tattoo can help in setting good relations with other people and will serve as a powerful amulet for its owner.
Among other popular options for getting a Virgo glyph tattoo are:


Neck Virgo tattoo;

Wrist Virgo tattoo;

Ankle Virgo tattoo;

Finger Virgo tattoos.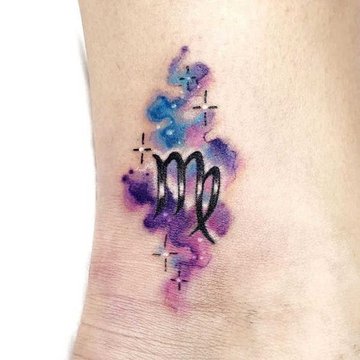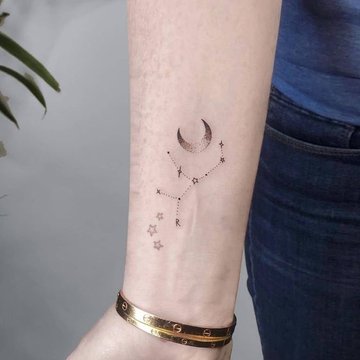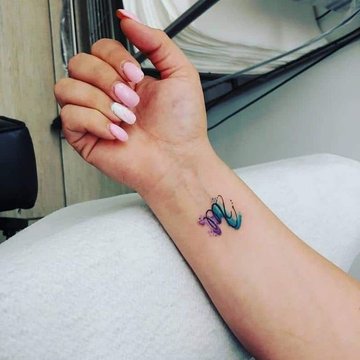 At the same time, if you dream about the image of a virgin or an angel, it is better to choose parts of your body that are suitable for massive tattoos.

For example:


Back Virgo tattoo;

Chest Virgo tattoo;

Forearm Virgo tattoo.


These parts of the body allow you to combine traditional Virgo symbols with other elements, experiment with colours and styles.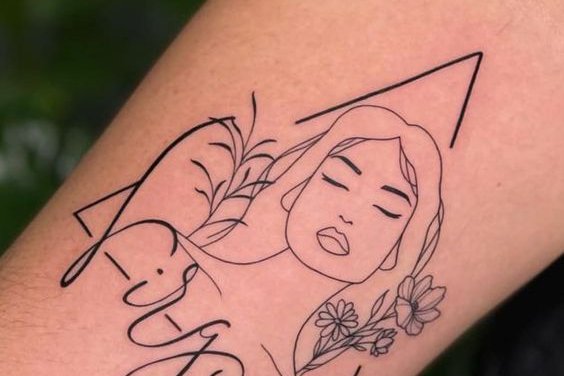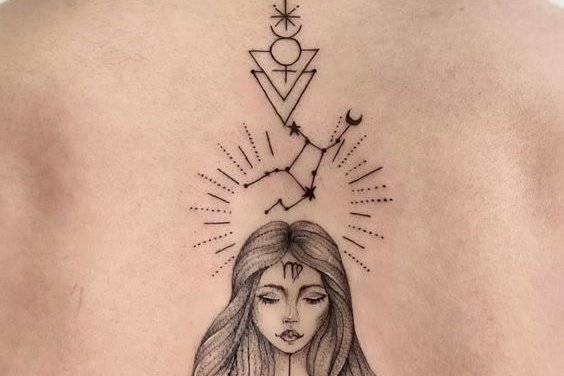 To make your Virgo sketch unique, you can add:


Numbers 14, 3, and 5: They can enhance the magical effect of a tattoo on a person's life;

The Moon or Mercury: These elements will boost the protective facilities of your tattoo;

Snowdrops, walnut trees, wheat: They are believed to attract luck and success;

Latin zodiac-related inscriptions: Such elements are usually used to add special meaning to a tattoo.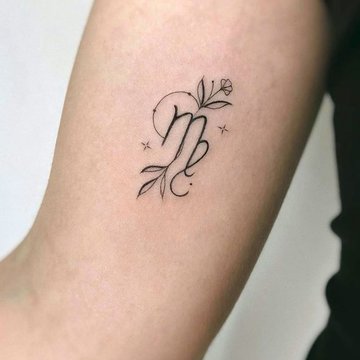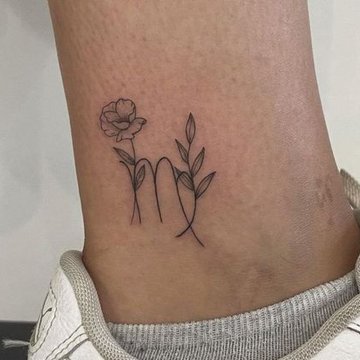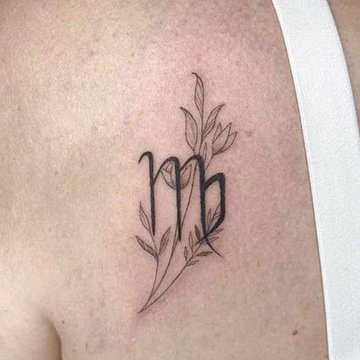 Virgo tattoo peculiarities
In most cases, Virgo tattoos are black colored.

However, astrologers recommend adding silver, green, and colour since they are believed to be favorable colors for Virgos.
If you plan to get the zodiac tattoo, it is better to choose a sketch with a full-color bleed, not just colored outlines. It is believed that the painted version is better for turning your tattoo into an amulet.
It is better to choose a tattoo style in close cooperation with the chosen tattoo artist. However, among the most popular techniques for Virgo sketches are:


Minimalism;

Graphics;

Linework;

Watercolor.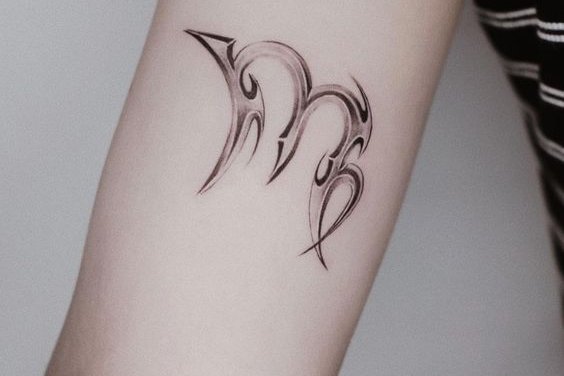 Drawing the line
Virgo tattoos may look various and have different meanings.

If you want your tattoo sketch to be more than just an appealing picture, read about Virgo symbols and analyze their connotations. If you can't manage it by yourself, ask for help from a tattoo artist or search Pinterest for inspiration.