Underboob Tattoo
Designs for Women
With the help of a tattoo under the sternum, a girl can emphasize femininity.

On this part of the body, the drawing can be easily hidden from prying eyes, which is an undeniable advantage for women who do not want to attract close attention to them.
Women, who are applying tattoos under the breasts, are most often guided by the following reasons:


Tattoo can be easily hidden under clothing.

The choice of designs is quite extensive. Under boob, both a miniature blackwork tattoo and a large realistic tattoo with many small details will look good. In addition, you can fill a pattern that goes down over the body

Tattoo can advantageously highlight shape of the breasts.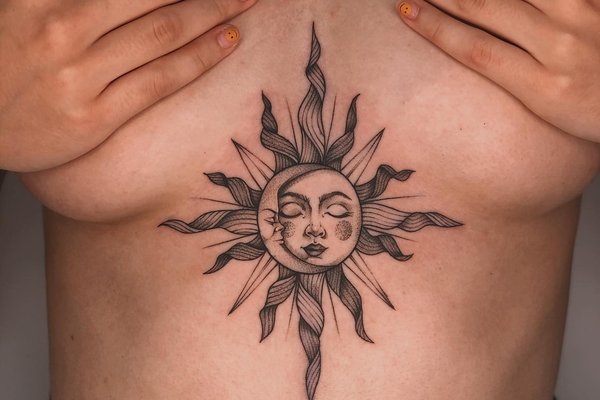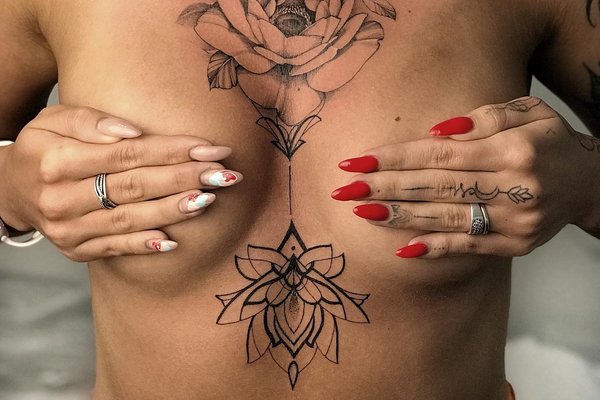 Under boob Tattoo
Ideas for Women
Images of flowers and birds are popular around females, as well as various ornaments and inscriptions.

As for the styles and colors of the tattoo, it depends on cooperation between client's desire and artist's experience.
Ornaments

Varieties of ornaments are placed between the breasts. Such designs are usually big. Ornaments are placed directly under the breasts. The tattoo successfully highlights breast shape. You can place ornaments not only in the center, but also on the side of the chest. Ornaments are often complemented by other elements like precious stones.

Inscriptions

Inscriptions look good on almost any part of the body, and the area on the side of the breasts is no exception. The font and size of the tattoo are better to choose with you artist, because she/he would tell all effects from their experience.

Birds

The tattoo of small flying birds symbolizes simplicity and love of freedom. Such a tat made in the blackwork style will harmoniously look on the side under the breast. A large image of an owl looks beautiful under the sternum. This bird symbolizes prudence and wisdom. The most impressive tattoos are birds with spread wings, which beautifully frame the female breast.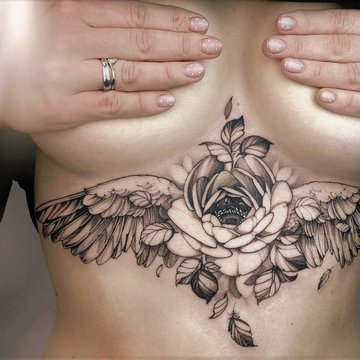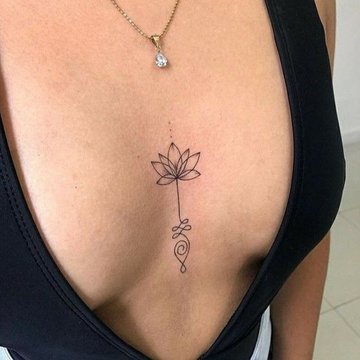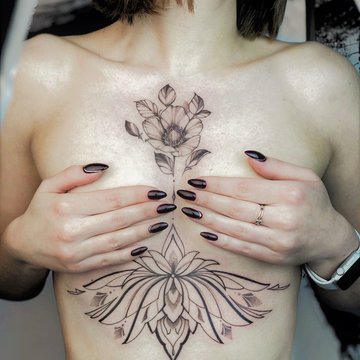 The Coolest
Cleavage Tattoos
For modern girls, clear patterns on the cleavage have become a real alternative to expensive jewelry such as necklaces.

If desired, a tattoo above the chest can be demonstrated to others by choosing a certain style of clothing. These tattoos can be shown only if owner wears certain type of clothing, that's why tat can be outplayed as owner wants. The reason for the location of the tattoo on the cleavage is associated with the desire of the female soul to enhance the aesthetics of her look. Thanks to a well-chosen design and a skilled embodiment of it on the body, it is possible to make the breast even more beautiful. Therefore, for this part of the body, tattoo artists advise to choose color designs in soft colors. Tattoos made in oriental style in black and gray colors look especially cool. This gives a specific piquancy to the appearance, especially in dresses with a deep neckline. But tattoos in the colors of the old school style are maddening. They are bold and immediately catch the eye, and sometimes you can't move your gaze from them.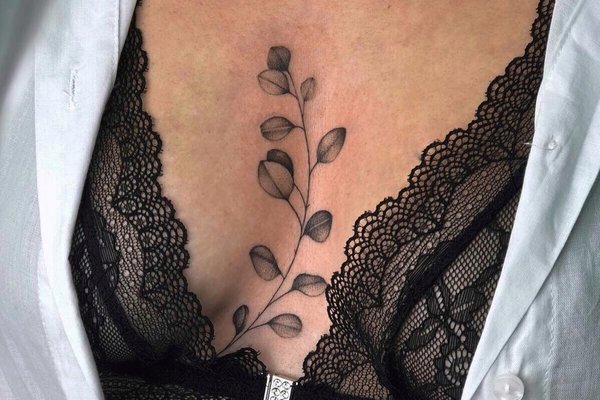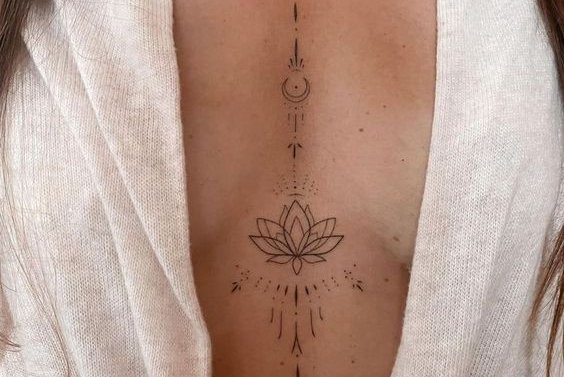 Small tattoo
between breast ideas
You can apply a miniature tat in the form of a heart, an arrow, a geometric figure, a tree, a treble clef or a flower between the breasts.

Small tattoos look low-key, and the procedure of applying takes less time. You also can use minimalistic drawings of flowers which will look stylish and cute. Girls often place black and white linework and dotwork tattoos under their breasts. Much less common are bright old school and watercolor designs which look catchy and spectacular on the female body. Between the breasts, on the sides or directly under the sternum are applied roses, peonies and sunflowers. These flowers are symbols of sophistication, love, beauty and grace. The rose in the middle of the chest looks incredibly tempting.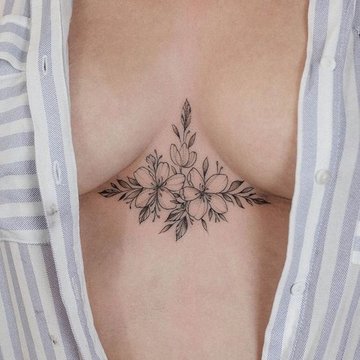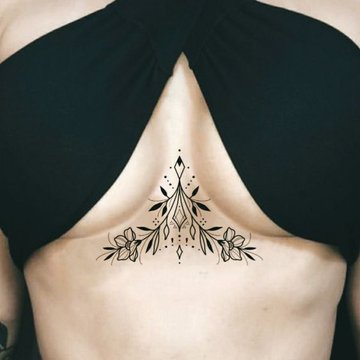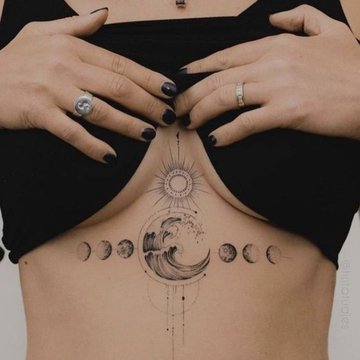 Sternum tattoos
out there for women
Lotus Sternum Tattoo

Lotus flower шы a very popular and elegant tattoo. A blossoming flower means awareness and openness. It is believed that its white color means purity and fidelity. But even if we do not take into account its meaning, the beauty of the symmetry of this flower is mesmerizing.

Mandalas Sternum Tattoo

Mandalas are different types of concentric figures that combine patterns with different shapes and sizes. Each mandala corresponds to a different chakra, so if you believe in the meaning of tattoos, you should know what each mandala means. Mandala Anahata match its position with chest. If you are fascinated only by the image, then you should not worry and you can safely choose any mandala design you like.

Fineline Sternum Tattoo

Fine-line is one the trendiest style. The main feature of the style is the creation of fine lines with soft shading, in black and gray tones. Tats in this style can be different sizes, but it is small designs that win people's hearts. They are ideal for those who want a delicate sternum tattoo that can be easily hidden.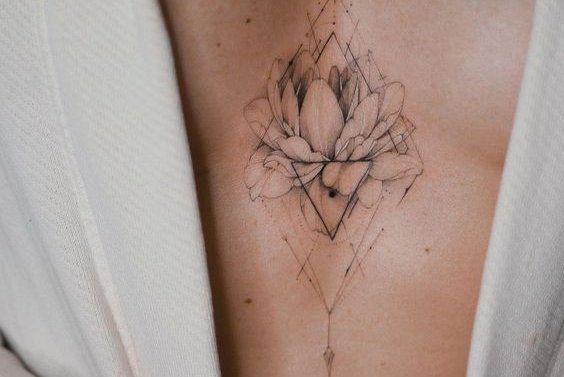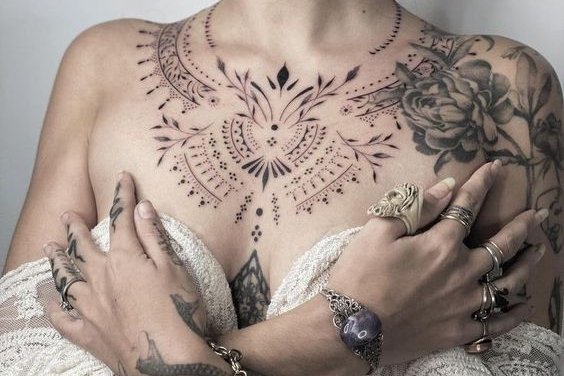 Tiny side-boob tattoos
There are some disputes when it comes to tattoo placement, but one thing is for sure, you need to try to find a bad design to ruin the tattoo on the side.

That is why it is one of the most popular and win-win places. You can choose a design to highlight the shape, you can choose something cute, you can go for something bold or you can get something to remember, but clearly everything will look great here. Just take a look at the photos and see for yourself.