Trash Polka tattoos: style features
Tattoos are becoming more and more common.

And many fans of body modification are looking for unique and distinctive tattoo styles that will help them stand out from the crowd of like-minded people. After all, aren't people going to the salon to express themselves? Here you will find original ideas of the first tattoo, as well as tips for those who want to add a novelty to their personal collection of body-images. Discover the outstanding Eastern European tattoo style known as Trash Polka. If we talk about it in one sentence, it is a chaotic collage of abstract and realistic details in black and red ink. But not everything is so simple. This style is so interesting that such a simple definition cannot describe it.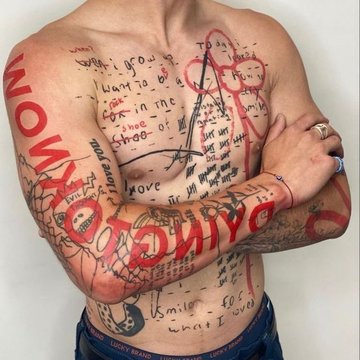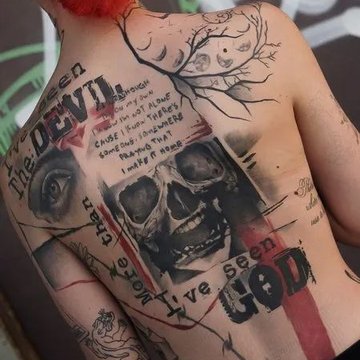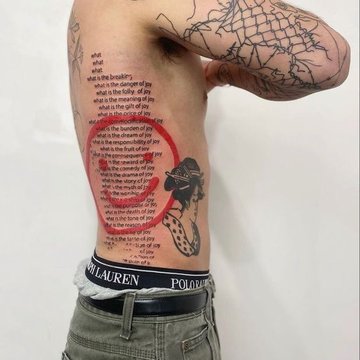 Trash Polka - a style
that evokes emotion
Thrash Polka is the name of a tattoo style that appeared about 20 years ago.

For this is considered relatively new. This is a separate direction of artistic modification of the body, which can help its owner to stand out from the crowd and draw attention to his/her appearance. But what is Trash Polka? Let's give a brief summary:
Trash Polka style was invented by German tattoo artists Simone Plaff and Volko Merschky at the end of the last century.
This is an Eastern European tattoo style first appearing in the specialized tattoo club Buena Vista. This temple of art is located in Germany.
Abstract and realistic elements alternate and overlap in the direction, which allows to create the effect of chaotic collage.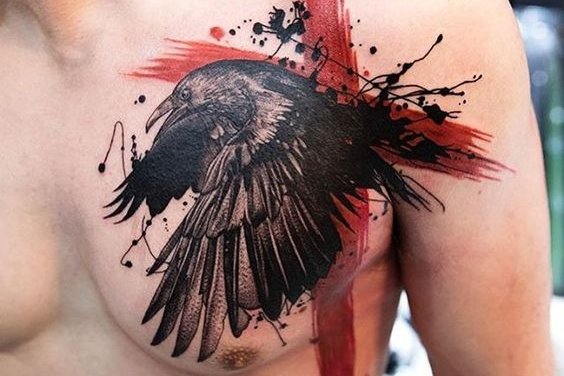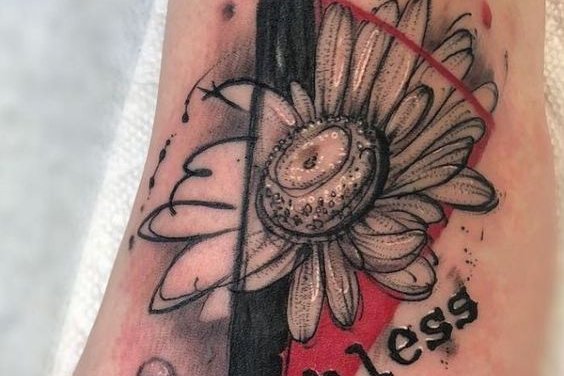 The design involves both heavy geometric and photorealistic elements, and sometimes even inscriptions.

All this is done in one drawing to cover large areas of the body.
Critics have described this style of tattoo as a confusing combination of reality, surrealism, script, and abstract lines. But the authors themselves, mixing bold and thin lines, bright black and red strokes, graphics and photos, pursued a different goal. They gave all the extraordinary personalities the opportunity to tell a dramatic story in one picture. Using the art of color contrasts, the master can create beautiful visual effects. The style is bold, and the drawing, which is made of red and black colors, have a «just finished» fresh look, as if the artist has just finished the tattoo - the colors are still wet.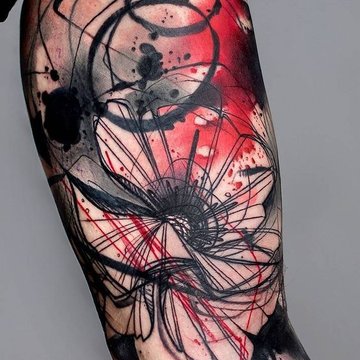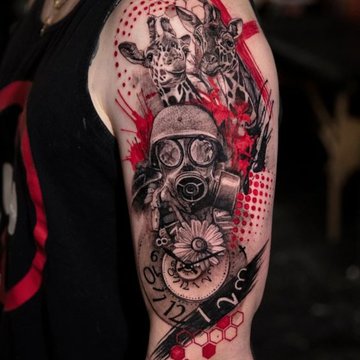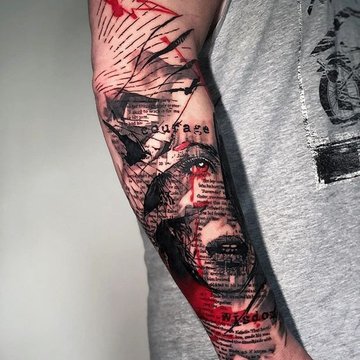 What defines a Trash Polka tattoo?
Tattoo masters describe this style as "a combination of realism and thrash".

The authors even called it initially «Realistic Trash Polka» as a harmonious union:


Realistic images;

Abstract elements of «thrash»;

«Polka» - a musical composition in which all «notes» are collected together.


But later the term «realistic» was dropped as the authors feared to impose restrictions on their style. Trash Polka causes passion and aggression. If you are considering this style for you or not, consider several factors:
Trash Polka tattoo requires a large «canvas» due to the small details that define the style, such as the typewriter font. That is, the image is applied on a sleeve, a leg or a significant part of the body.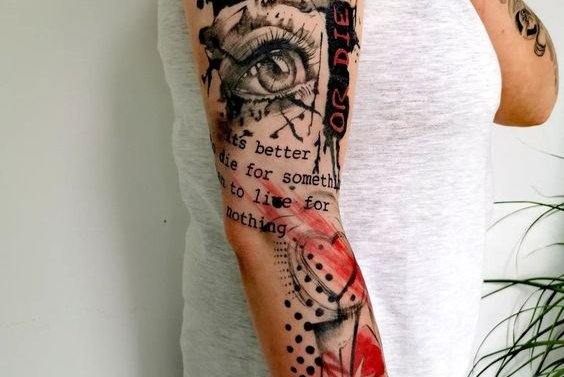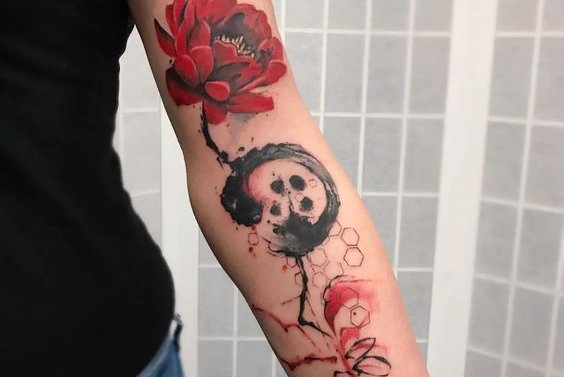 The tattoo must be protected from the sun to prevent fading as long as possible.


The image includes elements that are not directly related to each other. For example, roses and wolves, lions and ships, flowers and portrait paintings, spots of blood, brushstrokes of a brush and a letter. So, the author «weakens» the obvious meaning of the elements in the tattoo and, thus, «weakens» the relationship between the tattoo itself and the person owning it.
Each of us daily learn something new, and now you have a chance to get acquainted with the tattoo in the style of Trash Polka.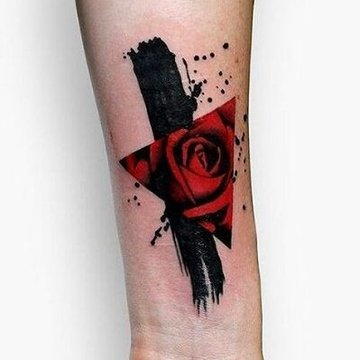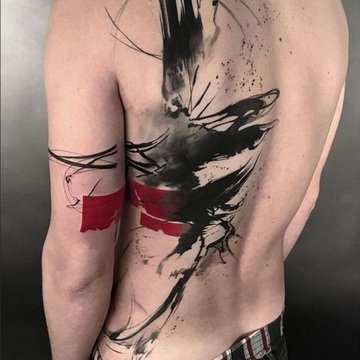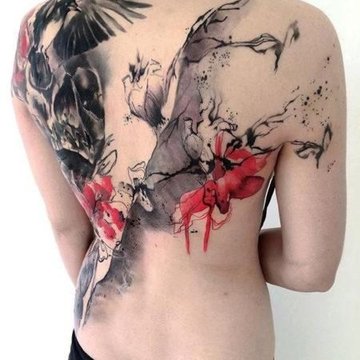 Who choses Trash Polka tattoos
This tattoo style is not for everyone.

Like any other body modification design. Style combined:


Realism and trash;

Nature and abstraction;

Technology and human;

Time in all its dimensions.


These contrasts in one drawing are designed to awaken harmony in a person.
This style is not very common. And in this its exclusivity for everyone. Answer yourself a few questions. Are you ready to risk? Tattoos in this style are new. Not so many masters understand it. At first glance it is risky. But be brave! It will be a very interesting story! Also choose Trash Polka if you like to be different. This tattoo will certainly cause an emotional reaction among others. And it is not always a smile. If it is important for you to like people, choose something not so «prominent».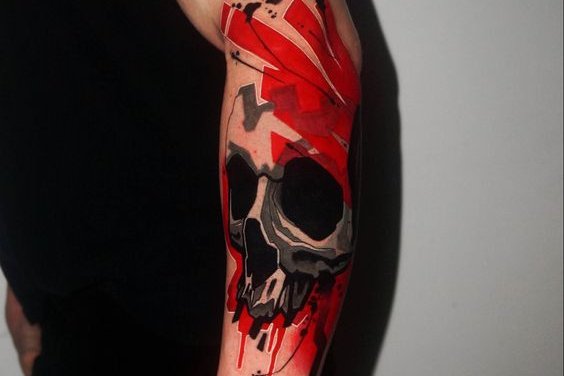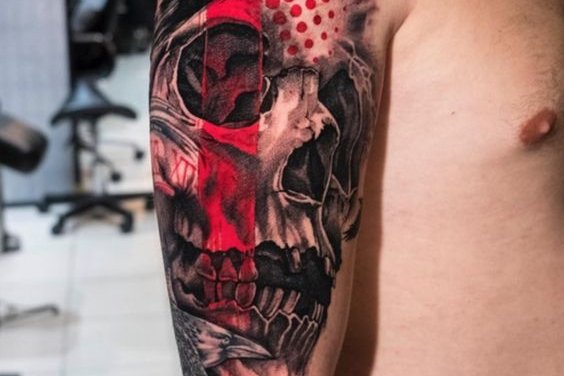 Trash Polka ideas
From dinosaurs to samurai, from birds and mythology.

The options are endless when it comes to tattoos in the Trash Polka style. Among the popular motifs are:
Rose with spikes. The tattoo of this flower is an interesting option because of the beauty of the scarlet rose, contrasting with black leaves and spikes. Lines and colors are combined to emphasize the many facets of temptation, love, passion.
Anime. Show everyone the originality and richness of your inner world with an anime character. Add geometry - lines, shapes, letters to add depth sketches.
Phoenix. A mythological bird that bursts into flames, burns to the ground and is reborn from the ashes. This amazing creature is considered a symbol of resurrection. People who have experienced difficulties and managed to overcome them often choose this image as a symbol of victory over circumstances.
If you're looking for a big tattoo and have unusual views on life, that's your style. Not all tattoo artists understand this particular type of tattoo, so be sure to talk to the master before coming to the session.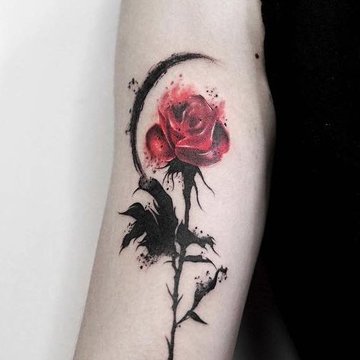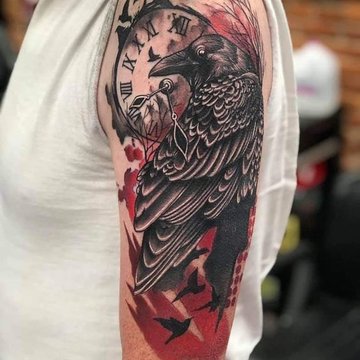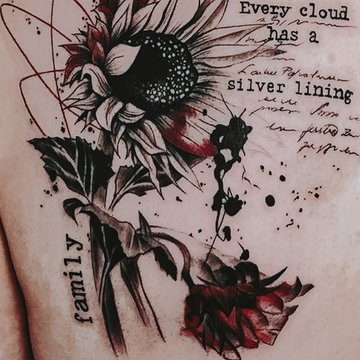 How to find the master
of Trash Polka tattoo
Trash Polka masters claimed that only they could do these tattoos, and everything else was imitation.

But the work of the authors served as a source of inspiration for all professionals who wanted and want to work in this attractive style. In «VeAn» studios you will find masters who can implement your craziest ideas.