Traditional style
tattos: timeless classic
We offer you a trip to the rich world of traditional tattoos. They are also called old school tattoos.

Traditional tattoos are fine thick lines, bright colors and clear design. The motifs used in traditional tattoos are often inspired by nature, folklore, and religion. These tattoos are timeless and have a charm that attracts people from all spheres of life.
Where did the tattoo come from, as a symbol of culture and self-expression? What hides the traditional style, whose secrets are transmitted from generation to generation? Why is it still one of the most popular forms of body art in the world? In this article we dive into the world of traditional tattoos, explore their history, meaning and design.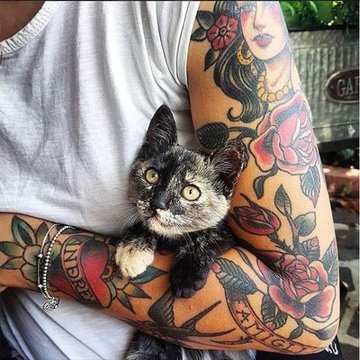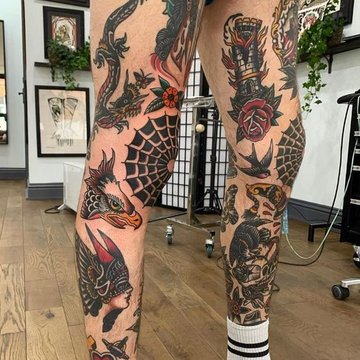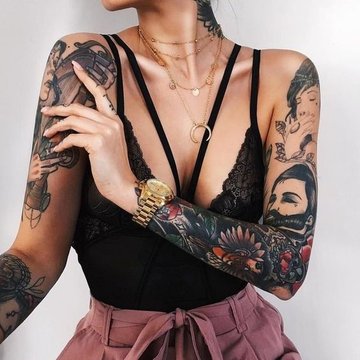 Brief history of
Traditional style tattoos
Recognized as one of the most popular and easily recognizable, the traditional tattoo style has a very rich history.

It is difficult to identify the exact country of origin. Historical evidence suggests that several regions of the world have contributed to the traditional tattoo that we know today. Some scholars claim that Captain James Cook's team was responsible for spreading the tattoo from East to West. However, there were other pioneers who carried notes and drawings from Japan, Indochina, Africa, the Pacific Islands to Europe and the New World.
Although tattoos are now common in all spheres of life, as early as 200 years ago such a body image in America, where the traditional style originated, was extremely rare. More often than others, sailors and soldiers got such tattoos. Norman Collins, known in his professional life as a sailor named Jerry, was also a member of the Navy. He was one of the guys who not only described the tattoos, but made sketches of them. His later student, Don Ed Hardy, also contributed to educating people by describing the traditional style of tattoo.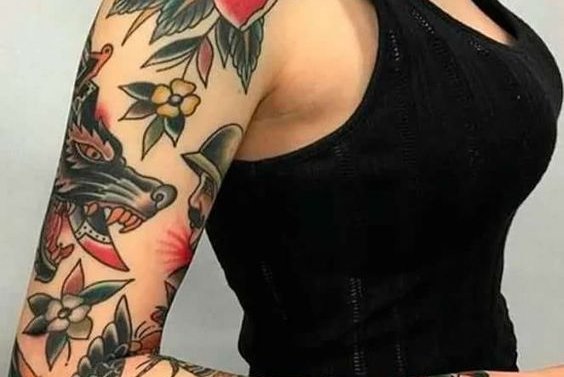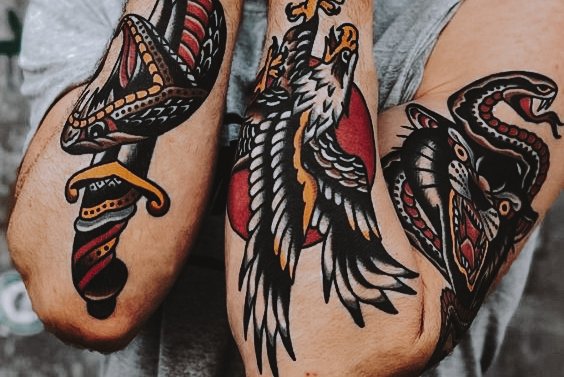 The style and the tattoo itself have attracted even more attention since the creation of the electric tattoo machine in 1891 by Samuel O'Reilly.

But in the 50s and 60s of the XX century, the interest in tattoo was mostly the criminals. It was important for them to show that they belonged to banned groups that condemned normality. They did so with separate signs on their bodies.
Only at the end of the 20th century did the attitude to the tattoo change. Today, the traditional style is not just simple drawings in the form of an anchor or a starfish. Tattoo design has become more complicated, sketches include images from popular culture, masters use brighter colors and bold lines.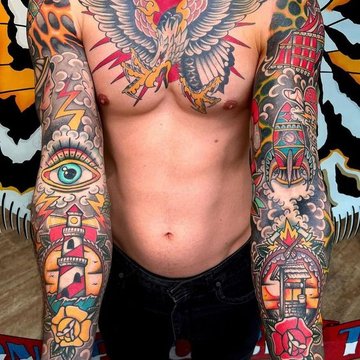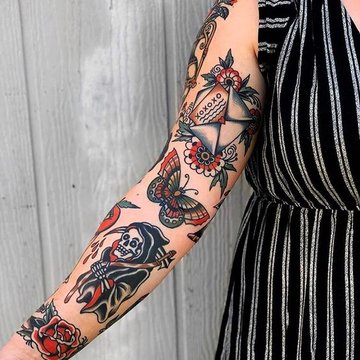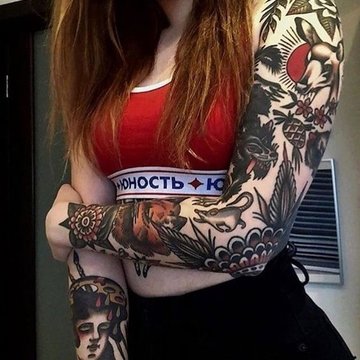 Examples of
traditional style tattoos
Old-school tattoos often have clear, carbon-black lines.

It is most likely a reference to Polynesian and Indian ancestry, which have similar elements in their native works.
The ink used is black and «natural ones», such as green, yellow, brown and red. Although the choice of pigment is much wider today, artists continue to choose paint according to tradition.
Shading of details is minimized, and the pieces are filled with color blocks, which also increase the lifetime of the tattoo. In this combination of color and lines look good on all skin tones, highlighting on different backgrounds.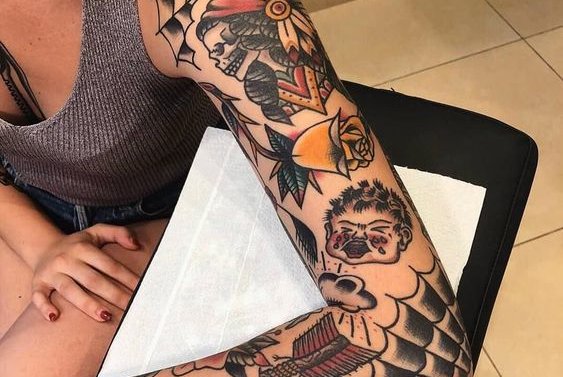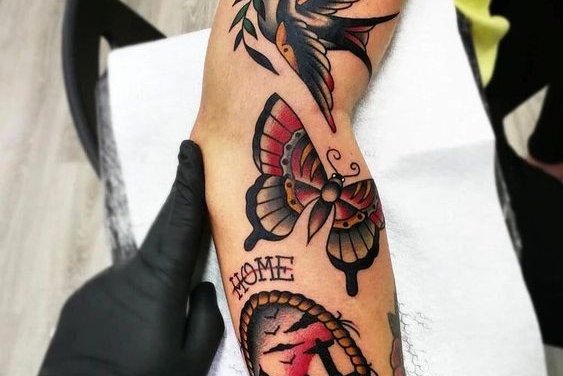 The meaning of
traditional style tattoos
The traditional style is a tattoo that has a special meaning for its owners.

Sketches are often personalized and tell about the beliefs and culture of the owner:


Some moments of the past;

Act as a symbol of the way of life;

Show heritage, genetic code;

Honor the ancestors;

Are a kind of rite of passage, signifying the time of maturation;

Are used as a form of protection because they are believed to possess spiritual powers that can ward off evil spirits.


It doesn't matter why you want to get a tattoo that's called traditional. Trust professionals an you will achieve the goal - your body will be decorated with a beautiful tattoo.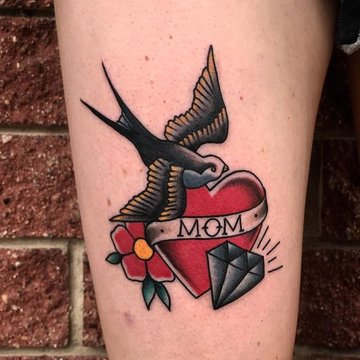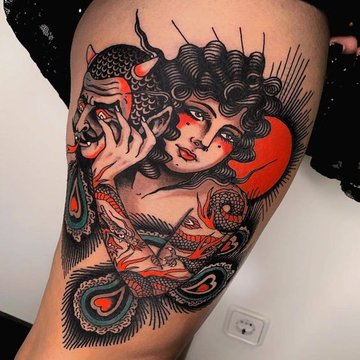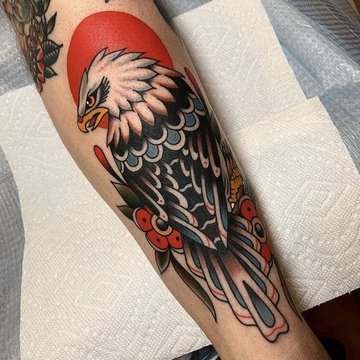 Drawings in the
traditional style tattoos
Tattoos in traditional style are made in clear design and bright colors.

The plot of sketches used in traditional tattoos is often inspired by nature, folklore and religion. These motives are timeless and have a certain charm. Tell us about the most popular themes:
Animals.

Representatives of fauna - a popular choice for tattoos in the traditional style. Popular motifs - eagle, tiger, panther, lion. These projects represent strength, courage, loyalty.

Marine.

Tattoos of a sailor - one of the oldest traditional motifs. Originally the drawings adorned the bodies of pirates and pirate hunters. Sailors believe that such a mark will bring good luck. Popular motives - anchor, starfish, lighthouse, petrel.

Pin-up.

Sensual women in attractive dresses and provocative poses - a popular motive of traditional style.

Religious symbols.

The most popular motives are crosses, angels, folded in prayer hands.

Folklore motives.

Dragons, mermaids, demons - anything related to legends and myths of different cultures can become the subject of your tattoo in traditional style.

Nature.

These drawings symbolize beauty. Popular motifs - flowers, trees, the sea.

Patriotic motives.

Coat of arms, flag, national symbols embody love for the country and loyalty to their homeland.

Inscriptions.

A sketch may include a name, a quote, a date. A bold simple font makes the message easily readable.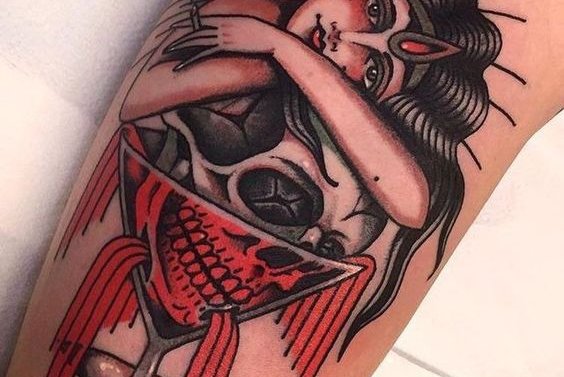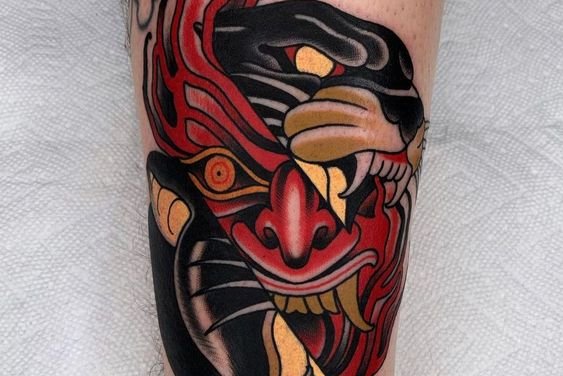 The future of traditional style tattoos
There are not even hints or signs of disappearance of tattoos in the Traditional style.

On the contrary, every year their popularity is growing. Tattoo artists, working in the traditional style, exhibit their work in galleries and museums, demonstrating the beauty and significance of traditional tattoos. The tattoo has become so popular that there is no problem of cultural adaptation in society. People of different classes positively accept traditional tattoo. They are often seen on celebrities, musicians and athletes, making them more popular. Traditional tattoos have also become more common in the workplace. Many employers now allow visible tattoos, making it easier for people to express themselves through body art.