Female thigh tattoos: sketch ideas
Is there anything more elegant and magnetic than female legs?

Since this part of the body usually attracts much attention, women frequently opt for thigh tattoos to add to their images. In this article, we will consider other reasons for the thigh tattoos popularity, the variety of sketches, their locations and meanings. If you are thinking about getting an eye-catching leg tattoo, look for inspiration below.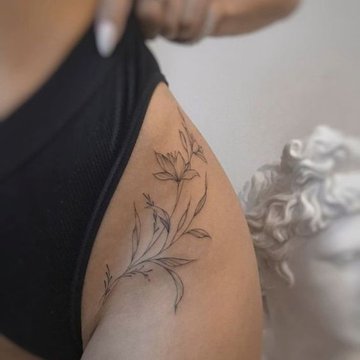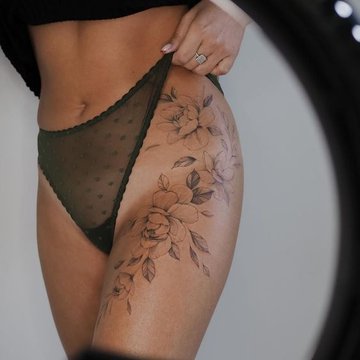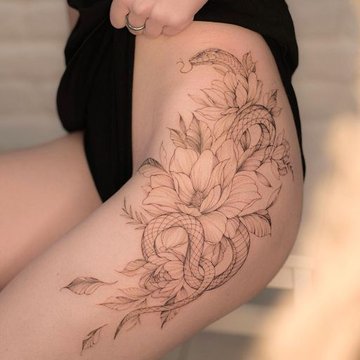 The best locations
for ladies thigh tattoos?
Before we start talking about the variety of female thigh sketches, let's consider all possible tattoo locations.

In most cases, placement is what defines the style and size of future body decoration.
Side thigh tattoo

This option is the most popular among women since it allows getting a large tattoo that can stretch from waist to thigh, creating an elegant or even sexy image. However, not all the side thigh tattoos are that big. Small inscriptions may also look good on this part of the body;

Front thigh tattoos for females

If you want to get an eye-catching thigh tattoo, the front side of your leg will be the best choice. Unlike side thigh tattoos, front sketches usually include fine lines and not many elements. If you want to get a minimalistic tattoo, think about a flower bezel sketch that comes around your thigh;

The thigh tattoo on the back side

This placement is usually used for getting two symmetrical tattoos. However, it is not obligatory to get two tattoos. One back side thigh tattoo can make you feel more confident and secure.

Inner side thigh tattoo

This option is not very popular due to numerous reasons. Firstly, the procedure of getting a tattoo on the inner part of a thigh is quite painful. Secondly, constant rubbing leads to tattoo bleaching and requires frequent corrections.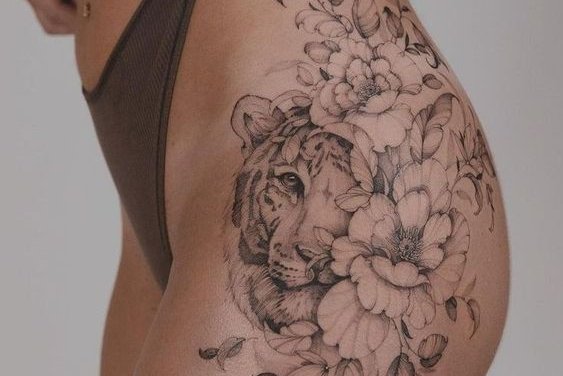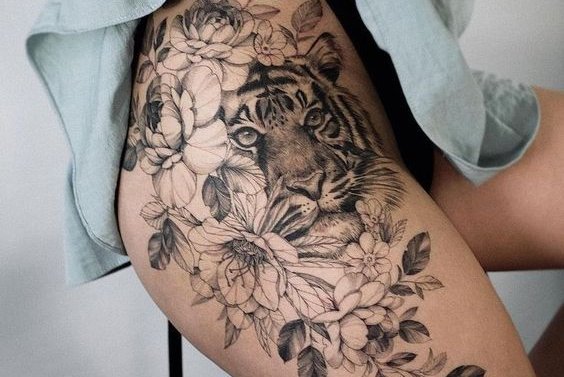 Looking for an attractive
female thigh tattoo idea
As you may guess, the variety of thigh tattoo options is stunning.

While choosing the most suitable sketch for you, consider the meaning it should have. In most cases, people get thigh tattoos just to decorate their bodies, but if you want to add deeper meanings to your tattoo and turn it into a powerful amulet, this location is perfect.
While choosing your female thigh sketch, take into account only your own tastes and preferences. But if you are still not sure which tattoo you want to get, we have some inspiring ideas for you.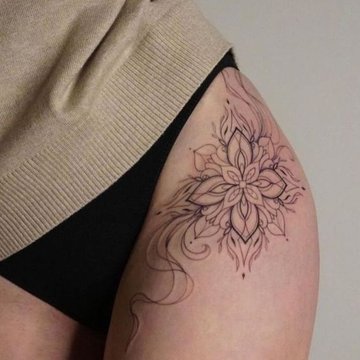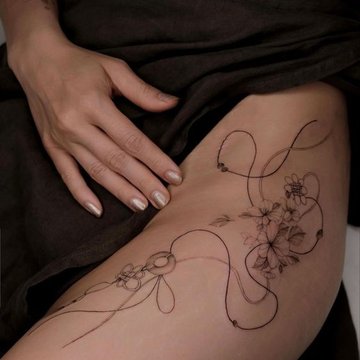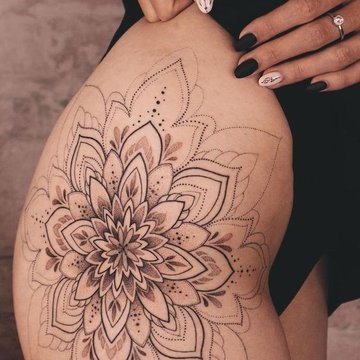 Thigh mandala tattoo


Mandala tattoos originated from Eastern cultures and have deep meaning. This symbol was widely used in the teachings of Hinduism and Buddhism cultures and was associated with harmony.
A mandala is a tattoo usually created in the form of a circle with various geometric elements from the outer and inner sides. The meaning of a female thigh mandala tattoo depends on its elements. For example, squares and triangles symbolize feelings and emotions, while round figures are associated with integrity and personality.
Thigh mandala tattoo not only attracts attention to its owner but brings luck and success. You can experiment with forms and styles. Such tattoos are usually black colored and of enormous size. To get a powerful and personalized amulet, we recommend you address a mandala specialist who can help you create a sketch that will meet your desires and expectations.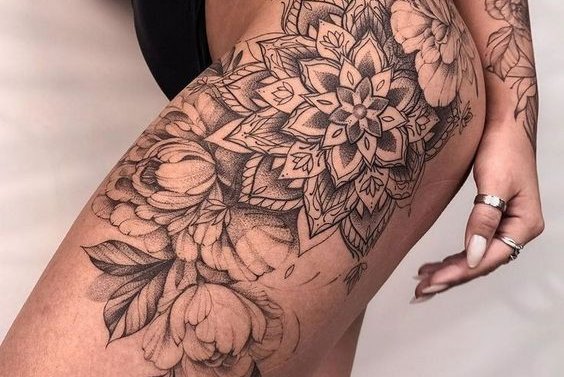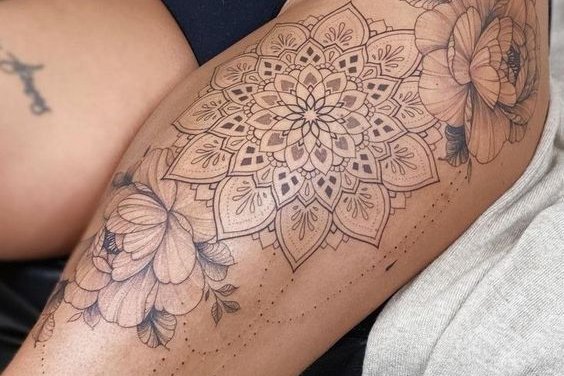 Floral thigh tattoo


Thigh tattoos for women usually contain flowers. Roses, peonies, daisies, lotuses – you can turn any plant into an eye-catching tattoo sketch. It is believed that such thigh tattoos look elegant and feminine. However, if you combine flowers with a sworn or a snake, its overall perception will change.
Roses definitely won the prize of the most frequently used flower among tattoo admirers. The meaning of such a sketch depends on many factors, including the size and colour of the flower:


A traditional red or black rose: symbolizes love, passion, sensibility, and hope;

Yellow flower: is usually associated with friendship and happiness;

White flowers are viewed as a colour of innocence and purity.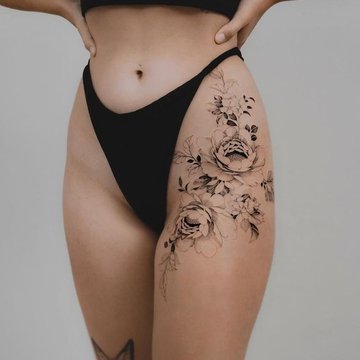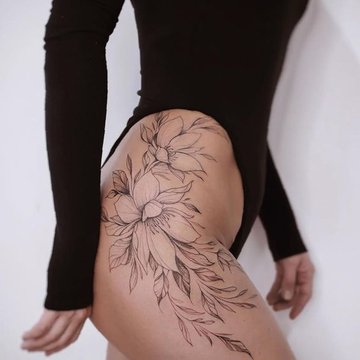 Butterfly thigh tattoo


Butterflies are mysterious creatures that go through 3 different life conditions. For that reason, they are believed to be a symbol of reincarnation and the beginning of a new life. Butterfly thigh tattoos are popular among women who want to bring positive changes to their lives or just start a new chapter in their careers or private affairs.
Apart from this, the butterfly may symbolize sensuality, freedom and lust for life. A tattoo sketch with this insect may combine bright colours and interesting wing prints. So, if you want to get a tattoo to mark a new milestone in your life, this option is worth considering.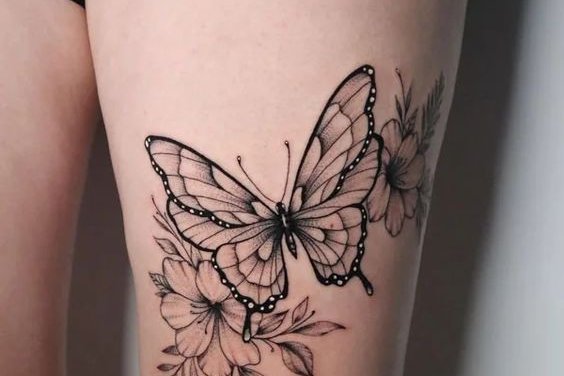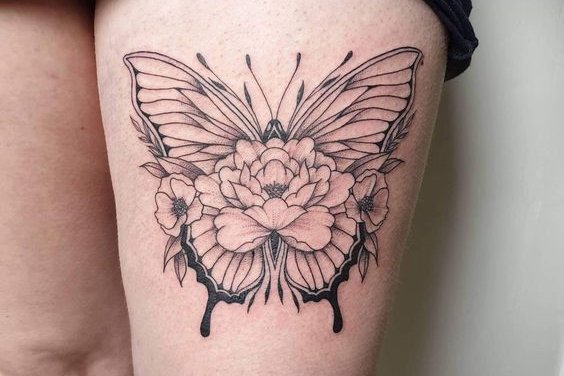 Animalistic thigh tattoos


Different animals provoke different human feelings. So do the tattoo sketches with animalistic elements. The sketch's meaning and perception usually rest upon the chosen animal. Among the most popular options for female thigh tattoos are the following creatures:
Dragon thigh tattoos:

Dragon symbolizes strength and power. For that reason, this tattoo is a perfect option for people who seek for additional inner support;

A lion thigh tattoos:

Such tattoos are usually done by confident people who seek power and respect from others. With the help of a lion sketch, you can develop such traits as justice, wisdom, greatness, power, ferocity, courage and nobility;

Elephant thigh tattoos:

In ancient times, people believed that such a drawing could increase a person's strength and give self-confidence. The image served to harmonize internal and external conflicts and enhance self-esteem.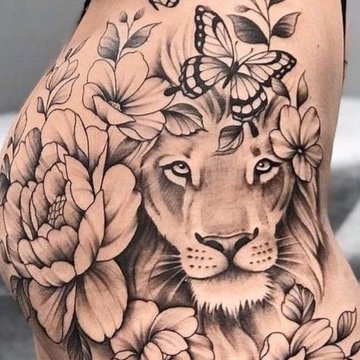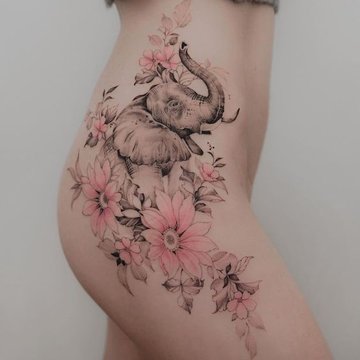 Minimalistic thigh tattoos


Thigh tattoos are usually associated with large sketches with numerous elements. In fact, many women are not ready for such radical actions and prefer small tattoos. Among the most popular minimalistic options are: thought-provoking inscriptions, constellations, small figures, twigs, wings, and the like.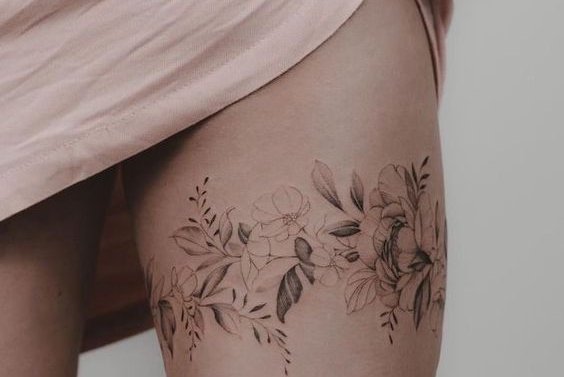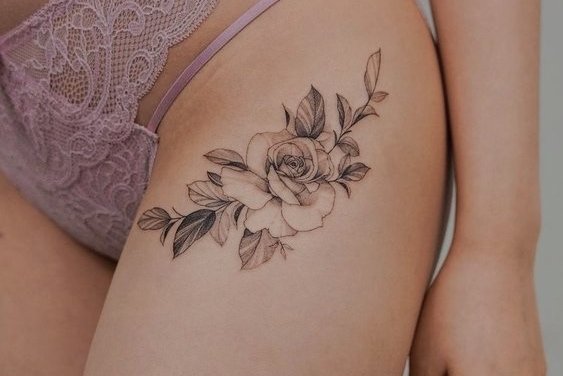 Drawing the line
The variety of classy feminine thigh tattoos is breathtaking.

Such a placement allows making large sketches and combining different styles or techniques. A thigh tattoo can become a powerful amulet and bring positive changes to your life. To make it work so, choose a tattoo sketch with your heart!