Taurus tattoo tutorial
Taurus is one of the most hardworking and even-tempered zodiac signs.

What about their most pronounced traits? They become obvious after considering Taurus symbols. Ruled by the Earth element, the representatives of this zodiac sign are associated with the bull, the fertile earth and the blooming garden.
Taurus (people born between April 20 and May 20) are patient, hard-working, practical, wise, reliable, and somewhat stubborn. Creators and gourmets – that's how the representatives of this sign may be characterised.
Tauruses have a lust for life and like to create comfortable living conditions for themselves. However, these people prefer stability and difficulty adapt to changes.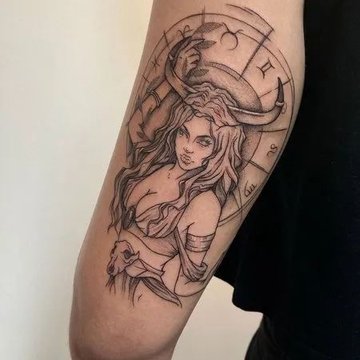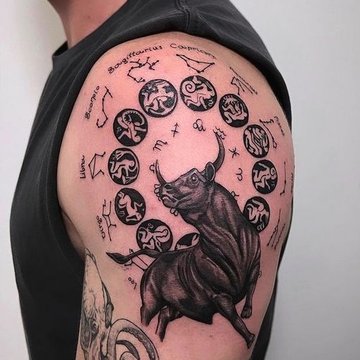 Taurus tattoo meaning
As you know, it may be quite challenging to trace the tattoo meaning correctly.

However, below, we will mention some of the most common connotations.
In most cases, people get zodiac tattoos to enhance positive traits they inherited from the celestial world. In terms of Taurus, tattoo admirers usually want to emphasize their:


Strong willpower;

Perseverance;

High efficiency;

Confidence.


On the other hand, some people get Taurus tattoos to acquire the qualities they lack. Since the main symbol of this zodiac is the bull, it is frequently used for Taurus sketches. It is a powerful and strong animal. Accordingly, those people who have chosen a Taurus tattoo usually have (or want to have) a strong character and can deal with any challenges on the way to their goals.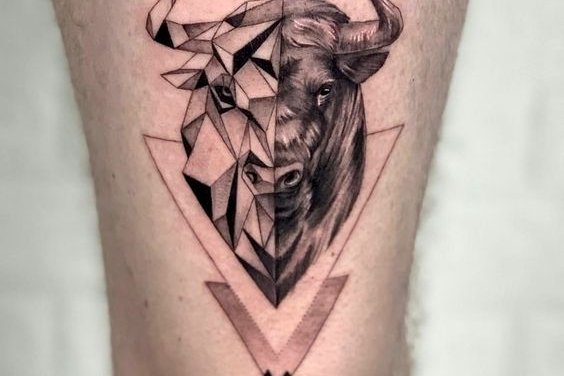 Who usually gets Taurus tattoos?
You may mistakenly think that such tattoos are popular only among the representatives of this sign.

In fact, Taurus sketches are frequently used among all people of strong and powerful character.
Since bull is associated with aggression and cruelty, women are not big fans of such tattoos. At the same time, men usually choose Taurus sketches to emphasize their brutality and purposefulness.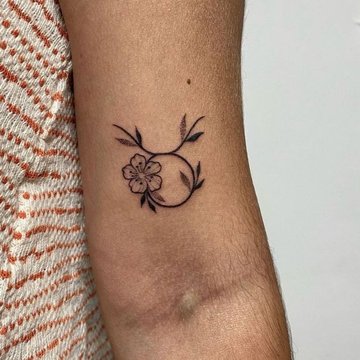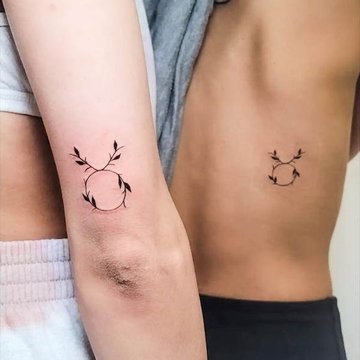 Taurus tattoos for men:
Sketch ideas and locations
As mentioned, men frequently choose a bull for tattoo sketches.

They usually prefer bright interpretations of bulls using various colours, styles, and additional elements. For example, a male Taurus tattoo may look like a:


An animal with a fiery look;

A bull before an attack;

An animal with spiritual signs;

Various fire elements.


Since men prefer large Taurus tattoos, they usually opt for:


Taurus chest tattoo:

It is especially perfect for men in excellent physical shape;

Taurus back tattoo:

This part of the body leaves space for your imagination and allows you to combine traditional Taurus symbols with additional elements: flora and fauna, inscriptions, ornaments, symbols;

Taurus forehand tattoo:

It is a great option for people who are now allowed to have tattoos due to their professional activity. Cover your Taurus tattoo with clothes or make it the main accent of your look.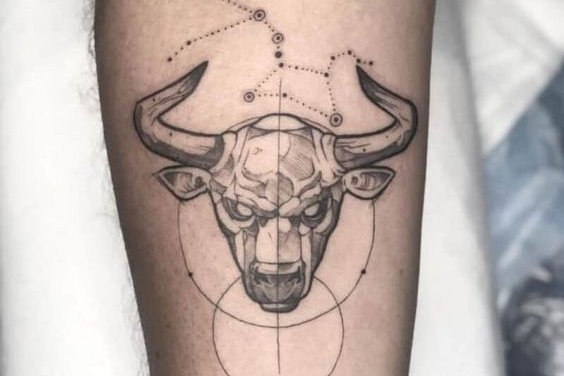 Taurus tattoos for women:
Sketch ideas and locations
Taurus tattoos among women are less popular and are usually marked by romantic elements.

They rarely choose bulls for sketches. Instead, women prefer Taurus constellations, a circle with horns, and zodiac-related Latin inscriptions.
What's more, women tend to get black-coloured and minimalistic Taurus tattoos. It happens so because they view them as powerful amulets rather than just appealing body decorations. For that reason, among the most popular tattoo locations among women are the following:
Taurus neck tattoo:

Such tattoos are usually associated with style and desire to attract attention;

Taurus wrist tattoo:

Recommended for tiny and minimalistic sketches. Such tattoos usually look aesthetic and sophisticated;

Taurus ribs tattoo:

If you want to turn your Taurus tattoo into a powerful amulet and protector, a rib tattoo is a perfect way to manage it. This body part allows you to experiment with colours, sizes, and styles.
If you want to get a Taurus tattoo but don't want it to look aggressive or brutal, you may decorate the bull symbol with flowers, ornaments or such celestial bodies as stars, planets, etc.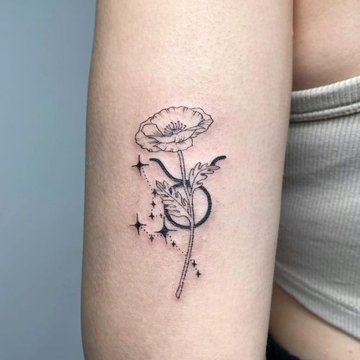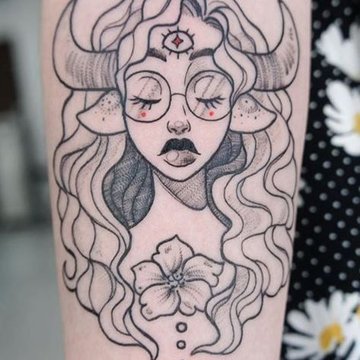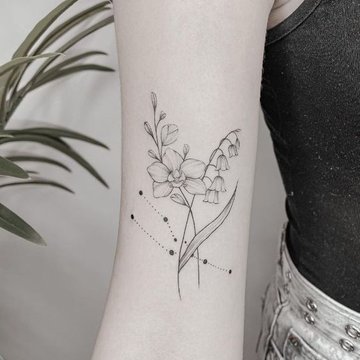 Drawing the line
In some countries, the bull is considered to be a sacred animal.

For that reason, it may become a powerful amulet for its owner. This body decoration will protect Taurus from external threats and bring about the person's well-being and health. At the same time, the Taurus tattoo may become just a great way to develop some of your traits or enhance them.