Memes as a tattoo: is it a rash
step or a sign of uniqueness?
High-quality, well-made, stylish tattoo - it is always beautiful, attractive.

At any age. For men and women. The main thing it is meaning. In most cases, people want to memorize significant symbols, dates, names and characters. But there are cases when the picture just tugs at the heart. A lot of people see a picture and want to have it on their bodies. It can be funny, cute, interesting, perhaps even ridiculous or terrible. Nevertheless, they want to realize a plan and make their idea come true. Get away from the stereotypes. It is so cool when the tattoo in the form of memes, funny pictures, comics makes us happy and cheer up every day!
Tattoo is a symbol of freedom and self-expression. This is some kind of art that will taste not everyone. But the modern society has already recognized "body art". Therefore, ordinary office workers, managers, bankers, policemen and celebrities want to decorate their bodies. This applies especially to singers, artists, actors, public figures.
For example, Miley Cyrus is a scandalous singer, a fan of funny tattoos. Among the huge variety of drawings on the body, the strangest one can be considered a sad cat on the inside of the lip. Lady Gaga, Brooklyn Beckham, Ed Sheeran and other celebrities also have many different tattoos (funny and quite serious).
What is the conclusion? Not afraid to be yourself! You might be funny, cute, perhaps incomprehensible to other people. Make a tattoo with pleasure, for yourself. Reveal your creative beginnings and self-expression. And what is necessarily, it's to do it with the support of professional tattoo masters. In this case, everything will take place at the highest level, with the expected result and safety at 100%.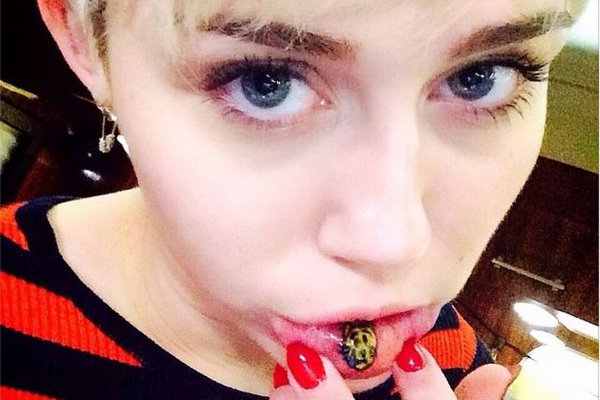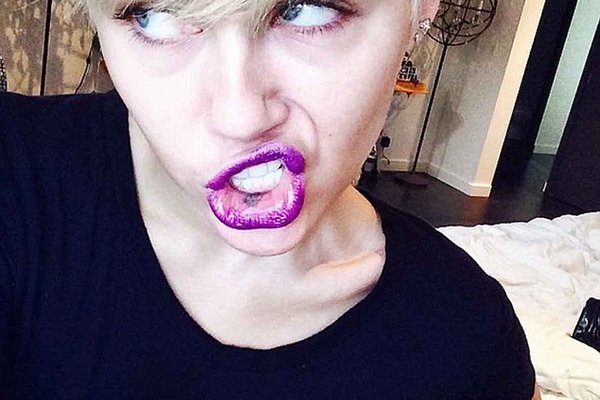 Ideal places - what are they?
After the idea of a tattoo, you should think about the location.

These can be open areas of the body or very unusual places. Everything depends on the goal. You have to decide whether to show the whole world or to make a gift exclusively to yourself. So, where do you want the meme tattoo?


Neck (back, side).

Head (ideal for bald men).

Face (any part of it).

Belly, chest, collarbone (looks gracefully on a woman's body).

Arms, back, shoulders, hands.

Intimate place (for fans of exotic and creative).


The selection of the site is individua. All depends on the wishes of the client. But most often clients prefer open areas of the body, which are well visible. Others will easily be able to appreciate the original meme on the body and be pleased with the owner of the picture.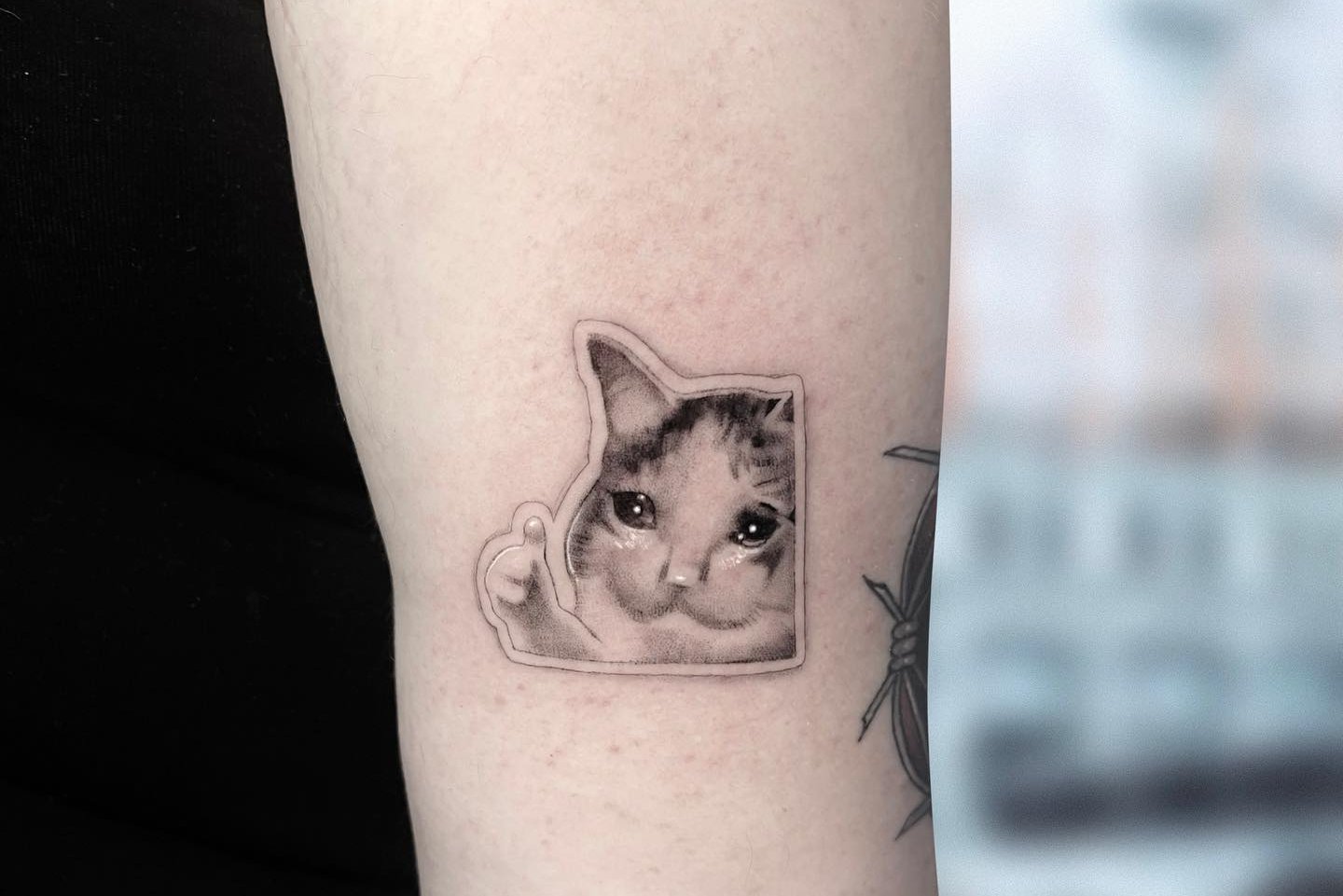 What do tattoo masters recommend?
All you need is to create a funny tattoo.

There are 3 components - the imagination of the client + skilled hands of the master + quality equipment. There are no restrictions. Still, the masters recommend sticking to professional advice:


Choose easy, simple, funny and understandable stories.

To make a tattoo in an unusual place (but given into account the complexity of the drawing).

Choose a picture that will definitely cause laughter and cheer up.

Neutral images in bright color (without a specific theme) is a sign of good taste. Such tattoos can be seen all around.

Always contact the specialized salons, where a great result is guaranteed.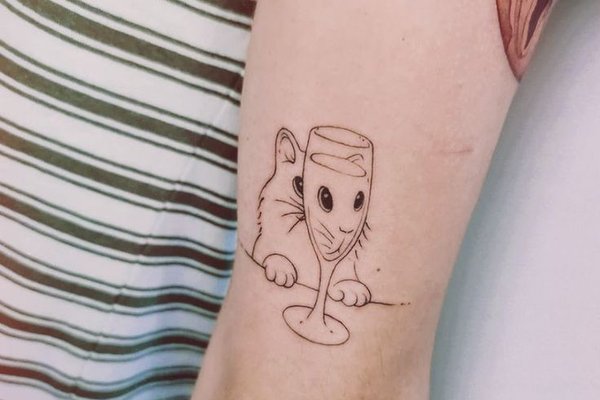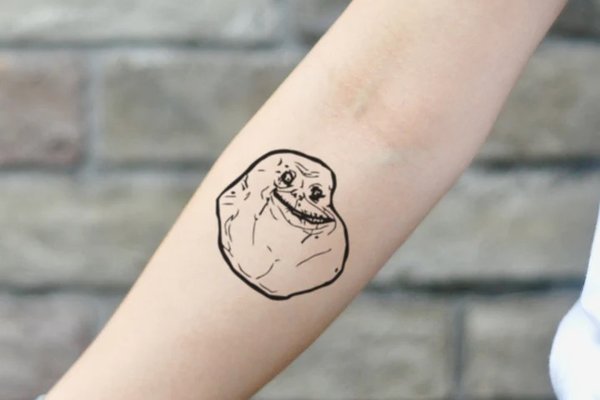 Top 8 most popular
ideas of funny tattoo memes
If you want to make a fun and interesting tattoo, you should consider various options.

It can be inscriptions, slogans, portraits, scenes, drawings, comics, cartoon characters. Their distinctive feature is uniqueness. Women and men can choose such tattoos easily. It is about positive emotions, which are passed to the owner and other people.
You can use your own sketches or ready-made ideas. To do this, we present a list of the TOP-8 of the funniest memes. The experts are sure that these variants deserve your attention.


Doge is the face of a dog that expresses several emotions at once.

This suspicious look shows pity and disapproval at the same time. Therefore, meme DOGE is often associated with surprise, misunderstanding or regret.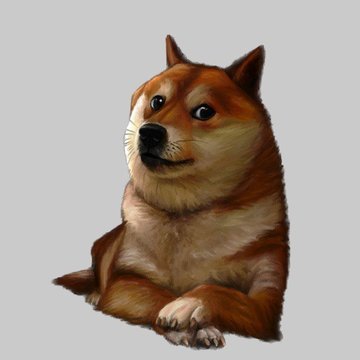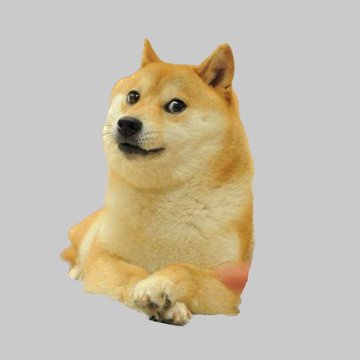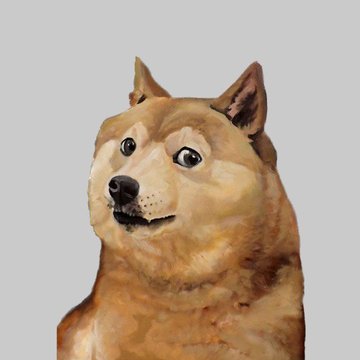 Harold hiding pain - the man with a smile clearly hides emotions.

He smiles, but he is unhappy. This meme shows pretending, hidden sadness, resentment, pain.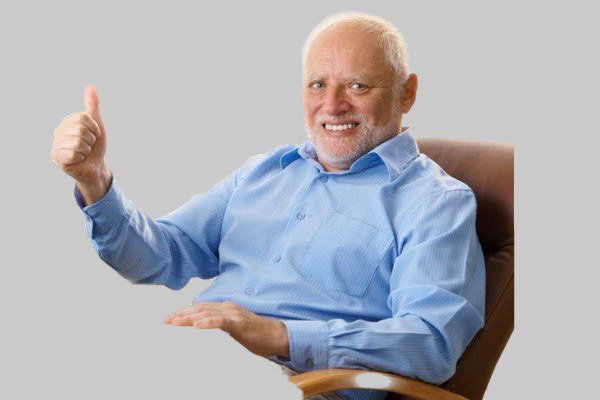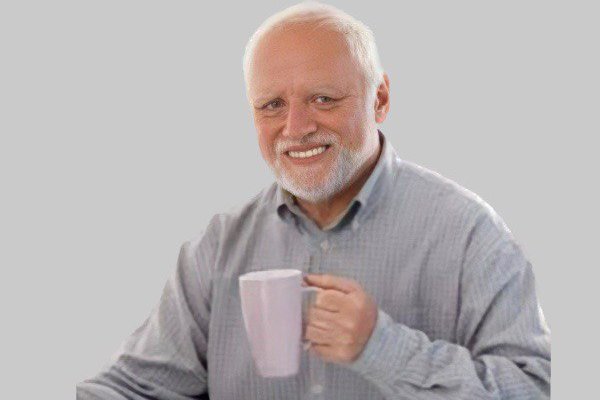 Pepe frog is one of the most controversial images.

Sadness, sarcasm, and a million possible inscriptions to this picture.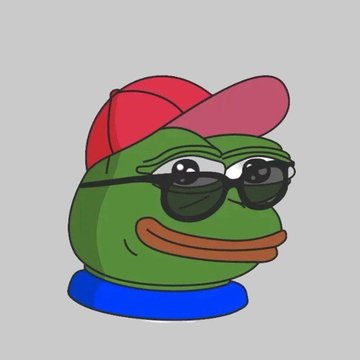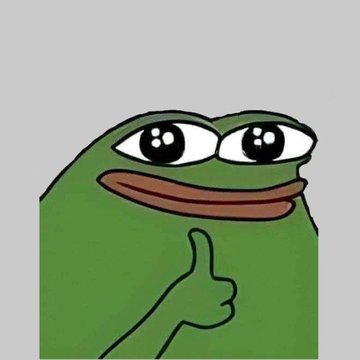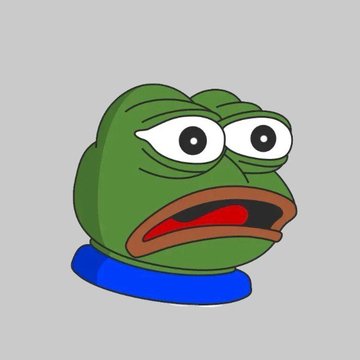 Sad Keanu Reeves is a symbol of sadness, apathy, calmness.

Even celebrities can be sad, and Keanu knows this not by chance. At the same time, it is possible to replace total indifference, indifference to the whole world.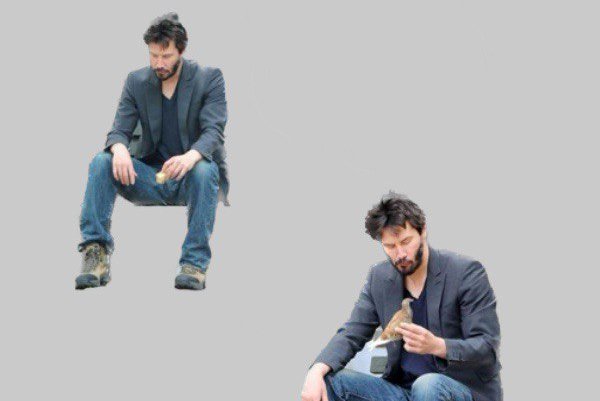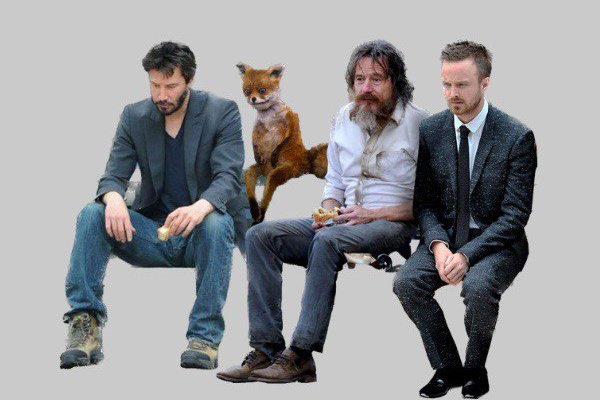 This is fine - in any situation adjusts to positive, smile, good mood.

Even when everything goes to hell. "All right" - Watch, read, tune in.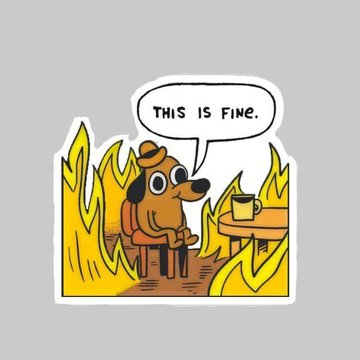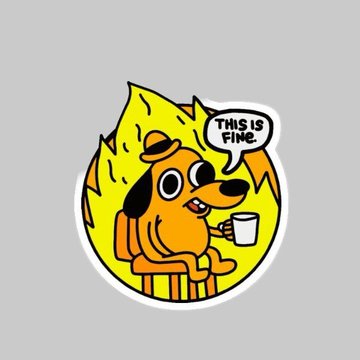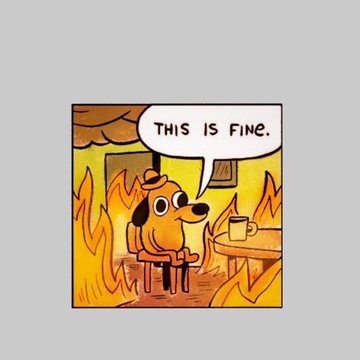 An unfaithful guy - this plot literally blows up emotions.

Women and men understand this tattoo. A story about infidelity, betrayal, secret desires, conflicts, looking for pleasurable things, giving up the old in order to find the new. Everyone here will see themselves, their "dark" side, their other side.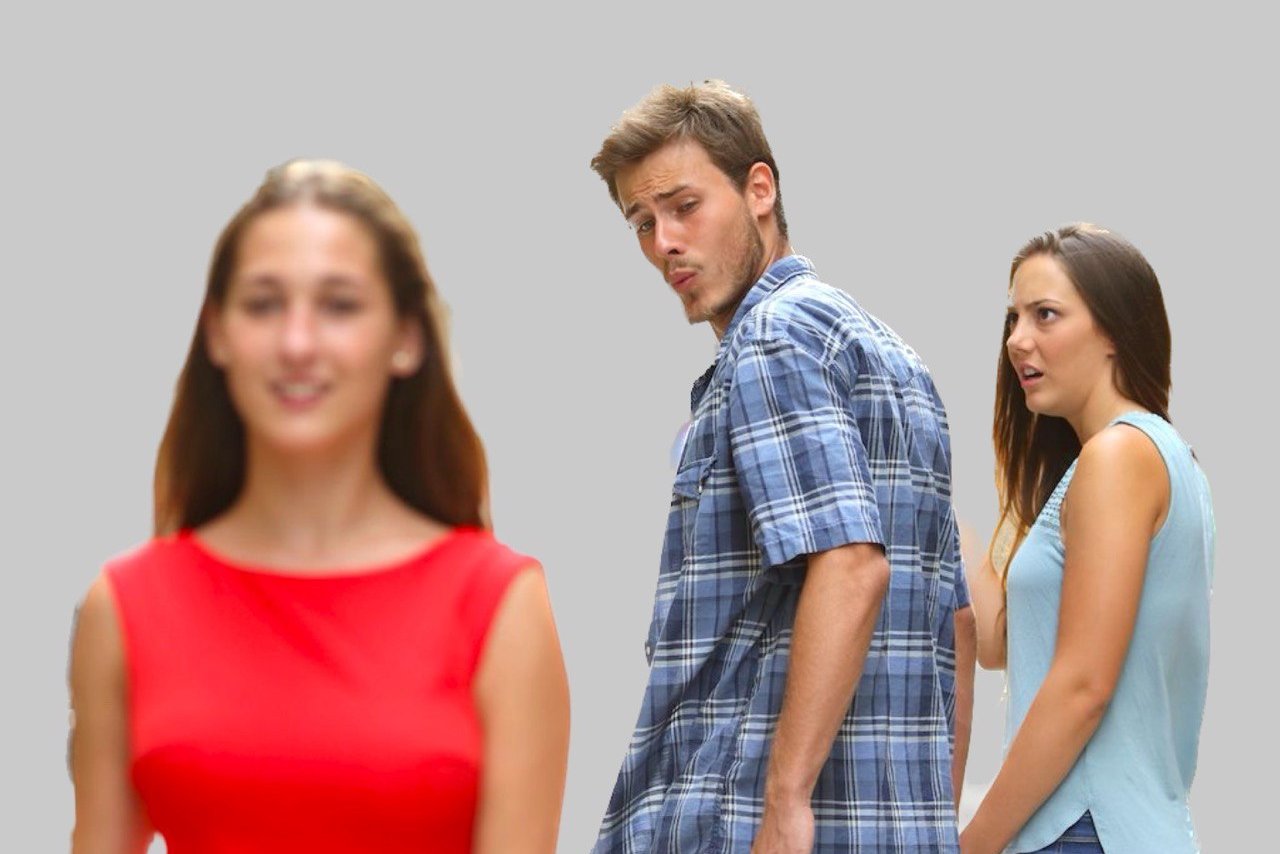 Drake in the orange jacket - the protagonist of the scene shows his approval and rejection of anything.

He seems to approve, rejoice and smile. But in another moment, it gives the signal. This meme is about two opposites. Opinions. Different situations. It is designed for a wide audience.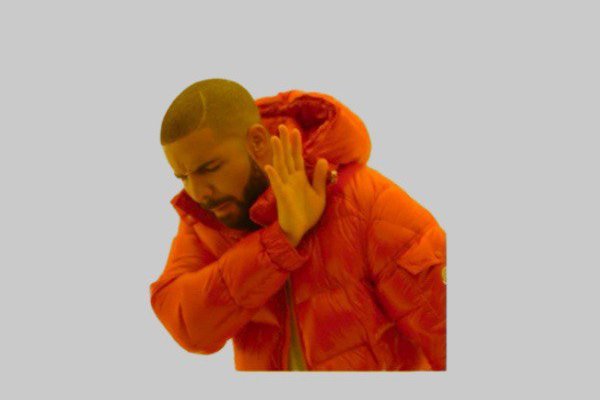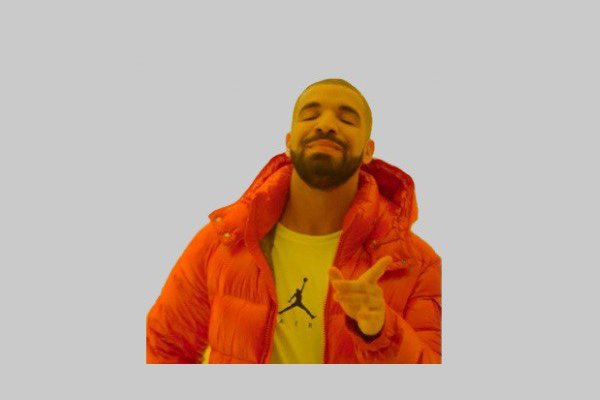 Woman yelling at cat - in 2019 this meme blew up the public.

It's the best way to respond to unsubstantiated accusations, something horrible and obscure. This picture is suitable for many people, because everyone can get into an absurd situation. But you should stay calm, indifference and self-confidence. Then the conflict will be resolved quickly.
Tattoos are an integral part of modern culture. It's great when they cheer you up, remind you of an important event, reveal your individuality. So, if you have decided to make an original tattoo meme, come to us! Let's make the coolest, most original, unique ideas come true. Let your dream comes true and bring a great mood to your life. Quick and safe. You will like it! It goes without saying!