Looking for small tattoo ideas
Tiny tattoos have become a real trend. Such body decorations look stylish and elegant.

What's more, they usually raise public interest and attract the attention of people willing to guess the meaning of your tattoos.
No wonder small tattoo sketches are so popular among celebrities. For example, Beyoncé can boast of small ring finger tattoos, while Miley Cyrus is known to have a minimalistic BFF matching tattoo.
But how to choose a perfect small tattoo sketch? Let's consider possible tattoo options and their meanings below!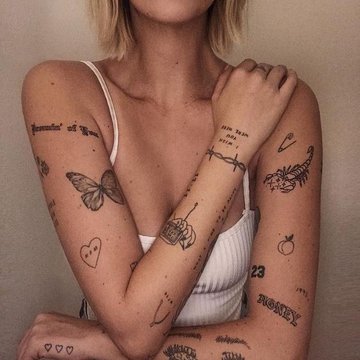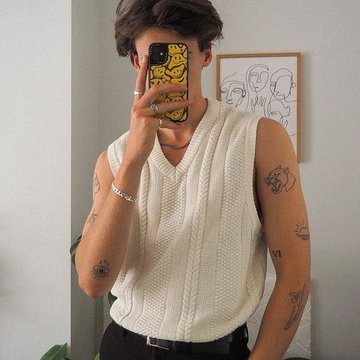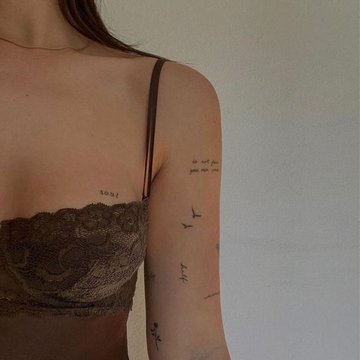 Small tattoos for women
Since tiny tattoos look elegant and even mysterious, women frequently make them.

In most cases, small female sketches have specific meanings for their owners.
Among the most famous tiny tattoo locations for women are the following:


Wrists;

Fingers:

Ankles;

Neck;

Ribs.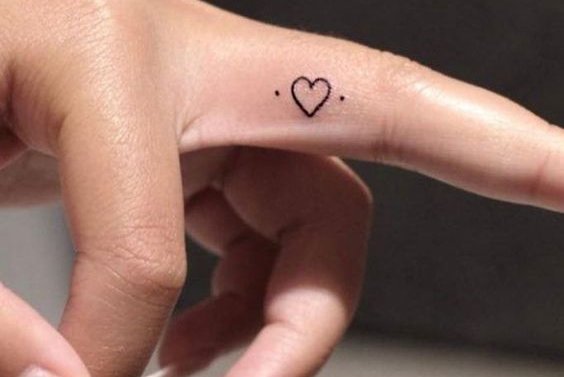 What about the most popular tiny tattoo ideas?

We have already analyzed some of them!
Elegant inscriptions:

This option is one of the most popular ones. In most cases, women opt for symbolic inscriptions in English or Latin. Some of them prefer hieroglyphs. Such sketches are usually done at open parts of the body in black or red colours;

Small figures and elements:

Women usually get heart tattoos or infinity symbols to underline their romantic mood. Among other popular tiny symbols are dots and semicolons. These elements are traditionally done on fingers as a part of a tattoo composition;

Constellations:

Zodiac tattoos are extremely popular nowadays. It is believed that they can help people develop the traits they want and enhance the positive characteristics of their zodiac sign;

Tiny crown tattoos:

This small tattoo is usually popular among confident and imperious people. Such a sketch is believed to bring luck to its owner;

Small flower tattoos:

Another popular small tattoo option among women is a sketch with various flowers. You can experiment with plant species and sizes. Among the most popular flowers are roses, peonies, and daisies;

Tiny butterfly tattoos:

Butterflies are usually associated with pleasant feelings, nature, and deep symbolism. And since such tattoos can be made in various colours, they are especially popular among women.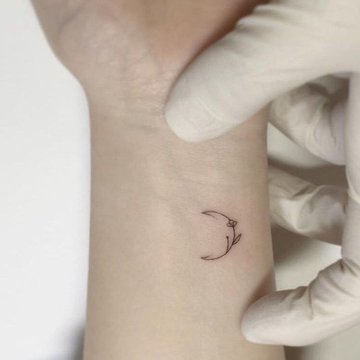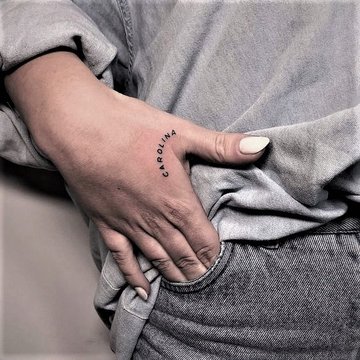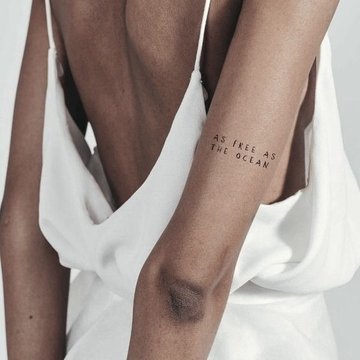 Small tattoos for men
Many people mistakenly think that small tattoos are popular only among women.

In fact, there are many men among tiny tattoo sketches admirers. The pros offered by small sketches can explain this tendency.
Firstly, it is a perfect option for people who are not allowed to have tattoos due to their professional activities since small tattoos can be easily covered with clothes.
Secondly, you can create a specific composition by getting numerous tiny tattoos. Small tattoos don't require long and exhausting aftercare, so men can enjoy the result of visiting a tattoo artist as soon as the wound heals, which usually takes 7–10 days.
Male tiny tattoos are universal and look equally good at any location. However, among the most popular options are the following:


Neck;

Shoulders;

Wrists;

Blades;

Forearm;

Chest.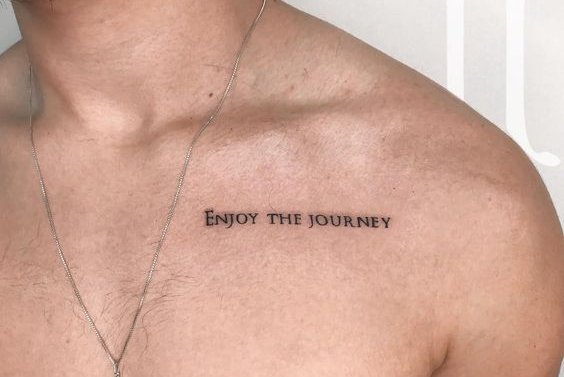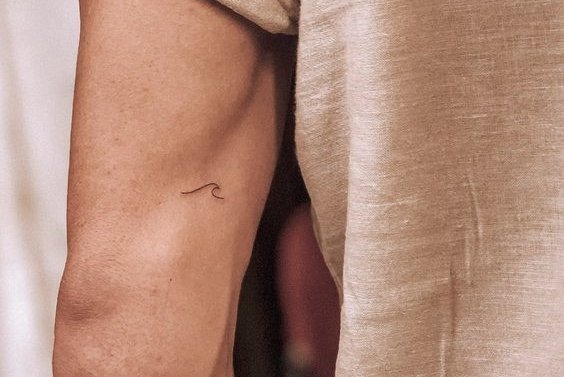 Interesting small tattoo ideas for men:
Quotations:

Men usually opt for symbolic quotations from books, songs, and films. Such inscriptions are usually done on hands, legs, and ribs. If you choose to get an inscription in a foreign language, don't forget to check the phrase's meaning;

Tiny animal tattoos:

You can get a sketch with an animal in full height or just depict its face. The choice of animal usually depends on personal preferences and feelings. For example, the lion symbolizes power, strength, and confidence, while the dog is generally associated with loyalty and kindness. Many people also get tattoos with their domestic animals;

Weaponry:

Small tattoos with knives, swords, and guns are very popular among men. They can also combine such symbols with flowers and skulls to add metaphoric meaning;

Tiny element tattoos:

Such sketches may include various figures, dots, lightning or fire elements. In most cases, these tattoos don't have sophisticated meanings and are made just to decorate the body;

Small rose tattoos:

A traditional red or black rose is usually associated with love, passion, sensibility, and hope. For that reason, this flower is popular for making matching tattoos. At the same time, the rose image with a stem shows the willpower and firm character of the tattoo owner.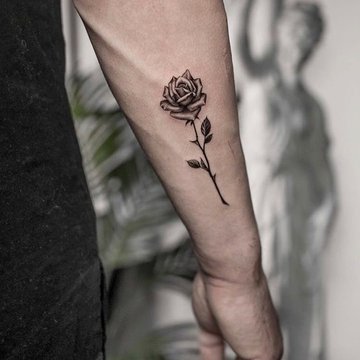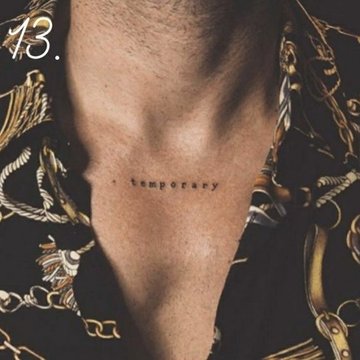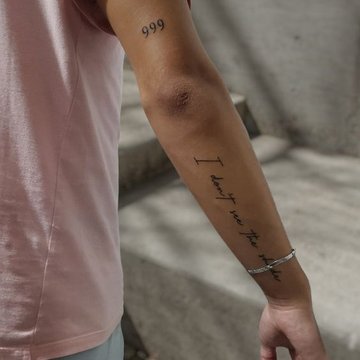 Small tattoo options:
are they worth considering?
If you are thinking about getting your first tattoo, tiny sketches are the best for joining the club of tattoo admirers.

Firstly, the tattoo session won't take much time and money. Secondly, the process of getting small tattoos is usually not painful and doesn't require complicated aftercare.
What's more, small tattoos allow you to choose any part of the body without the fear of attracting too much attention. Do you know that many people like tiny face tattoos? Yes, that's a new popular trend that may not meet the preferences of all people.
So, if you are thinking about getting a small tattoo, go ahead! On our website, you can find a gallery with various tattoo sketches that may help you choose the best option for you.