Features of Women's
Tattoos on Shoulder
These days, girls can get any tattoo they want.

Because of the desire for rebellion or inking something personal, it doesn't matter at all now.
The shoulder is an open place that gracefully emphasizes the body of the tattoo's owner. Ideas for a tattoo can be inspired by photos in our post.
Women's tattoos differ from men's in more elegant and beautiful designs, and sometimes with multi-layered meanings.
When choosing places for a future tat, girls can think for a long time about the best place on the body. As for a tattoo on the shoulder, you can find a sufficient number of advantages:


It's easy to choose a design because there are no frames in size or style;

The pain tolerance in this area is extremely low due to the lack of cartilage and bones, so the process is easy to tolerate;

If due to work it is impossible to have tattoos or show them, then tattoo can be easily hidden under a blouse, T-shirt, jacket, etc.;

It is easy to upgrade, add something and modify.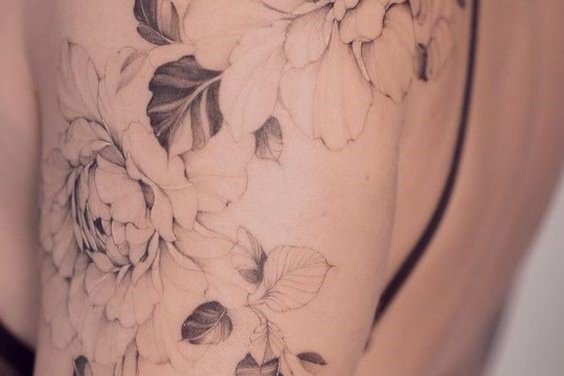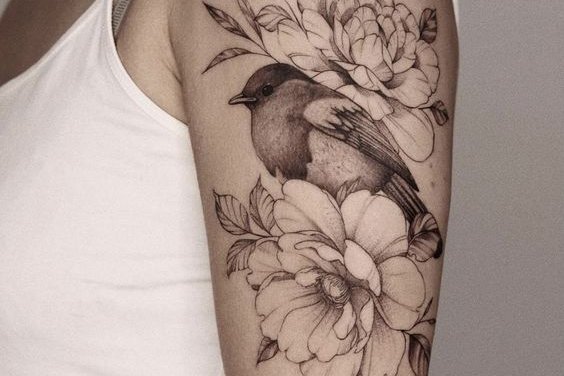 Shoulder Tattoo Ideas for Women
Tattoo artists recommend plus size women to have small or medium size tattoos on their shoulders, because big tattoos will make shoulder look bigger.

And vice versa, for skinny women it's better to have massive tats, because it will make them look more powerful. Here some examples: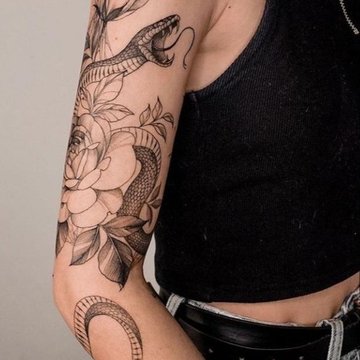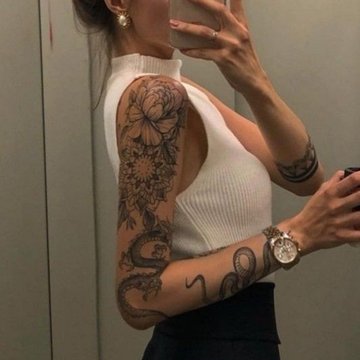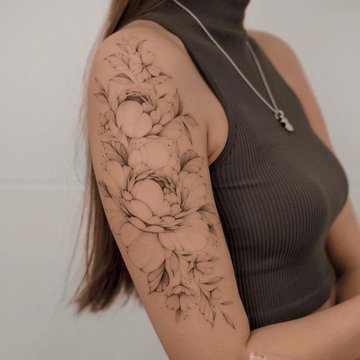 Simple Shoulder Tattoos for Ladies
But it would be wrong to think, that small and simple drawings are only for plus size ladies.

With 2023 trend of micro realism or nostalgic 90's tattoos, small drawings are bound to be on top this year. Not to mention simple tribal patterns, which will continue winning hearts. You can also ink some inscriptions. But try to avoid getting some small dots, stars, etc., because in the future it might look like harsh or other skin problem.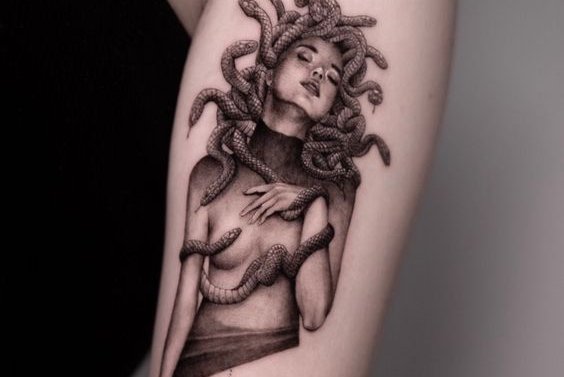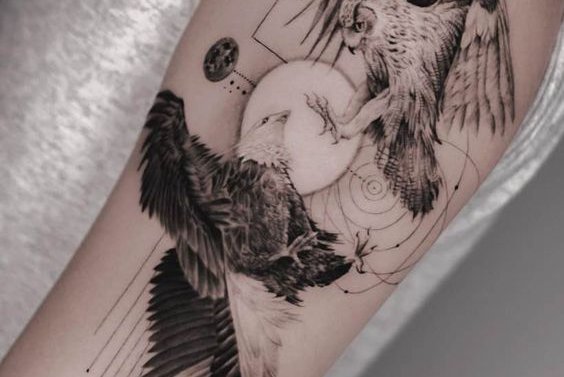 Meaningful Shoulder Tattoos
If we are talking about meaning in tattoos, well, it's all about your imagination.

You can easily come up to your own design with its unique meaning, but if you don't have time or unsure about your creativity, we are glad to help you. Here, the most popular designs and their meanings:


Insects

Quite common is the image of insect on women's shoulder. Each of them has its own specific meaning and allows you to convey the character of its owner. Most often, girls choose such insects:


Butterfly serves as a symbol of sophistication and beauty of the female soul;

Dragonfly indicates lightness, female inconstancy, rebirth or spiritual well-being;

Ladybug symbolizes the sun and the connection between our world and real paradise;

Bee refers to totem creatures and can mean power and immortality;

Bumblebee indicates self-confidence;

Moth is a light symbol and can be the choice of naive girls.


Animals & Birds


The most popular sketches in this field are:


Cat is a symbol of independence, dexterity and grace;

Panther indicates the tenacity and femininity of its owner;

Dove means the kindness and peacefulness of the girl;

Swan indicates purity of thoughts and tenderness; t

Swallow has become a symbol of youth and good luck;

Wolf symbolizes courage and dexterity;

Horse indicates nobility and perseverance;

Eagle is the choice of proud and noble natures;

Bear represents endurance and strength.


Flowers


Floral motifs are loved by many girls. Moreover, each flower has its own specific meaning:


Rose, depending on the color, can symbolize love, tenderness and purity;

Poppy is a symbol of sorrow and is often used to memorialize someone;

Lily indicates the spiritual harmony and tenderness of its mistress;

Orchid symbolizes wealth and luxury;

Lotus is a symbol of life and perfection;

Dandelion indicates flirtatious girls.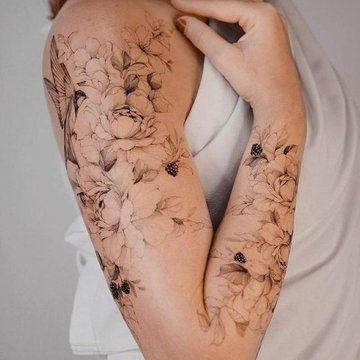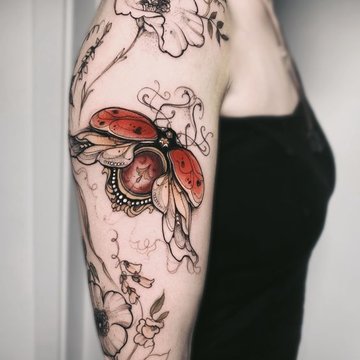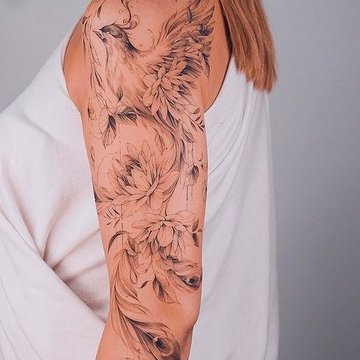 Back Shoulder Tattoos for Women
Often these drawings are small, rather medium sized and never big.

The style can vary from tribal to some vivid flower patterns. But remember if it is placed closer to shoulder blade, it will hurt more.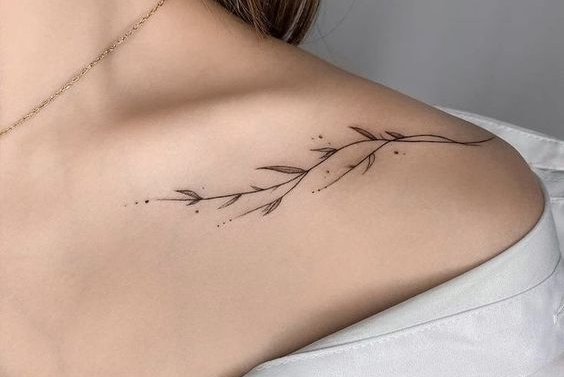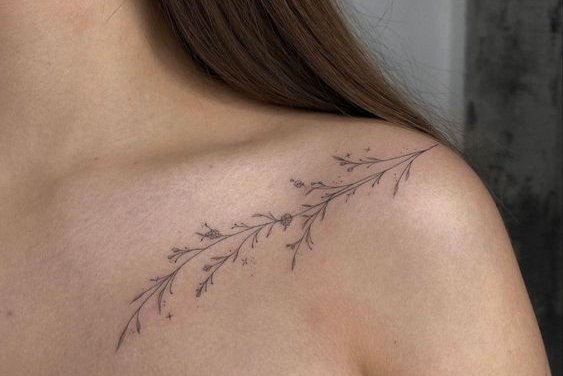 Uncommon Unique
Women's Shoulder Tattoos
The baldest tattoos on a woman's shoulder are tattoos of various kinds of shoulder pads: military, knight, space or from books.

Even more daring are the tattoos of optical illusions, especially cool they look because of shoulder rounded shape. But perhaps the most unique and at the same time complex are the patterns of mandalas or lace made with white paint.