Scorpion tattoo design:
trends and ideas
Scorpions – people born between October 23 and November 21 – are usually associated with great strength and power.

Ruled by the Water element, the representatives of this zodiac sign are independent and passionate individuals with strong convictions and high self-esteem. No wonder scorpions tend to make tattoos with their zodiac symbol to boost the traits they inherited from the celestial world. Below, we will consider some of the most popular Scorpio tattoo meanings, locations, and variations. So, here we go!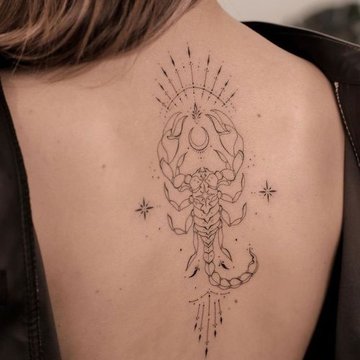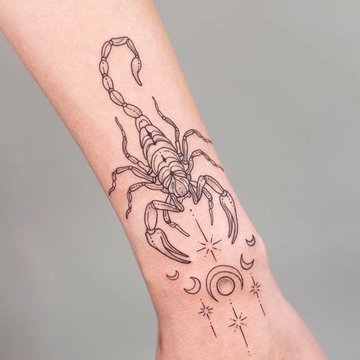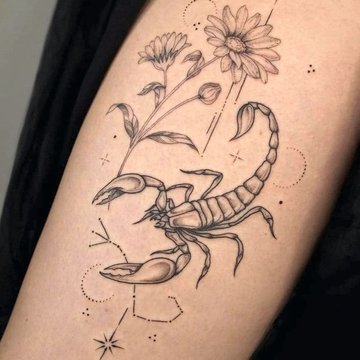 Scorpion tattoo meaning
To get to grips with the meaning such tattoos may convey, we should consider the peculiarities of this creature.

Scorpions are arachnids of relatively small size with 8 legs. These predators grab their victims tight and apply poison if needed. Some of the scorpion species may pose a severe risk to human life.
So, why do people opt for such a tattoo? Many people associate scorpions with justice, determination, strength, and loneliness. For that reason, Sorpion tattoos are popular among the representatives of this zodiac sign and the individuals who want to emphasize their inner power and bravery. Such people usually complete the chosen way despite any challenges they face.
However, the tattoo interpretation may vary depending on its location, size, color, and overall sketch.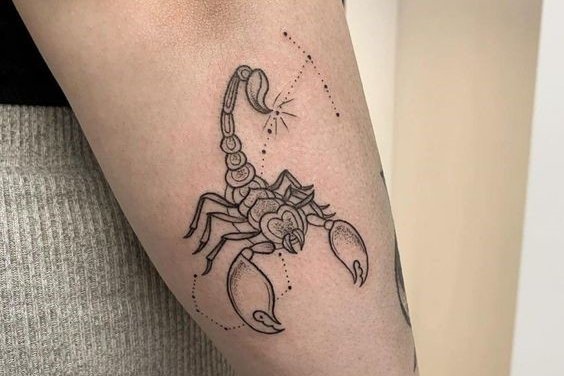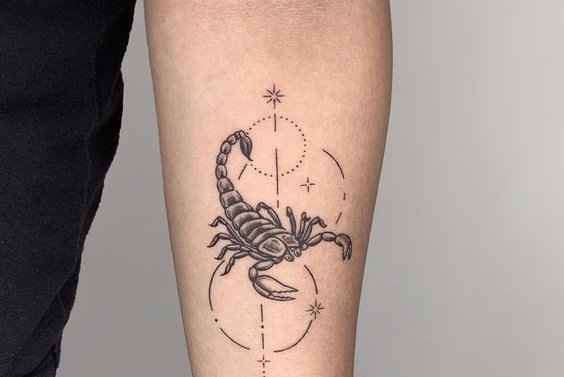 The most common
locations for scorpion tattoos
Due to the scorpion's size, such a tattoo looks attractive on any part of the body.

However, there are some locations that are extremely popular among tattoo admirers:


Scorpion neck tattoo: The neck is a popular area for making Scorpion tattoos. Women usually opt for minimalist sketches of small sizes, while men prefer tattoos that attract significant attention. The illustrations are generally black-colored and are not combined with additional elements;

Scorpion tattoo on hands: The main advantage of this body part is the ability to hide tattoos if needed or vice versa, make an accent on them;

Scorpion chest tattoos: A common place for making scorpion tattoos among men. It is also a perfect location for large sketches with bright elements;

Scorpion forearm tattoo: Such sketches are characterized by large elements, various color combinations, and extraordinary solutions. If you want to stand your creativity in good stead, this location is worth considering;

Scorpion back tattoo: This part of the body allows you to hide a tattoo under the clothing. Therefore, it is a popular tattoo location among people who do not want a tattoo due to their professional activities.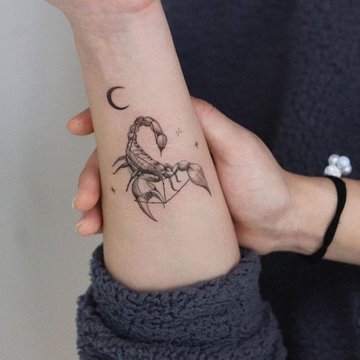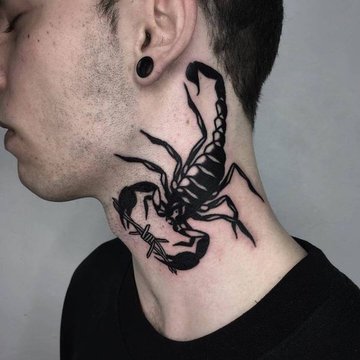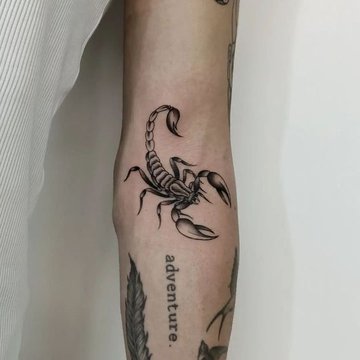 Interesting scorpion tattoo ideas
The representatives of a Scorpion zodiac sign, especially women, often experiment with tattoo sketches to make them look interesting and unique.

So, among some of the most popular ideas among women are the following:


Flower combinations: If you want your Scorpion tattoo to look less brutal, you can combine it with a rose or any other flower. The plant may be placed into the scorpion's pincer or grow from its tail. Such a tattoo shows the versatility of the person since the sketch combines romantic vibes with firm will-power;

Celestial bodies: The moon, planets, and constellations are usually used as additional elements for scorpion tattoos. In such a way, people show they belong to this zodiac sign and enhance its meaning.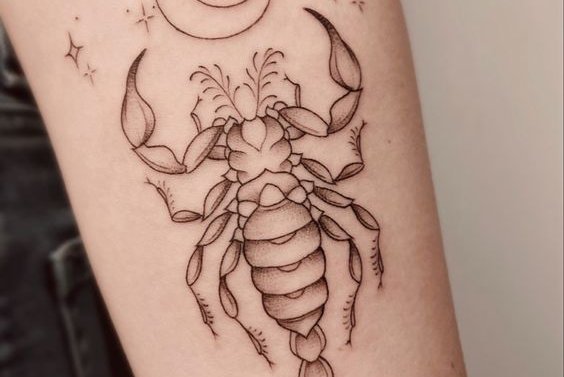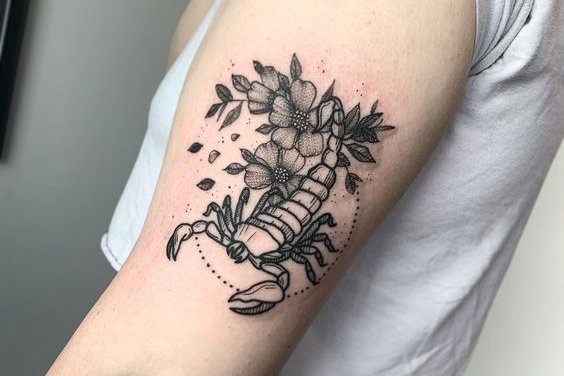 At the same time, to add some character to the scorpion tattoos, men often combine them with:


Various signs: People often write "Scorpio" in bolt letters or phrases with special meanings in front of the scorpion picture. It makes the tattoos look more brutal and expressive;

Realistic elements: Realistic scorpion tattoos may include a desert background, sand, and heated sun;

Weapon: By adding a sword, armor, or a shield to your scorpion tattoo, you can emphasize your bellicose nature, bravery, and inner strength.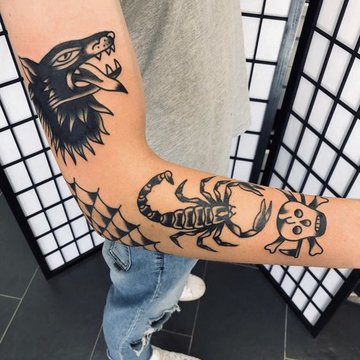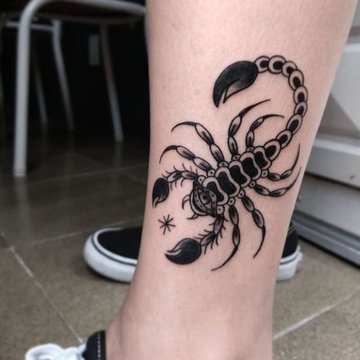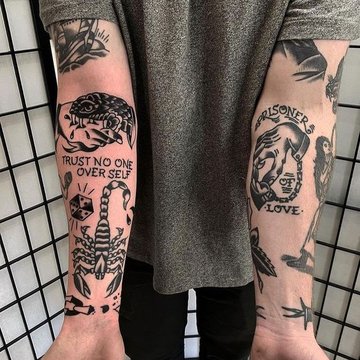 Drawing the line
Getting a Scorpion tattoo is an excellent way to emphasize the positive traits you inherit from your zodiac sign.

Thanks to the natural beauty of this creature, it can be combined with various elements and render different meanings.
If you want to make up a special tattoo, experiment with colors, styles, and shapes. For inspiration, you can search Pinterest or order a personal sketch from a tattoo artist.