A comprehensive
guide on Sagittarius tattoos
Sagittarius – a zodiac sign that belongs to the fire element.

Among its representatives are people born between November 22 and December 21. Sagittarians are usually passionate, emotional, and bright. These people can't stand lies and have a keen sense of justice. Optimistic, adventurous, active, alive – the list of this zodiac sign's advantages is quite breathtaking. But what do we know about the variety and meanings of Sagittarius tattoos? Let's find the answer together!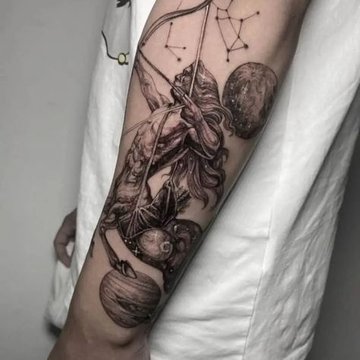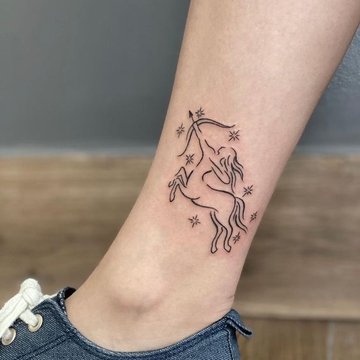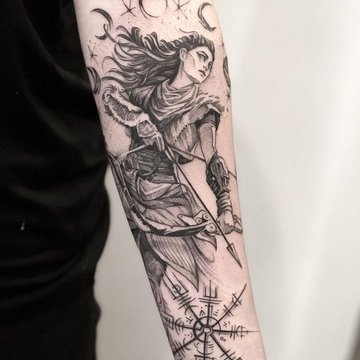 Sagittarius tattoo and
centaur: Tracing the connection
A traditional Sagittarius tattoo includes a centaur named Hiron – the wisest and most talented of all centaurs.

The mythology says that Hiron was believed to be immortal but agreed to exchange its privilege for the right to become a constellation. According to another legend, the Sagittarius zodiac sign is associated with a centaur because, for ancient Greeks, this constellation resembled a man-like creature with the body and legs of a horse.
Whatever the reason, Sagittarius is now associated with centaurs, influencing the tattoo sketches the representatives of this zodiac sign opt for.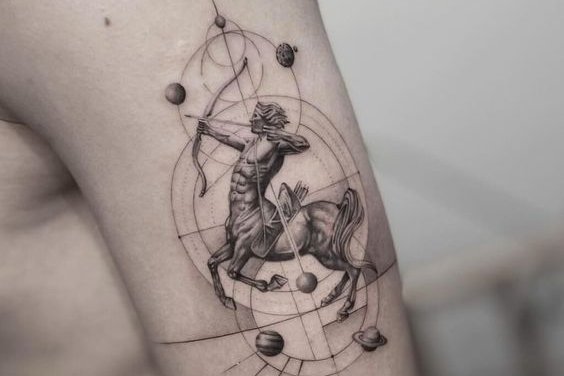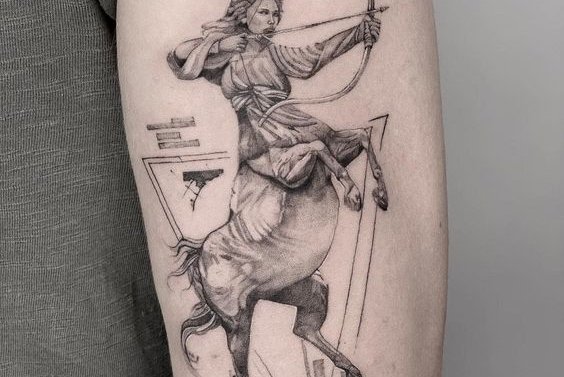 Common Sagittarius tattoo meanings
Sagittarius tattoos are usually preferred by self-determined, stubborn, and hard-working people.

The owners of such body illustrations are ready to overcome any challenges on the way to their dreams and usually rely only on themselves.
In most cases, people get a Sagittarius tattoo to strengthen the traits they inherited from their zodiac sign and to remind them that there are no unsolvable problems for them.
However, not only Sagittarius like such tattoos but also:


People in business;

Hunters;

Adventurers;

People with strong will-power.


Apart from their visual appeal, Sagittarius tattoos convey deep meanings and are rarely done "just for fun." Remember that the meaning may vary depending on various aspects.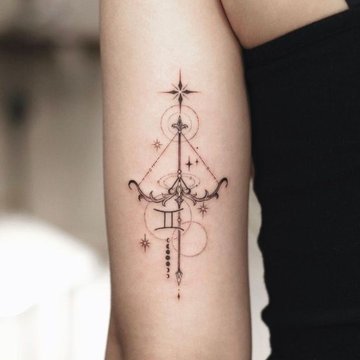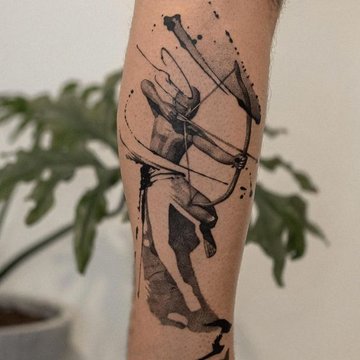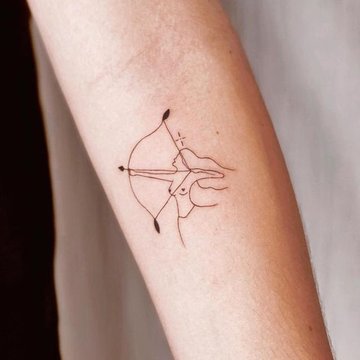 The most popular
locations for Sagittarius tattoo
There are no strict rules as to the tattoo location.

Since Sagittarius tattoos are often viewed as powerful amulets, people frequently choose body parts that can be covered with clothing. In such a way, they want to protect themselves from detractors' negative impact. Among the most popular locations for Sagittarius tattoos are the following:


Sagittarius back tattoos: This body part is perfect for large and sophisticated sketches with various additional elements;

Sagittarius neck tattoos: The location is more prevalent among men because it allows to add brutality to the character. Since Sagittarius is a bellicose zodiac sign, the representatives of this constellation like to make neck tattoos as a symbol of their inner strength that should be seen by everyone;

Sagittarius forearm tattoos: Forearm – another widely spread option for tattoo admirers. You can get only a Sagittarius sketch tattooed or combine it with other body pictures to make tattoo sleeves;

Sagittarius chest tattoos: If you want to hide your tattoo from detractors and turn it into a powerful talisman, think about getting a chest tattoo. In terms of this part of the body women usually prefer tiny and minimalistic sketches while men, especially those in good shape, opt for large and impressive Sagittarius chest tattoos.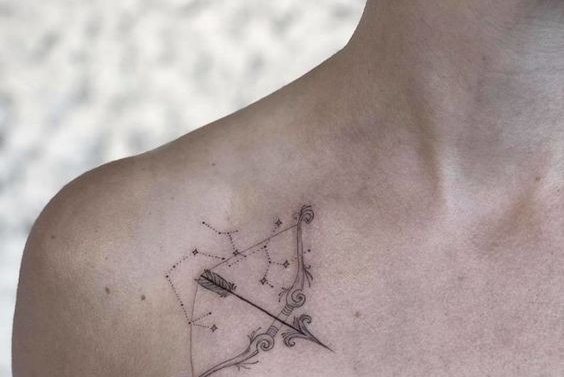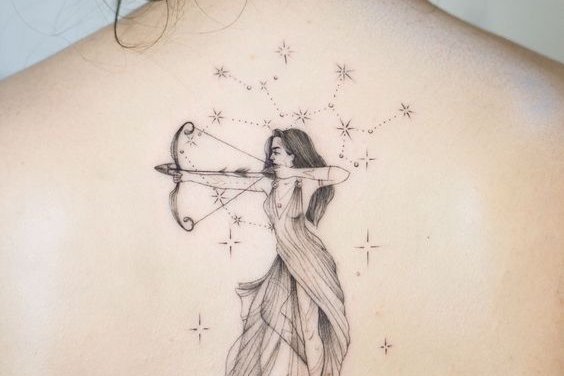 Looking for interesting
Sagittarius tattoo ideas
As mentioned, a traditional Sagittarius tattoo includes a picture of a centaur.

However, it doesn't mean it is the only option available. Feel free to experiment with tattoo styles, colors, and meanings. Among possible options:


Sagittarius tattoo with a woman: Such sketches are frequently used by ladies to enhance the power they have. It serves as a sign for all people – don't even try to hurt me:

Sagittarius constellation tattoo: The representatives of this zodiac sign with quite a mild nature prefer to get more abstract tattoos. Constellations are usually accompanied by the birth date or other essential signs for a person;

Sagittarius bow and arrow tattoo: If you are a fan of minimalism, this option is for you. Such tattoos look equally good at any part of the body and may be combined with different elements. For example, you can add flowers, stars, or sophisticated monograms to make your Sagittarius tattoo more romantic or use fire elements to enhance your brutality.


For more ideas, search the Internet or ask your tattoo master for help. Whichever sketch you choose, make sure it resonates with your feelings and thoughts. If it is so, any tattoo may bring positive changes to your life.