Zodiac pisces tattoo:
meanings and variety
In this article, we will talk about one of the most sensual zodiac signs and their astrology-related tattoos.

As you may guess, we mention Pisces – people born between February 19 and March 20.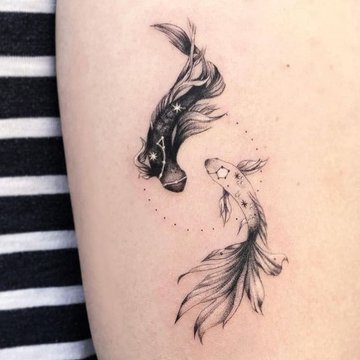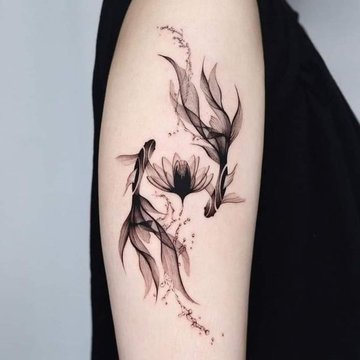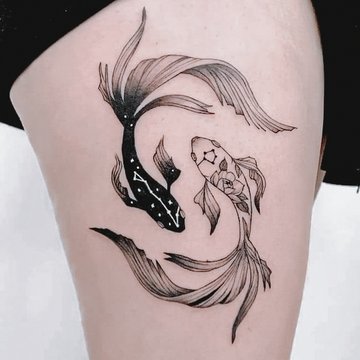 Pisces most common traits
Among the greatest Pisceses` traits of the character are developed intuition and the ability to adapt to any life conditions.

The representatives of this sign are flexible and creative. In fact, they can hardly be called friendly and open-minded. Well, communication with people brings them great pleasure, but Pisces chooses friends very selectively. To build close relations with the representatives of this zodiac sign, you have to earn their trust.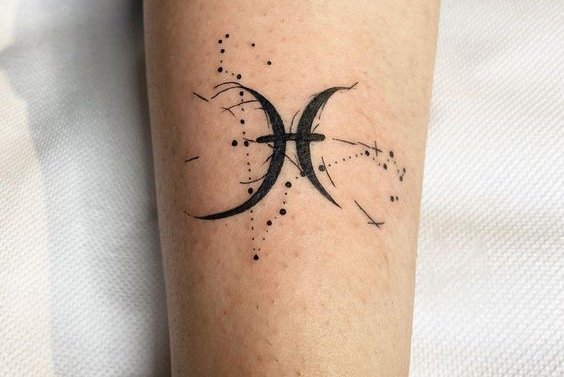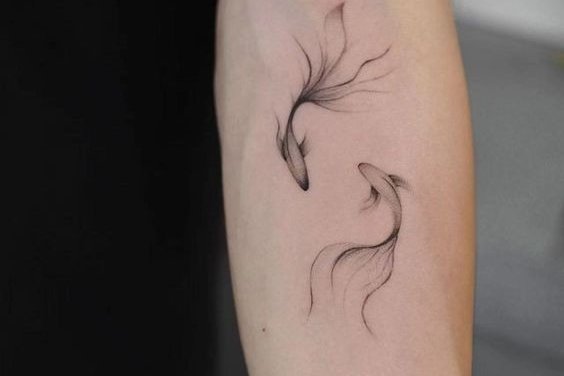 Zodiac pisces tattoo: deep
symbolism and visual appealingness
Pisces is mostly romantic, calm, and creative.

No wonder they tend to get tattoos with the symbols of their zodiac sign – fish, waves, and other marine elements. Such sketches transmit the acute mind, emotional balance, and the inner harmony most Pisces individuals possess.
A traditional Pisces tattoo looks like two half-moons turned to each other with their inner parts and linked together with a perpendicular line. This symbol depicts two fish swimming in different directions, and they are still closely connected to each other. It is believed that this symbol of Yin and Yang – a harmony and balance between everything that exists in the world. The same meaning can be embedded in the fish element in a tattoo.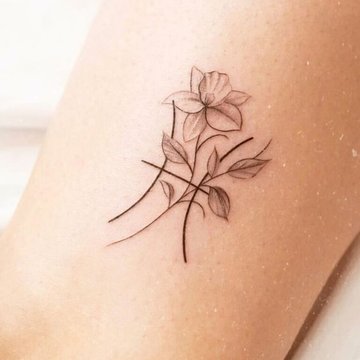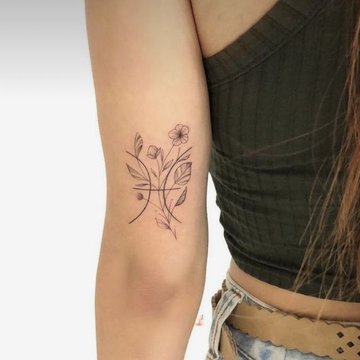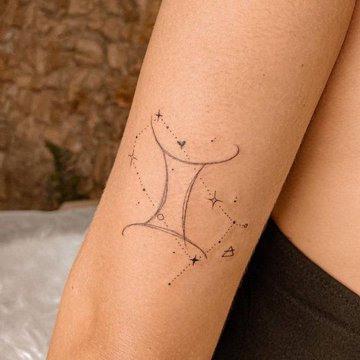 Apart from this, a Pisces tattoo may mean:


Pursuit of freedom in creativity;

The desire to go to become more independent;

Aiming at finding a life balance;

Lust for peace and tranquility.


All in all, such a tattoo usually shows the person is striving for creativity and free expression of thoughts and feelings. For that reason, it may be viewed as a powerful amulet that tattoo owners find their ways and primary purpose.
No wonder tattoos are popular not only among pisces individuals but people who want to find harmony with the outer world and understand themselves. However, the tattoo meaning may vary depending on a sketch color, size, style, etc. Note that astrologers don't recommend overusing dark shades for Pisces sketches because it may be associated with the sign of transition to another world.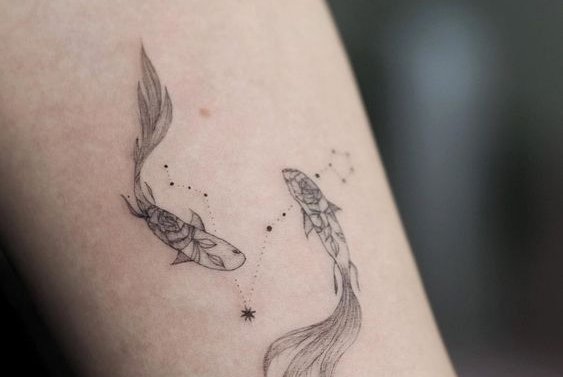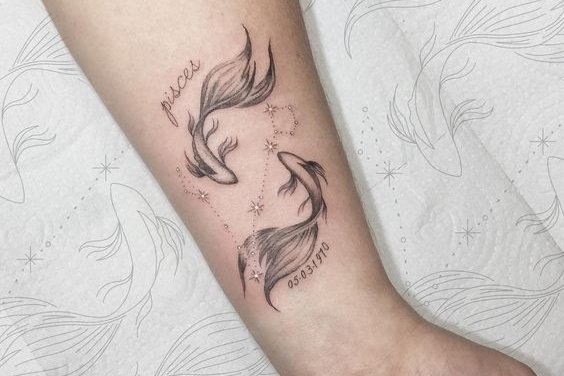 The best locations for Zodiac pisces tattoo
There are no strictly defined body parts for getting a tattoo, and you can place it anywhere you want.

However, most astrologers say that the Pisces tattoo location may define the protective power of a tattoo.
So, they recommend thinking about getting the following:


An ankle Pisces tattoo;

A tendon or heel Pisces tattoo;

A neck Pisces tattoo;

A wrist Pisces tattoo.


The specialists believe that the fewer people see your tattoo, the better amulet it will be for you. At the same time, if your Pisces tattoo conveys another meaning for you, you can place it anywhere. Such tattoos are usually made in one color and small size. It makes pisces sketches look especially attractive at the neck, ribs, and under the chest.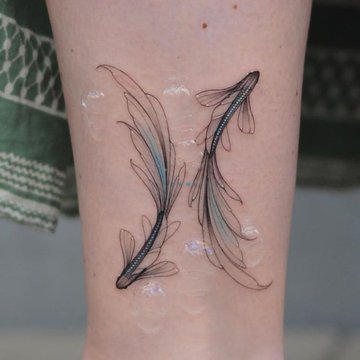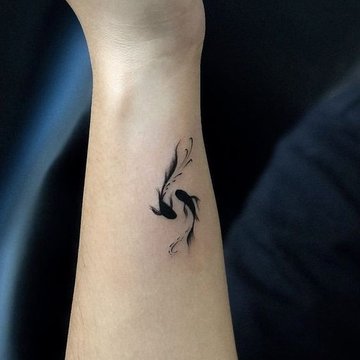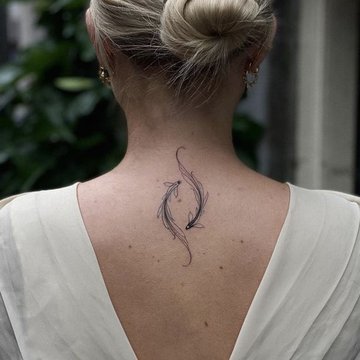 Some interesting Pisces ideas
The Pisces are ruled by the Water element and Neptune.

The most common symbols of this zodiac sign are fish and brackets turned in opposite directions. For that reason, most pisces people opt for traditional tattoo variations. But if you want to make your pisces sketch stand out from the crowd, you can:
Use bright colors:

Astrologers recommend choosing purple, pink, and lilac shades to emphasize the Pisceses' creativity, constant enthusiasm, and lust for new ideas. In addition, these colors are perfectly combined with the water character of the sign. What's more, bright colors will prevent the representatives of this zodiac from experiencing the melancholy they are prone to have.

Add additional elements:

To enhance the positive influence of a zodiac tattoo, you can combine traditional fish with Neptune, pearls, waves, jasmine, or other pisces symbols. To accentuate your creative nature, you can use celestial objects for a tattoo sketch: constellations, planets, satellites, meteorites, and the like.

Experiment with styles:

Tattoo artists recommend painting a fish sketch using watercolors. This technique helps to make the fins look airy and eye-catching. The watercolor style is characterized by the use of a large number of bright shades and "streaks of paint".
So, the range of tattoo sketches for Pisces is breathtaking. To find the best option for you, look for available sketches on the Internet or create your own one. Remember that the process of making a tattoo is sacral, and pay great attention to the tattoo artist you choose.