All you need to
know about Libra tattoos
Libra – one of the most peaceful, reliable, and at the same time, indecisive zodiac signs.

Libras strive for harmony in everything. Sensitive to beauty and art, the representatives of this sign are inborn diplomats. They also usually can boast of strong willpower, determination, and an unshakable desire to win in any rivalry.
People born between September 24 and October 23 are highly influenced by the Venus energy and the Wind element. Libras are workaholics who want to improve other people's lives. They are physically tough and have a good sense of humour. These people are usually intelligent, helpful, tactful and honest.
And since the representatives of this zodiac sign have a lust for everything beautiful, they frequently get tattoos to attract the attention of other people. So, let's consider the peculiarities, variety, and meanings of Libra tattoos.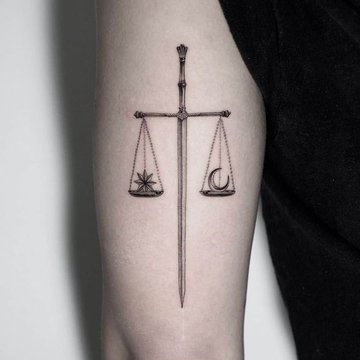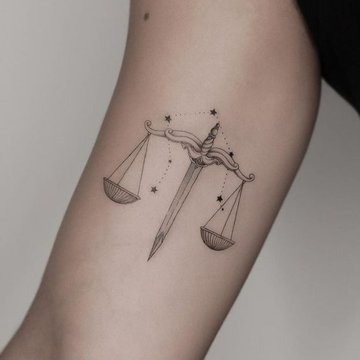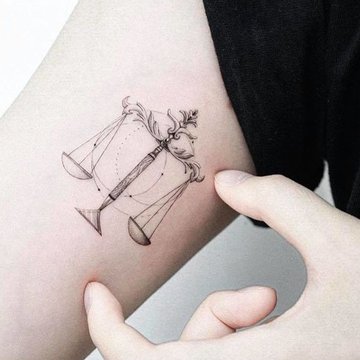 Symbols associated with Libra
Libra is associated with various symbols that are frequently used for tattoo sketches.

As you may guess, balance is the first thing that comes to mind when talking about Libra. They personify the eternal search for balance and harmony, law and order.
Among other popular Libra symbols are the following:


Heart: associated with feelings and inner beauty of a person;

Book: shows the wisdom and profound experience of tattoo owner;

Brain: is usually interpreted in the same way as a book.


Apart from this, Libra is frequently associated with the goddess of justice, Themis. You can also add to your tattoo sketch constellations or zodiac-related inscriptions.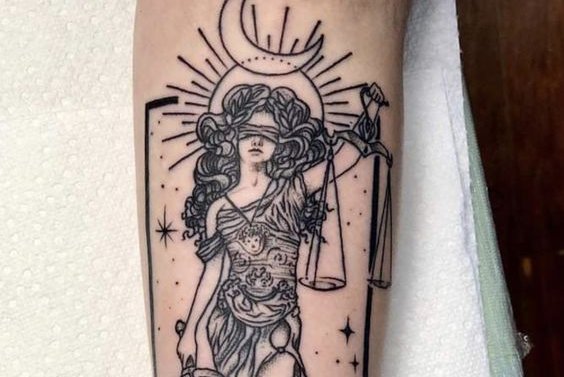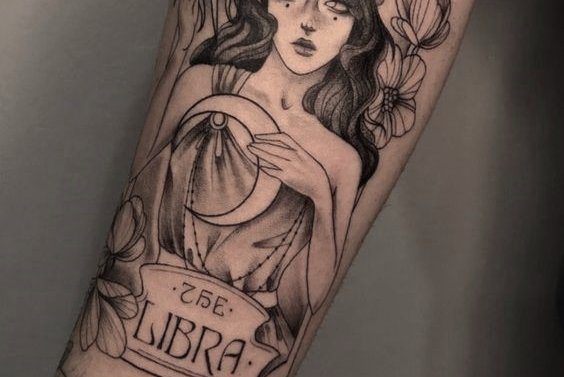 Libra tattoo: popular meanings
As becomes obvious from Libra symbols, tattoos with this zodiac sign mean honesty, fairness and justice.

Libra tattoos are a symbol of the balance between good and evil. Such illustrations can help its owner find harmony with the inner and outer worlds and avoid conflicts and heartbreaking life situations.
The meaning of the Libra tattoo also depends on the balance between the two parts of the scales. If they are equal, a person is likely to strive for harmony and tranquillity. However, one of the scales outweighs the other, this may indicate a person's preferences in life. For example, if a heart lies on this side, then the tattoo indicates that for the tattoo owner, romantic relations are currently in the first place.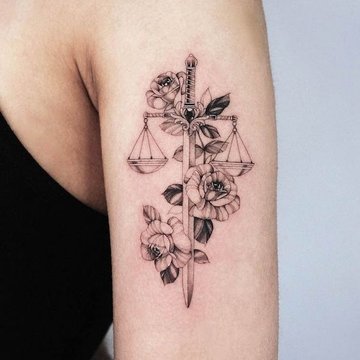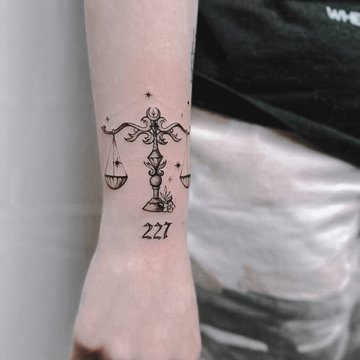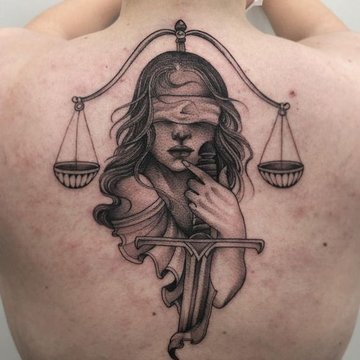 Libra tattoos for men
Libra is believed to be a sign of masculine energy.

A tattoo with scales can not only emphasize such traits as aggressiveness, self-confidence, and courage but also balance them, making a person calmer and more concentrated.
Men usually opt for massive Libra tattoos of dark colours. As additional elements, they may use snakes, swords, the goddess of justice, Themis, etc. No wonder among the most popular male Libra locations are the following:


Chest Libra tattoos;

Back Libra tattoos;

Thigh Libra tattoos;

Forearm Libra tattoos.


These parts of the body are perfect for large sketches and allow you to apply all your creativity and willingness to get a unique tattoo. If you want to get a powerful amulet, it is better to choose body parts that can be covered with clothes: back, chest, abdomen, etc.
The most popular Libra tattoo styles among men:


Realism;

Trash polka;

Black and white tradition with tribal elements.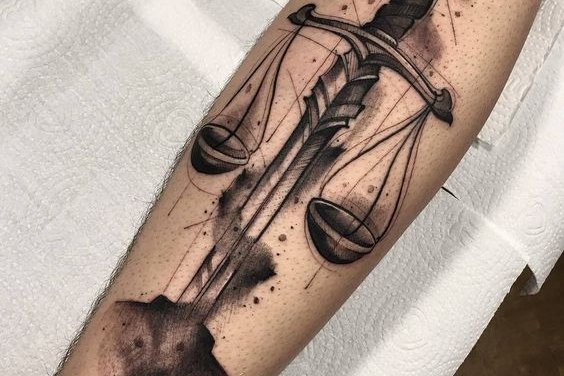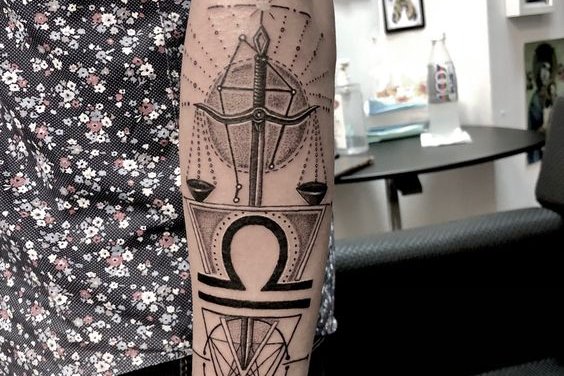 Libra tattoos for women
Libra tattoos are also popular among women.

However, their tastes differ considerably from sketches preferred by men. Women usually opt for small and minimalistic tattoos with powerful meanings.
They often use a traditional Libra symbol – scales, but also frequently choose other elements associated with this zodiac sign. For example, constellations, hearts, Venus, birthdate or other inscriptions.
Women also like to add visually appealing elements to their tattoos. It may be flowers, interesting curls, geometric patterns, and celestial bodies.
Female Libra tattoos always look gentle and attractive. They emphasize the girl's romanticism, lust for harmony, and creative nature.
The most popular Libra tattoo styles among women:


New school;

Minimalism;

Watercolor;

Graphics.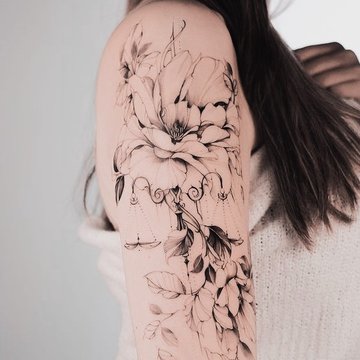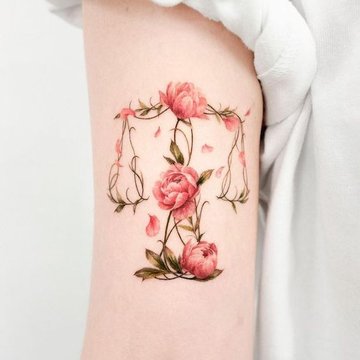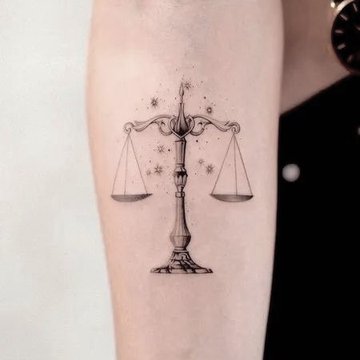 Drawing the line
A Libra tattoo will be a good choice for people focused on their inner world and personal experiences.

It is a great option for tattoo admirers seeking for balance and inner peace. Libra sketches usually look visually attractive and serve as powerful amulets. So, apply all of your imagination and creativity to make up the Libra sketch of your dreams.