Leo tattoo:
meanings, locations, and peculiarities
Leo is one of the most confident and bright zodiac signs.

People born between July 23 and August 22 are ruled by the Fire element and the Sun. This fact explains the nature of the key Leo traits.
Energy, soulfulness, vanity, pride, determination and stubbornness – these are the main traits that distinguish Leo from other signs. Such people are usually creative and self-determined. If they have a goal, they will achieve it no matter what.
People born under this zodiac sign are inborn leaders. They are strong and purposeful, charming and charismatic, and like to be in the centre of attention and to be liked by others. At the same time, Leos can be extremely arrogant, proud and stubborn.
Leos like to be in the spotlight and usually depend on the opinions and reactions of other people. Approval gives them additional strength, while criticism, in some cases, can even cause bouts of uncontrollable anger.
Due to such a bright nature, among the representatives of this zodiac sign are many devoted tattoo admirers. What are the peculiarities of Leo sketches? Let's consider below.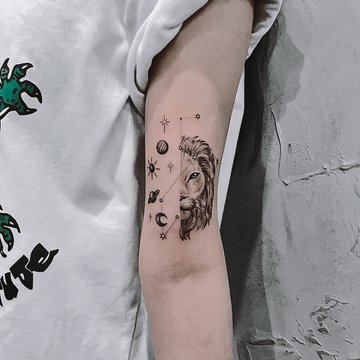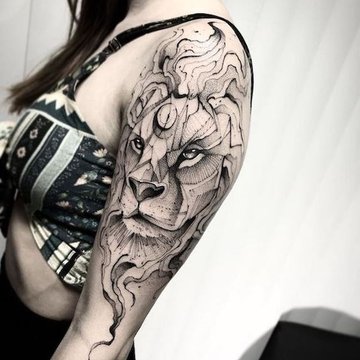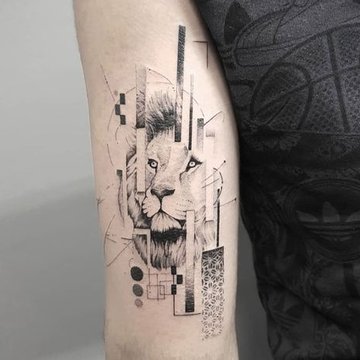 Leo tattoo sketches:
the most popular elements
The most popular and obvious symbol for the Leo zodiac sign is the animal known under the same name.

In most cases, people make tattoos with the images of lion's head. Another popular Leo symbol is a small Latin letter "n" with specific curves. It slightly resembles the inverted letter S. According to astrologers, the symbol is associated with the mane or tail of an animal. This sign is frequently used for tiny minimalistic tattoos and is believed to be a powerful amulet.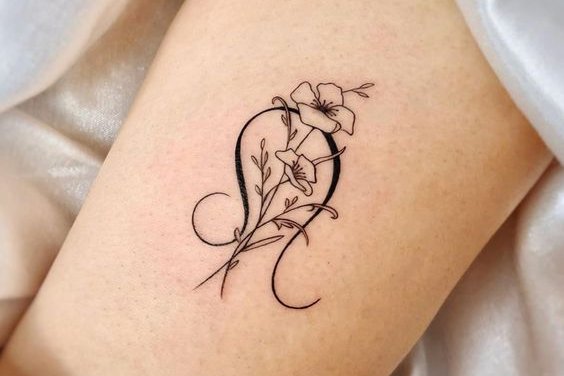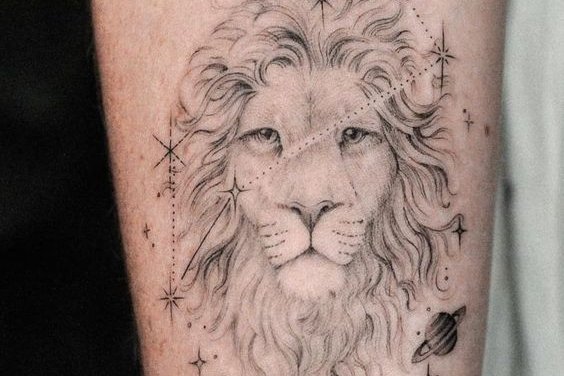 Leo tattoo meanings
There are several major reasons people want to get a zodiac tattoo:


To highlight and enhance their inborn traits of character they are proud of;

To develop particular traits associated with their zodiac sign;

To get a powerful protector;

Just to decorate their bodies in a creative way.


So, why may Leos opt for a zodiac tattoo? Since this sign is associated with inner strength, confidence, power, and success, people usually want to acquire such positive traits. Note that Leo tattoos may also be associated with such negative traits as impatience, narcissism, and inflated self-esteem.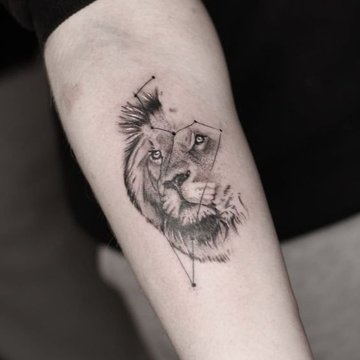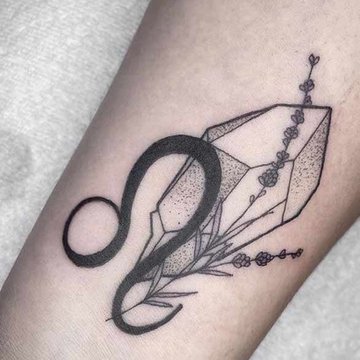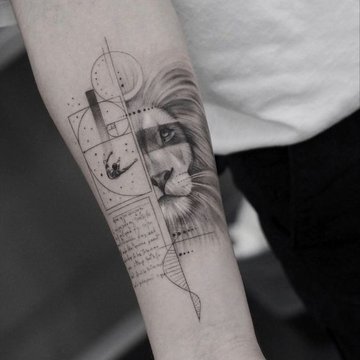 The best Leo tattoo locations
In some cases, tattoo placements can influence its meaning and attract certain events to your life.

Among the most popular Leo tattoo locations are the following:
Leo back tattoo:

Such a location usually shows the tattoo owner's desire to dominate and subjugate the weak;

Leo forearm tattoo:

This body part allows you to combine various elements to get tattoo sleeves. Forearm is a great option for people who don't want to have a tattoo in a visible place because of their professional activities;

Leo chest tattoo:

It is usually associated with nobility, helpfulness, generosity, and even kindness of the tattoo owner.
For getting tiny symbols associated with the Leo, such as constellations, sun, fire elements, and inscriptions, tattoo admirers usually choose wrists, ankles, and neck.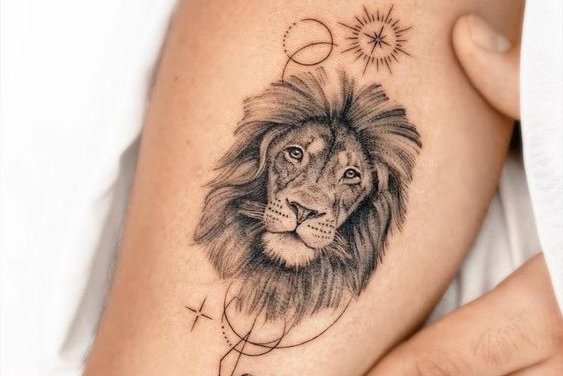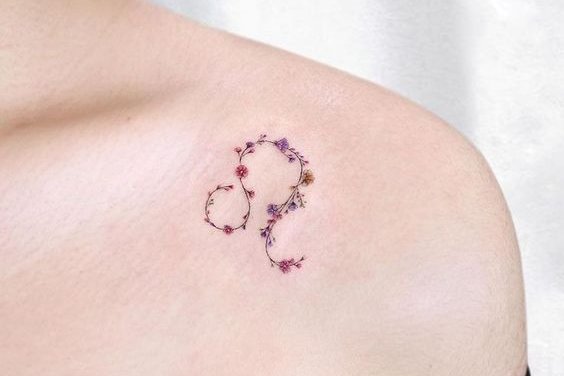 Choosing the best
Leo tattoo sketches
When looking for a tattoo sketch, consider the initial aim of getting a body illustration.

A Leo tattoo is a powerful symbol associated with strength, confidence, and power. However, there are several ways to depict the king of all animals:
A lion with open mouth and sharp fangs:

Such a sketch may mean that the tattoo owner is able to fight agains all life challenges;

A lion with large claws:

It is usually associated with aggression, power, and courage;

A calm and peaceful lion:

It symbolizes the inner strength and hidden potential of the tattoo owner;

Lion with other animals:

It usually says about readiness to negotiate and lust for peace.
Tattoo artists recommend using natural colors for depicting a lion: brown, yellow, and orange. For other zodiac-related elements, you can use black combined with gold, silver, and purple shades.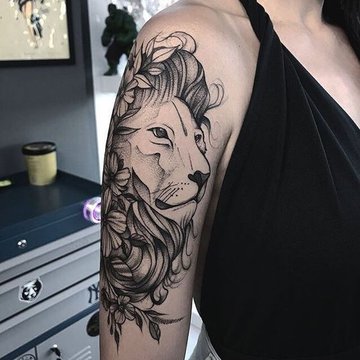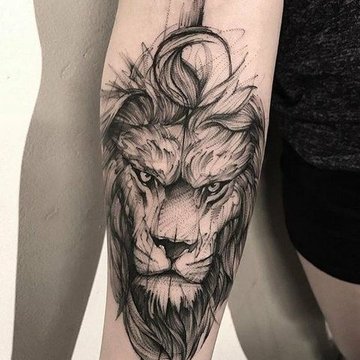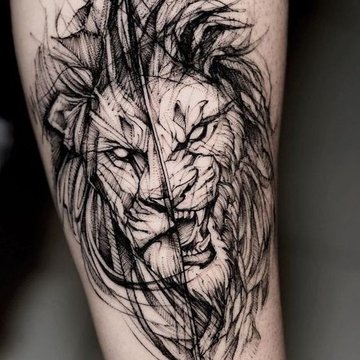 Among the most widely used techniques for Leo tattoos are the following:


Realism (in most cases);

Traditional;

Hand poke;

Neo-traditional;

Watercolor.


All in all, a Leo tattoo can become not only an attractive body decoration but a powerful amulet. What's more, by adding specific elements, you can enhance the meaning of your sketch. For example, a lion in a crown may give you more confidence, while lavender is believed to bring luck. Just make use of your imagination, creativity, and make up a Leo tattoo sketch of your dreams.