Men's Legs Tattoo Ideas
These days, one of the most unpopular, and at the same time, underestimated place for tattoo is leg.

Only few understand the full value of this «canvas». You can create a truly grandiose piece of art, or purely personal tat, which, apart from you, will be seen only by people very close to you. But it is worth remembering that there are many areas on the leg that are extremely sensitive and therefore you should decide to tattoo them, you should think twice and consult with the artist.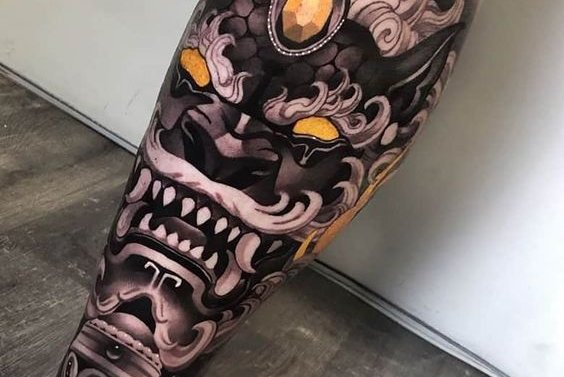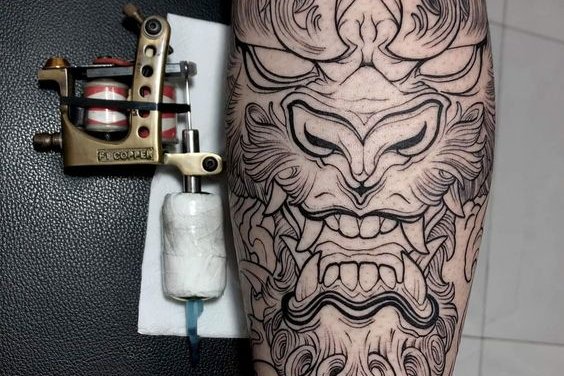 Full Leg Tattoo for Men
By choosing this area for your tattoo, you can create the most daring and detailed design ever imaginable.

It would be able to tell not just a fragment of some story, but the whole story, moreover, in the smallest details. If you will choose highly detailed design to cover your whole leg, the artists who love meticulous work will be over the moon. But if you're more interested in an abstract composition or just one large drawing, then you hit the spot. It will be an incredibly beautiful and solid ink drawing, even if it is only in black and gray style.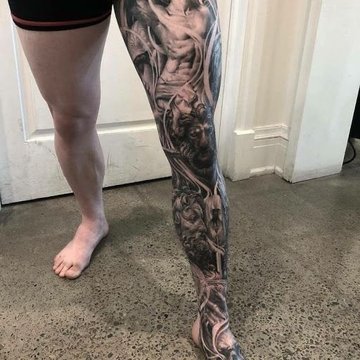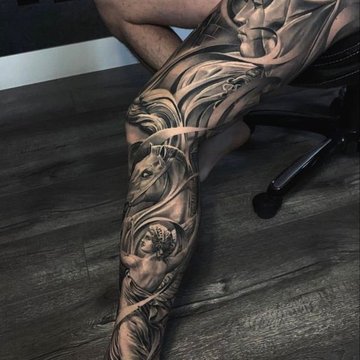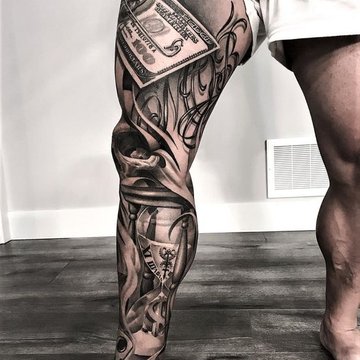 The Side Leg Tattoo
But you may not ink the whole leg at once. Start from one side.

Leave as a finished piece or add details and refine the design later, creating a deeper and more unique drawing. Don't limit yourself with only one style. Tribal, fineline, hyper realism, or their conjunction will look great. So, if you don't know what the end result you want to have, don't worry and let the inner inspiration guides you. But before that, let us show you some ideas with photos that we collected for you.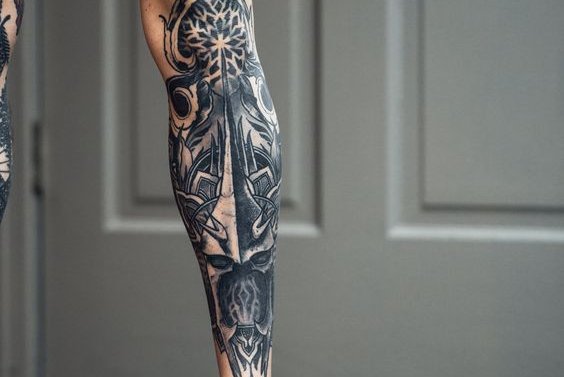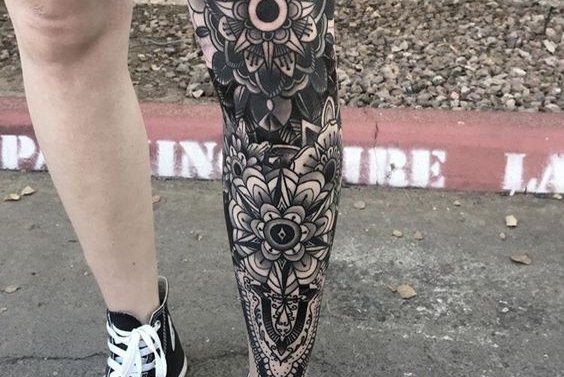 Small Leg Tattoos
Ideas for Men
Small tattoos are a great choice for those who are just beginning to get themselves inked.

There are a lot of places to start with, you can choose area which will show off your tat or be more discreet. A small design can easily fit into the future concept of a huge project. For example, American Traditional style tattoos are small designs linked together by smaller flowers, stars, etc. Although, some masters of this style can make huge concepts consisting of two or three main images. But that's a topic for another post.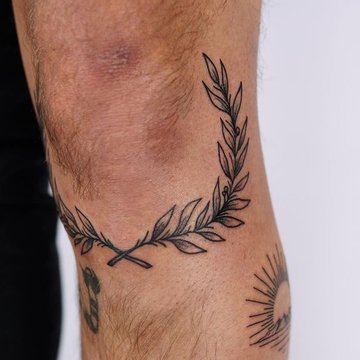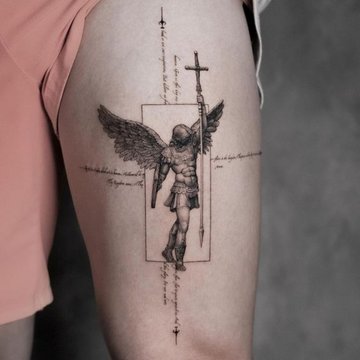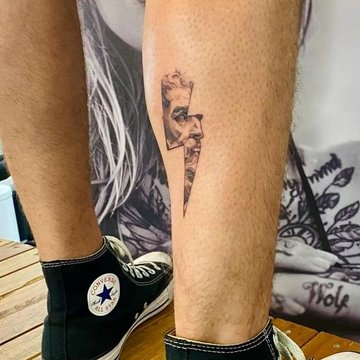 Skull leg tattoo
This is a classic.

There are so many variations of sizes, styles and places that it's hard to find two identical tattoos. Some people think that there is a hideous meaning behind the image of the skull, but the years of romanticization have brought skull drawings to a completely different level of perception. Now this is already certain aesthetics, where beauty verges horror.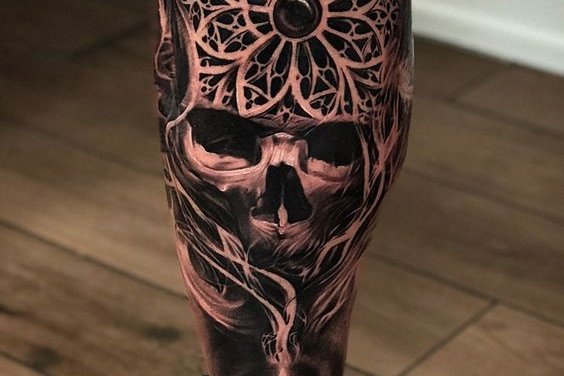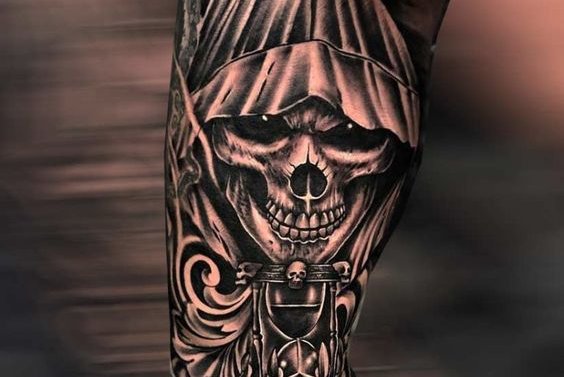 Tribal Leg Tattoos for Guys
When somebody talks about tribal style, they think about one of the subtypes.

But in reality, there are 5 main subtypes: Polynesian, Japanese, Indian, African and Celtic. Each of them has its own signature pattern, which has its own cultural significance, and also accentuates variously the part of the body on which it is inked. Therefore, before choosing a pattern, think carefully about where you would like to apply the drawing and how it will look on your body. Here are a couple of photos to better understand the differences and benefits of each type.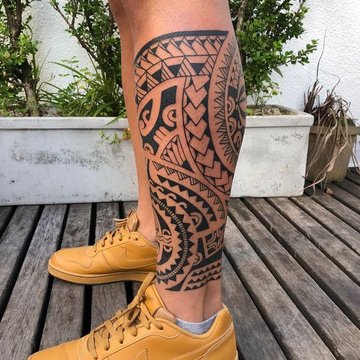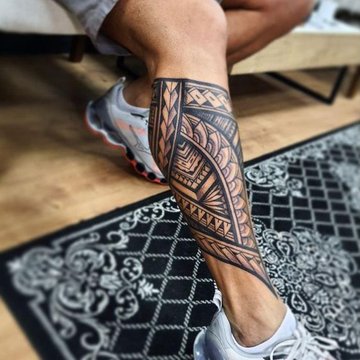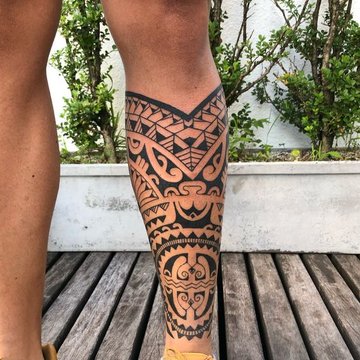 Simple Leg Tattoo
However, if you are intimidated that only huge projects can be inked on the leg, we are happy to tell you that it is not.

The most trendy styles of simple tattoos are fine-line, micro realism and 90s nostalgia. Even ordinary leg-bands will look stylish. On the other hand, don't get obsessed with them and ink your entire leg with small tats. It will look like a car fender covered with stickers.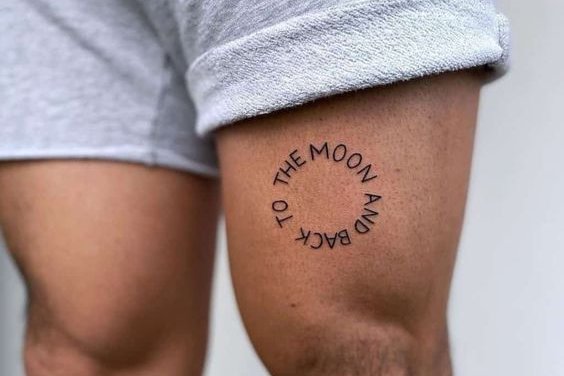 Biomechanical leg tattoo
Bold style.

On the wave of popularity of cyberpunk, these tattoos are reborn. The tattoo itself is a mixture of realism, deep shading and sharpness. This is an interplay of flesh and mechanism, where instead of familiar muscles, we see robotic parts. The whole point is that the tattoo anatomically matches the muscles and then in action it will be almost impossible to distinguish fantasy from reality.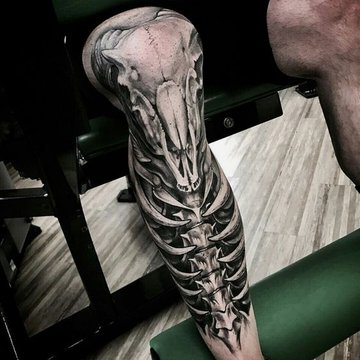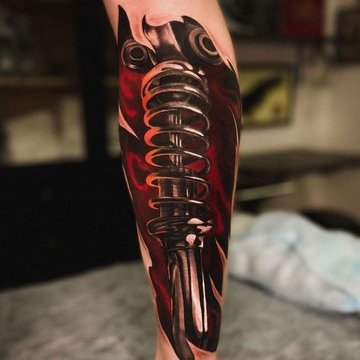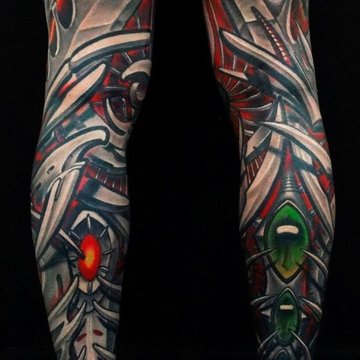 Colorful leg tattoo
This one is the boldest one. It is for those who are not afraid of experimenting with shapes and colors.

The most important thing is color, because some people have such a stereotype that for some reason a tattoo must be black and white, otherwise it is just a doodle. This is not so, and whoever thinks that way is a typical representative of the "old school". If you want your design to be bright and saturated, then what should be holding you back from bringing your desire to life? Exactly, nothing and especially no one! So be bold and opened to colorful designs.