Tattoo Japanese design:
features and popular motifs
For a long time, the tattoo in Japan was perceived negatively and was a distinctive sign of criminals - convicted villains were «marked» with tattoos as punishment.

At the end of the 19th century, body-images were officially banned, as Japanese society sought to preserve a national identity as opposed to European progress and everything behind it. The ban lasted until 1948.
Despite all the efforts of the ruling dynasty, the Japanese tattoo gained popularity and quickly spread around the world. Japanese style today is one of the most popular, interesting and difficult. Its uniqueness is that the drawings serve to convey fascinating stories, including various famous battle scenes that have become popular subjects in Japanese history.
For aspiring tattoo artists, an understanding of the techniques and symbolism of the Japanese style will help create stunning designs for their customers, imprinted with cultural meaning. And tattoo salon visitors choose a sketch deliberately, understanding the meaning of each element.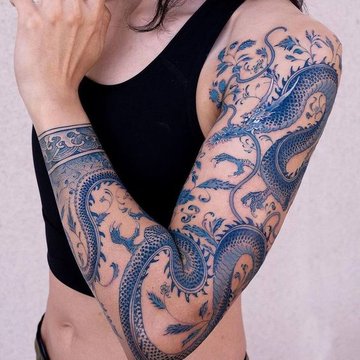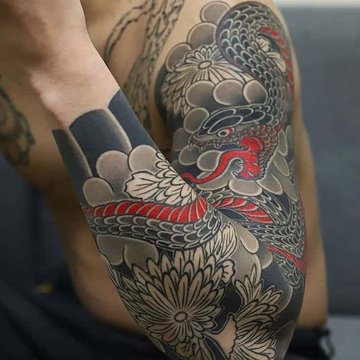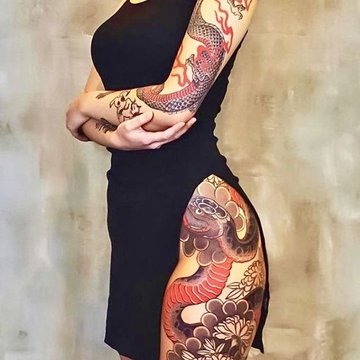 Japanese style and its features
Traditionally, tattoos in Japanese style are understandable and readable.

The images are not ambiguous, the motif and plot are clearly interpreted. Masters achieve this effect with high contrast hues, strong lines and a background that complements the foreground. Particular importance is attached to dynamic positions and forms that create a sense of movement in the image of a single element and in the overall tattoo in Japanese style.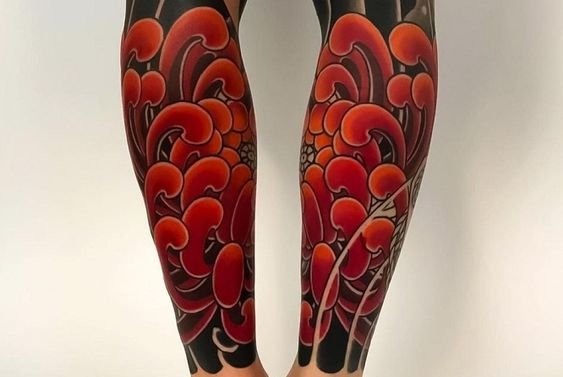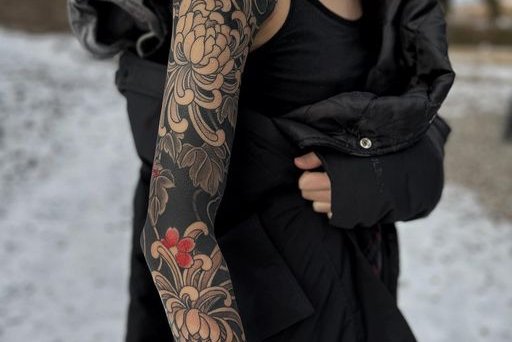 How a sketch is created
Tattoo artists use a lot of colors that help the foreground detail stand out against a thick black and gray background.


Even in black and gray tattoos, there is still a strong contrast between front and back. This is achieved due to the competent use of «negative» space - there are areas on the skin to ensure the readability of the drawing.
There must be a lot of black on the background to maintain the contrast between the two planes and the elements of the front background.
For the background tattoo in Japanese style consider the environment and time of year, corresponding to the plot. Traditional background elements are wind bands, clouds, wind spirals, water, stones. They are made exclusively in black and gray tones.
Traditional color combinations are used for the front layer. Objects are linked by the time of the year or the environment.
A sketch is created from elements that can be chosen from the proposed history or just liked by the client on the aesthetic level. The first are symbolic, the second are simply visually attractive.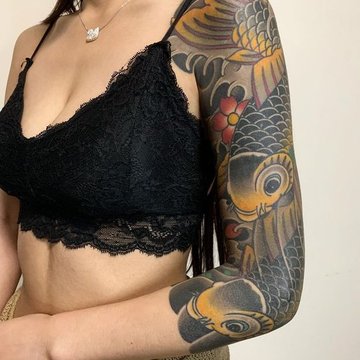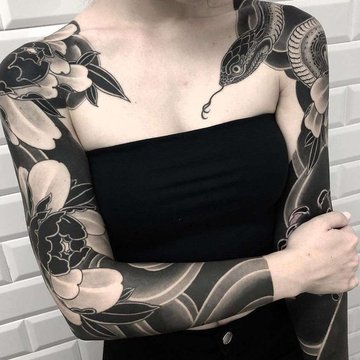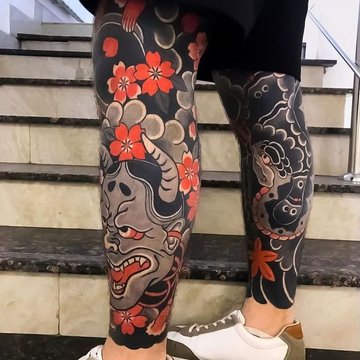 Colors of traditional
Japanese style tattoos
Japanese tattoos are bright and dense. Let's consider which colors are most popular and what do they mean:
Black, basic.

Japanese tattoos have a lot of black ink. This is due to the fact that at the very beginning of the development of the tattoo black pigment was the only available. When you use the combination «black and white» in Japan, in many traditions it symbolizes mourning. So be careful with this combination.

Red.

It is important in Japanese culture, symbolizes happiness, passion, life. In art - a symbol of protection from evil spirits. Therefore, often tattoos in Japanese style have a lot of red ink.

Yellow.

In some provinces of Japan, it means prosperity and joy, symbolizes gold and sun. In others it is the color of fraud, deception. So be careful not only when choosing a sketch, but also when choosing a color.

Green.

As in the world, this color in Japan is associated with nature, young life.

Blue.

This color is a symbol of luck, career, work.

White.

Color purity, truth, a new beginning after death.

Purple.

This color is the official color of the emperor and his family. Be careful using it to avoid causing ambiguity.

Pink.

It is the color of spring, health and, naturally, femininity.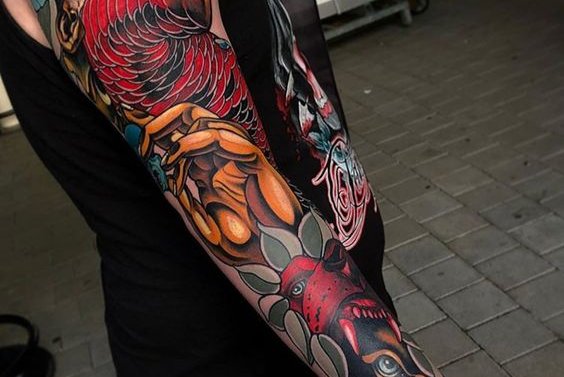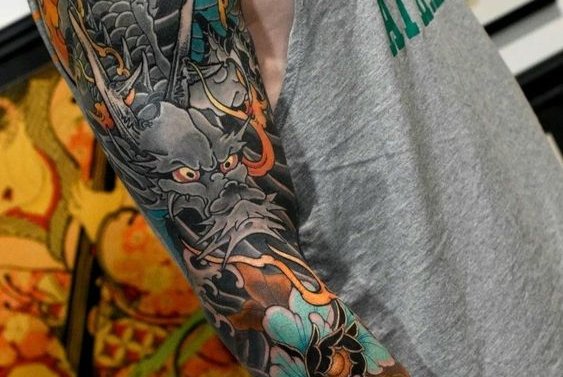 Meaning of the
tattoos in Japanese style
The subject of a Japanese tattoo is a character or creature depicted in the foreground.

Most of the stories refer to wooden engravings of the ukiyo-e era. Many tattoo artists consider famous wood artists to be Japanese-style tattoo artists. List popular iconic images to make it easier for you to choose:
Dragon.

In Japan, they symbolize strength, bravery, wisdom. The difference between Japanese and Chinese dragons is the number of claws. Japanese have three, Chinese have five. Many people choose dragons to emphasize strength and generosity.

Red carp (koi).

This symbol on the body speaks of the strength, resilience, luck, transformation and power of its owner. Koi are tattooed in different colors, accompanied by maple leaves, lotus flowers, stones and water.

Dog Fu (shi shi).

Mythical creatures adorn temples, dwellings, offices. Guardian dogs are chosen as Japanese-style tattoo plots to protect their owner. In Japanese culture, Fu dogs are traditionally represented by pairs.

The hannya.

The mask used in Japanese theater has become a popular subject of tattoos. The actor took a theatrical mask to show how the female character had lost his emotions and anger because of the lover's deception. Because of her vivid appearance, Hannya is often used in large-scale tattoos and as an independent element of a small image.

Tiger.

This animal is a symbol of strength and courage, a protector against evil spirits. Japanese samurai decorated themselves with tiger tattoos so that if they died in combat, their family could identify them and their spirit would be protected as they ascended into the afterlife. Tigers are usually depicted fighting another creature, such as a dragon.

Phoenix.

The Japanese phoenix differs from the well-known Western creature because it does not rise from the ashes and is not made of fire. It descends from heaven as a sign of reconciliation between the hostile parties and flies away if trouble approaches. Traditionally, Phoenix is depicted in Japanese style tattoos in bright colors. And the artist gets full creative freedom.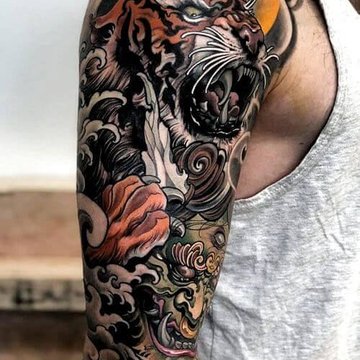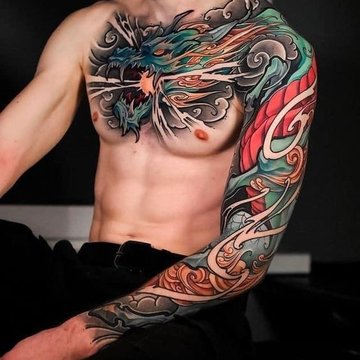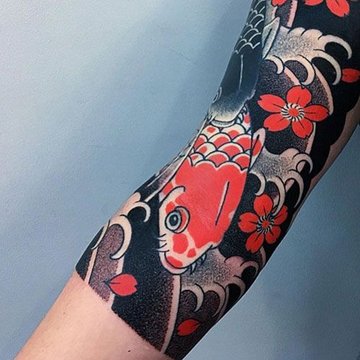 How to find a master
working in Japanese style
«VeAn» salons differ from other studios because we have masters of different styles.

We specifically introduce you to our site with different directions of tattoos to make it easier for you to choose. But we also want you to know how difficult can be a tattoo. Only a cool specialist will offer a service of the highest quality. We have the right knowledge, the right resources, the right experience.