Getting a tattoo on
a finger: inspiring ideas
Finger tattoos are extremely popular among admirers of minimalistic but powerful body pictures.

Such tattoos may vary in form, meaning, style, and even number. Anyway, tattoos on fingers are always associated with style. No wonder among the celebrities with finger tattoos are:


Hailey Bieber;

Lana Del Rey;

Rihanna;

Beyoncé.


But what are the reasons for the finger tattoos popularity? Below, we will consider the peculiarities and popular variations of tattoos on fingers.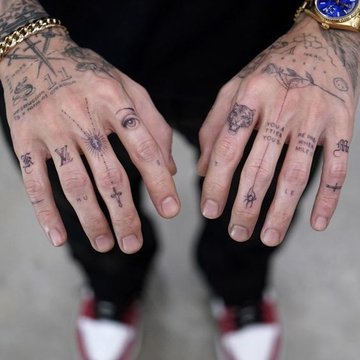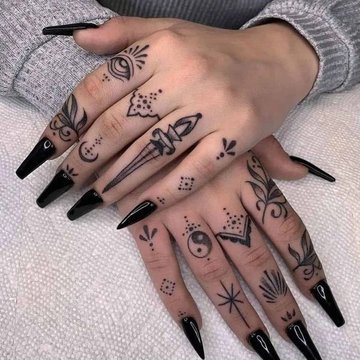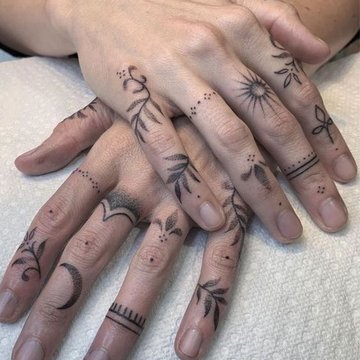 Female finger tattoos
: the most popular sketches
In most cases, women prefer to get their fingers tattooed because of their devotion to tiny and minimalistic elements.

On the one hand, such a location allows making a tattoo that will be hidden from the public eye. But on the other hand, you can combine various finger tattoos to create a real masterpiece. Since such body illustrations are usually small, they are especially interesting to examine and analyze.

Among the most popular elements for tattoos on fingers are the following:


Geometrical figures;

Yin and Yang symbol;

Infinity sign;

Zodiac symbols;

Various inscriptions, including hieroglyphs.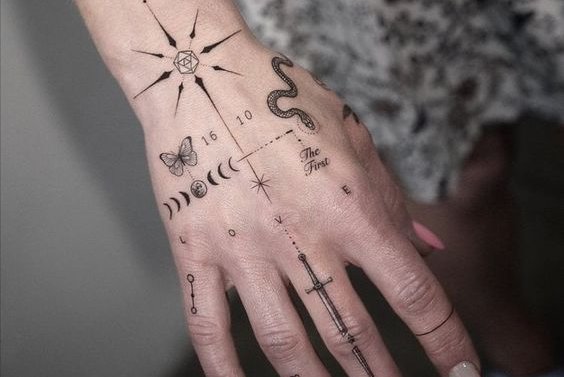 Male finger tattoos
: the most popular sketches
Don't think that finger tattoos always look elegant and romantic.

Such body decorations are also popular among men, but the tattoo sketches differ from the ones chosen by women. In most cases, men opt for bolt letters and brutal finger tattoos. It may be a word written by placing one capital letter on each finger or just a part of the tattoo-sleeves.

Male finger tattoo sketches frequently contain:


Hieroglyphs;

Bolt and capital letters;

Snakes, spiders, and the like;

Skulls.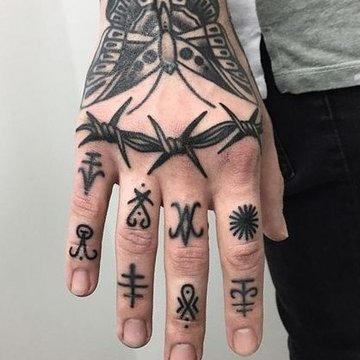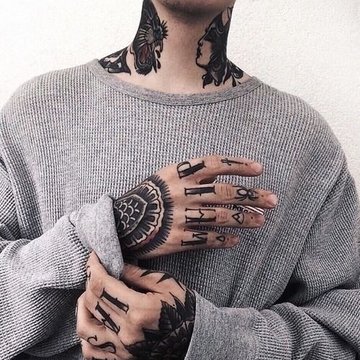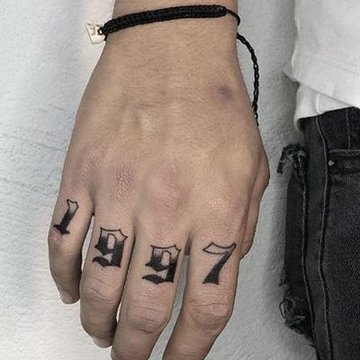 Finger tattoo peculiarities
Since tattoos on fingers are usually small, simple, and consist only of one element, they are usually done in one colour.

Among the most commonly used tattoo techniques are:


Minimalism;

Linework;

Dotwork.


For girly finger tattoos, masters also apply watercolour techniques to get high-quality tattoos of different colours.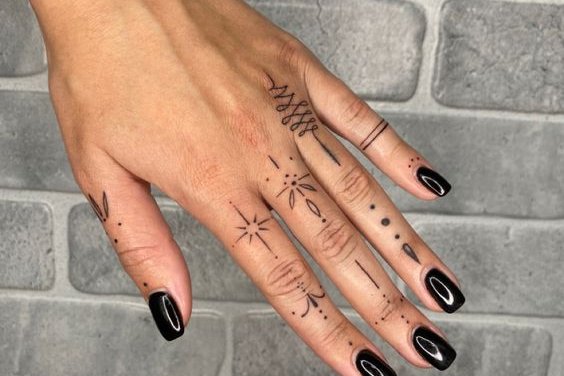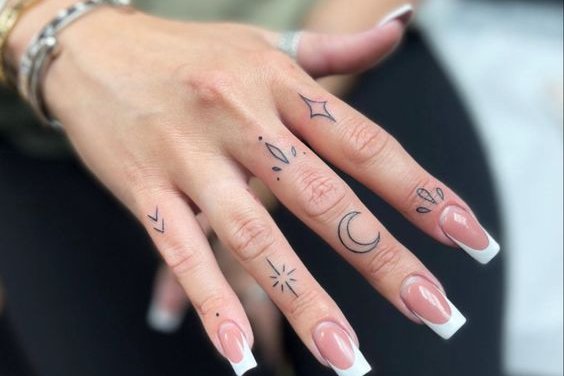 A tattoo on a finger:
finding advantages
Tattoos on fingers are extremely popular nowadays.

But what are the reasons? Let's consider some of the greatest advantages of getting a finger tattoo.
Versatility:

A finger tattoo may be a good option for representatives of any age and gender. Are you interested in astrology or maybe philosophies? There are no restrictions as to the sketches for finger tattoos;

Visual aspect:

Tattoos on fingers look classy. They can become just a small and intriguing body picture or lead to increased public interest. The emotions your tattoos provoke will depend on their size and amount;

Simplicity:

In most cases, the images are small and applied with black paint. That makes finger tattoos look special;

Deep meaning:

People often get inscriptions on their fingers as reminders of important things, values or even people in their lives. For that reason, such a tattoo may convey a powerful meaning and serve as an amulet for a tattoo owner.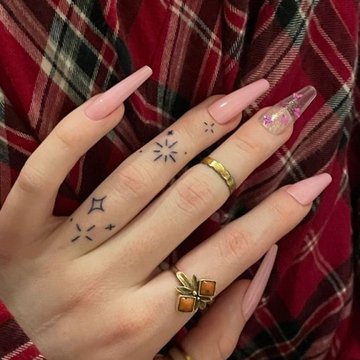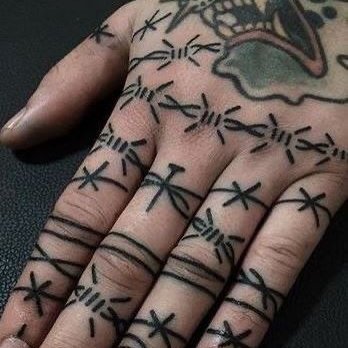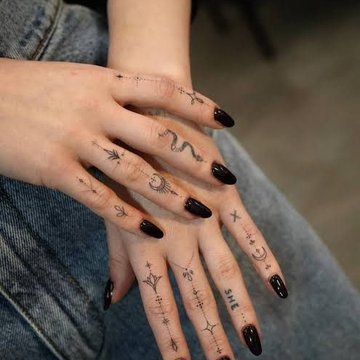 Are there any
disadvantages of finger tattoos?
When choosing a finger tattoo, you should remember that it has some peculiarities that may affect its visual appearance.

Firstly, tattoos on the inner part of the fingers usually require frequent tattoo corrections. It happens because the skin on this area is thin and delicate, so the tattoo pigment may eventually fade or blur out.
What's more, constant interaction with the detergents, water, and sun rays also have a negative impact on the tattoo condition. For that reason, if you want to get a finger tattoo, know that such a body picture will require more attention and better aftercare.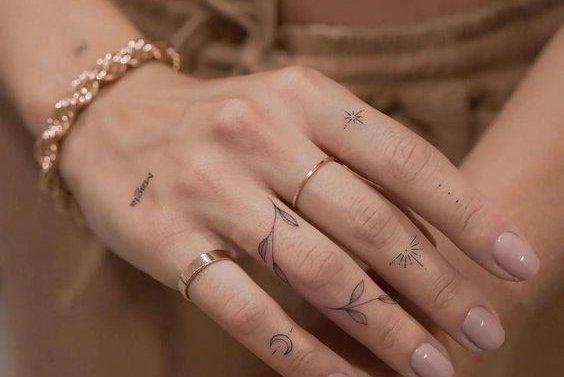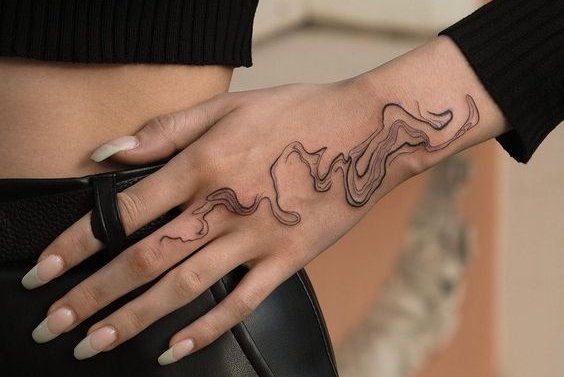 Drawing the line
A tattoo on a finger is a good option to get a tiny but memorable sign.

Such a location allows you to get tattooed on any symbol you want. What's more, finger tattoos suit both women and men. No wonder people often choose fingers for making matching couple tattoos.
If you are not afraid to face quite frequent correction procedures, finger tattoos are worth considering. For inspiration, you can look through our catalogue with sketches or use our neural network tool.