Cancer tattoo:
looking for inspiration
Loyal, shy, and insightful, Cancer is believed to be the most mysterious zodiac sign.

People born between June 22 and July 22 are ruled by the Water element and the Moon. The representatives of this sign are emotional, shy and sometimes moody.
This is one of the most insightful signs. The main character traits that distinguish Cancers from other signs of the Zodiac are: empathy, shyness, vulnerability, nobility, caution and far-sightedness.
At the same time, Cancers usually are quite pessimistic and often deal with controversial emotional experiences. They are usually friendly but can be both kind and open, and melancholic, withdrawn and reserved.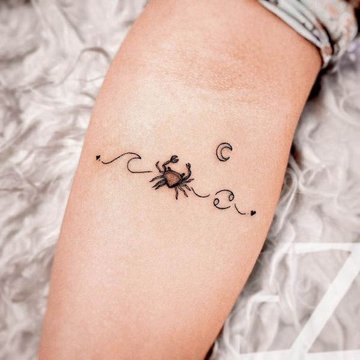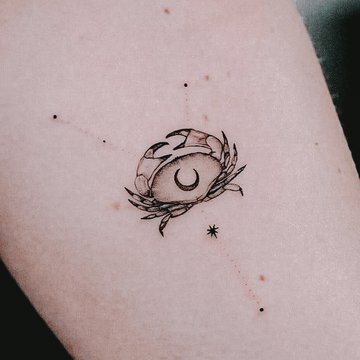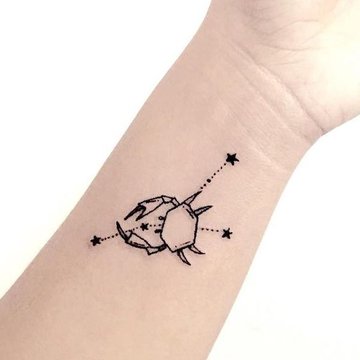 Major Cancer tattoo
symbols and their meanings
Since Cancer belongs to the Water element, this zodiac sign is associated with the aquatic world.

But the most common symbol for this sign is cancer. This animal is frequently associated with magic powers and spiritualism.
Some people even believe that cancer symbolizes the opportunity to travel in time and change some life situations. For that reason, tattoos with this animal are popular among people who regret their decisions.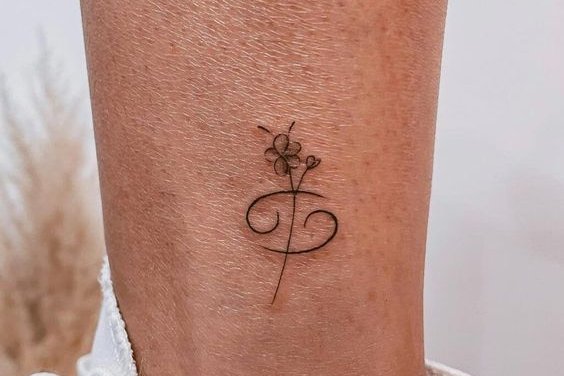 Since cancers can moult, they may also symbolise:


Self-education;

Renewal;

Harmony with nature;

Rebirth or even reincarnation.


On the one hand, a cancer tattoo may symbolize courage, perseverance, and readiness to attack and fight to the end. On the other hand, the powerful shell of this animal shows the person's closeness, endurance and patience.
The Cancer zodiac sign is also associated with the turned upside-down 69 number. It is said to be two cancer claws. Some people also assume it symbolizes eternity and yin-yang.
In most cases, people opt for zodiac tattoos to boost the traits they inherited from the celestial world or adopt the ones they lack. Anyway, tattoo is a personal issue, and sometimes it's impossible to understand its meaning correctly.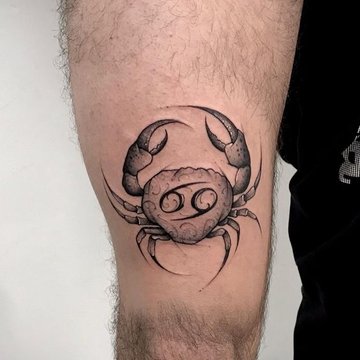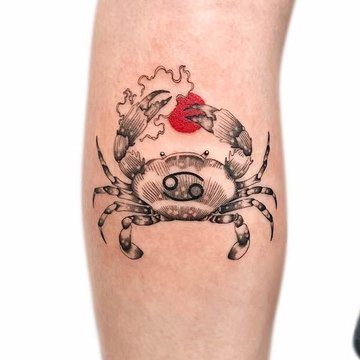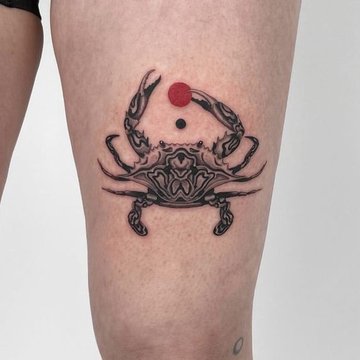 The best Cancer tattoo locations
As you may know, the tattoo location can influence its meaning and power.

Since cancer is a relatively small creature, most people prefer to get minimalistic tattoo sketches with this animal. For that reason, among the most popular tattoo locations are the following:
Wrist cancer tattoo:

It is a perfect location for a minimalistic tattoo that is especially popular among women. Such a tattoo can bring luck to its owner and even help improve relations with friends and relatives. Such a placement is often used by people who want to get a tattoo as a reminder of something important for them;

Neck cancer tattoo:

This location can add additional power to your tattoo and serve as an amulet. Neck tattoos are believed to protect their owners from detractors and bring inner peace;

Chest cancer tattoo:

This body part allows you to get larger tattoos with additional elements of different colours and styles. It is especially popular among men who want to emphasize their strength, courage, and brutality.
Note that there are no strict rules as to the Cancer tattoo locations, and you can choose any part of your body that meets your tastes.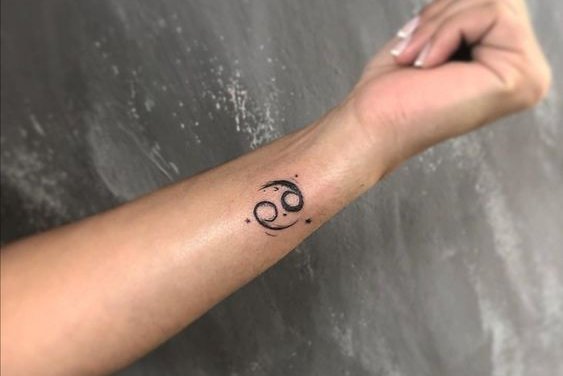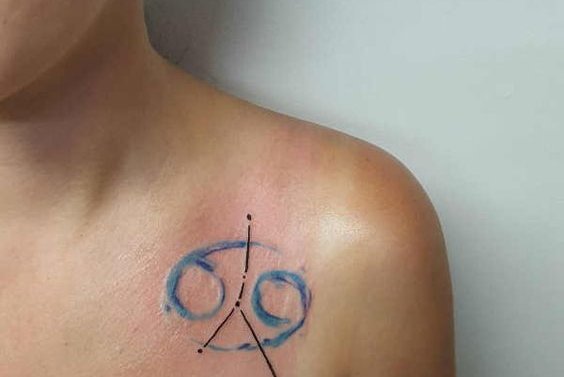 Cancer tattoo trends and ideas
For Cancer tattoos, people usually choose one-colored sketches.

However, astrologers recommend choosing colours that are associated with the Water element: blue, green, and turquoise. Since the representatives of this Zodiac sign are ruled by the Moon, they can also add sketches of white and silver shadows.
Among the most popular techniques for Cancer tattoos are:


Minimalism;

Hand poke;

Black and white tradition.


To make your tattoo stand out from the crowd, you can combine cancer with other water inhabitants. In addition, such tattoos can be decorated with pearls, stars, geometric patterns or zodiac-related inscriptions.
All in all, a Cancer tattoo may become a powerful amulet or just an attractive body decoration. For tattoos of average size, the cancer variations are widely applied. At the same time, if you prefer tiny and symbolic sketches, think about tattooing a constellation, various inscriptions or turned upside-down number 69.
For additional inspiration, you can view Pinterest or ask your tattoo artist to make the sketch of your dreams.