Eyebrow Feathering
tattoo: new beauty trend
Let's face the truth, thin eyebrows have lost their popularity nearly a decade ago.

From that time, the beauty industry has developed considerably to help women get the brows of their dreams.
What's the problem with big brows? Not many people can boast of dark bushy eyebrows, so they need to apply eyebrow pencils or shadows. It takes a lot of time, effort, and sometimes nerves.
Luckily, nowadays, women can make use of the eyebrow feathering tattoo to get natural and fluffy brows. Below we will consider all the peculiarities of this beauty procedure so that you can make a well-informed decision.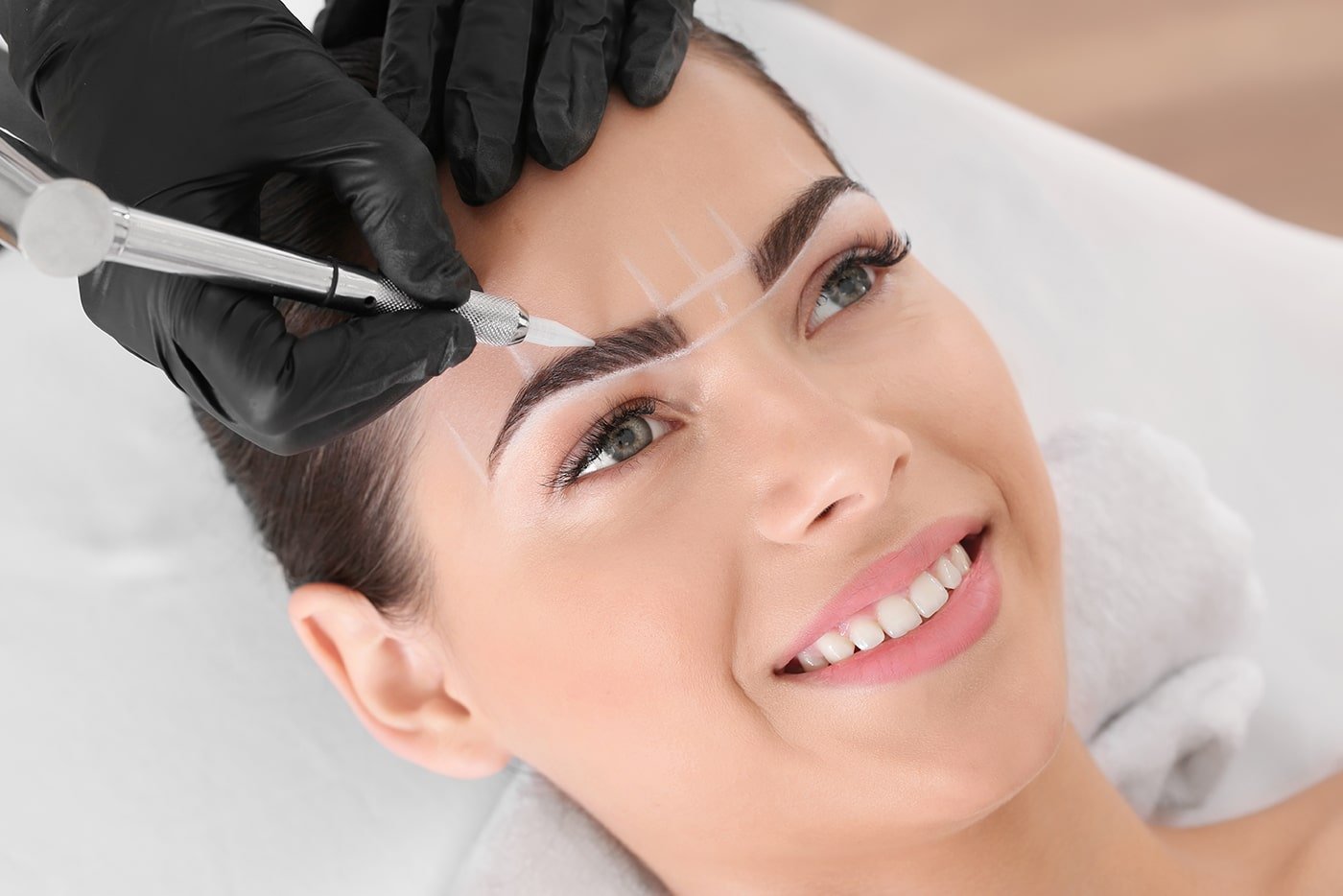 What is an eyebrow
feathering tattoo?
Eyebrow feathering tattoo is a type of permanent make-up made on your eyebrows.

This procedure lies in tattooing imitations of natural hair to make feather-like brows. Unlike traditional tattoos, eye feathering results don't last forever. You will be able to enjoy full brows between 9 months and 2 years. Then you will have to renew the procedure.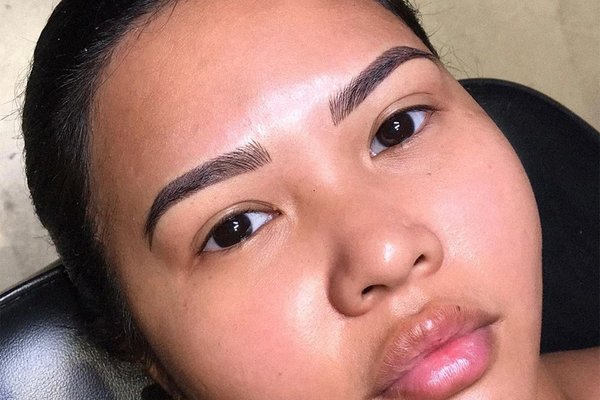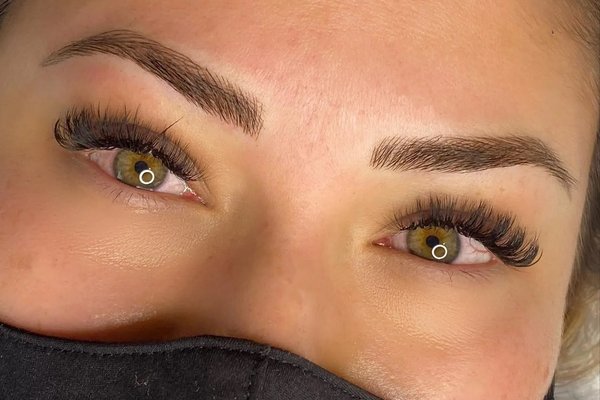 Eyebrow feathering vs microblading
Many people mistakenly assume that eyebrow feathering is the same with microblading but it is not really true.

This beauty procedure is a type of microblading made in a less invasive technique. Thanks to a special precise blade, permanent makeup master inserts pigment into the brow gaps to make them look naturally attractive. Unlike microblading this technique lies in tattooing longer hair strokes.
What's more, when comparing these beauty trends, it is essential to specify their aim differences. Microblading is a universal procedure for restoring eyebrow shape. At the same time, feathering tattoos are recommended to people with thick brows that want to make them look fuller. It won't help you "make brows from scratch" but allow you to improve the shape and attractiveness of your brows.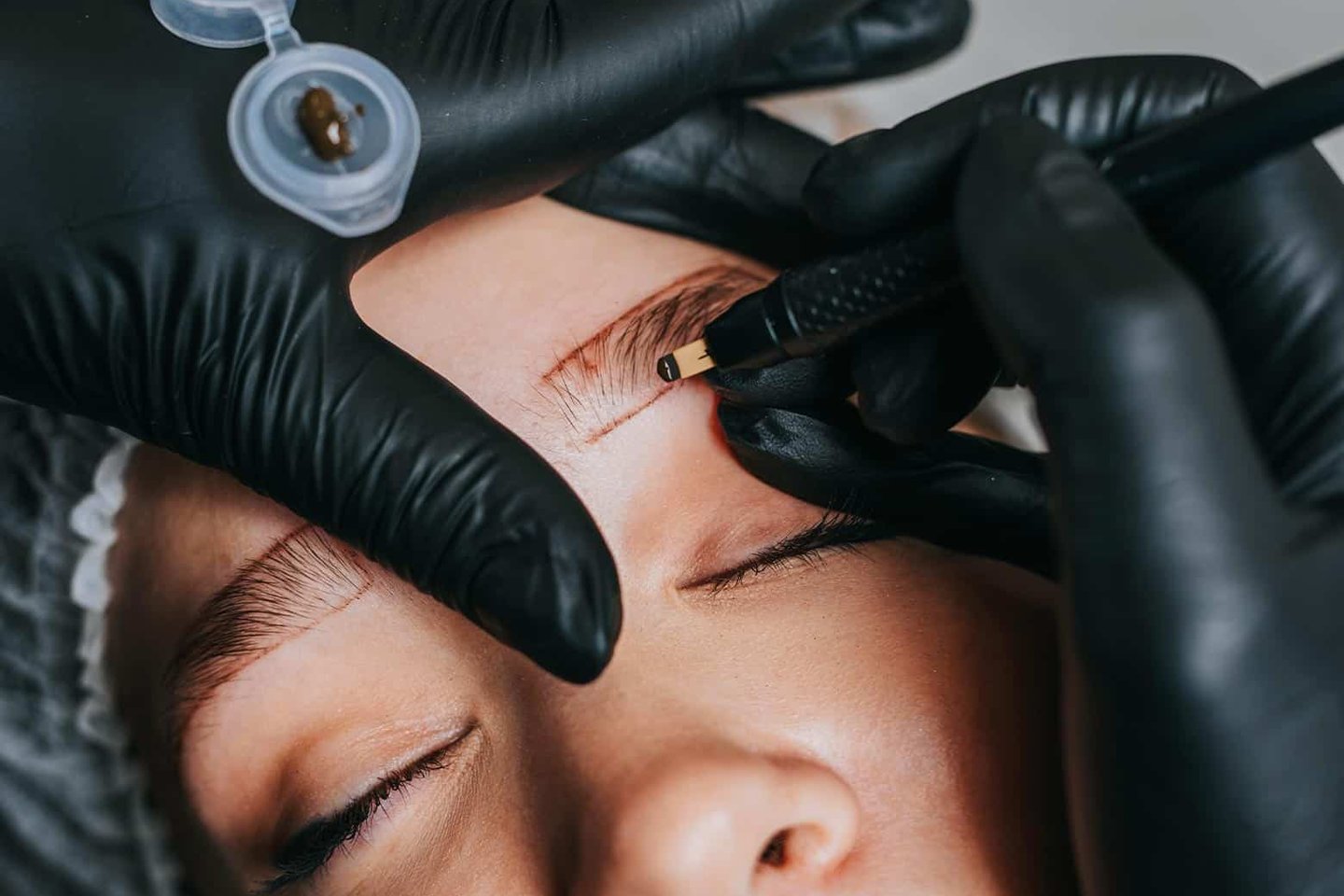 Who is a perfect candidate for
an eyebrow feathering tattoo?
Feathering tattooing is a great option if you have:


Thick eyebrows;

Dry or normal skin;

Dark hair.


For women with light-colored brows, it is better to think about microblading. Oil skin is not a complete taboo on eyebrow feathering, but in this case you won't get long-lasting results.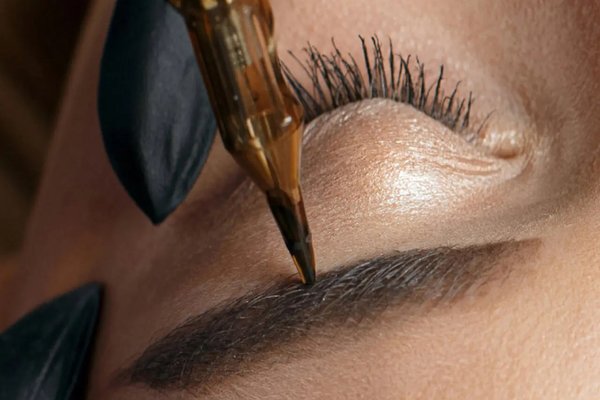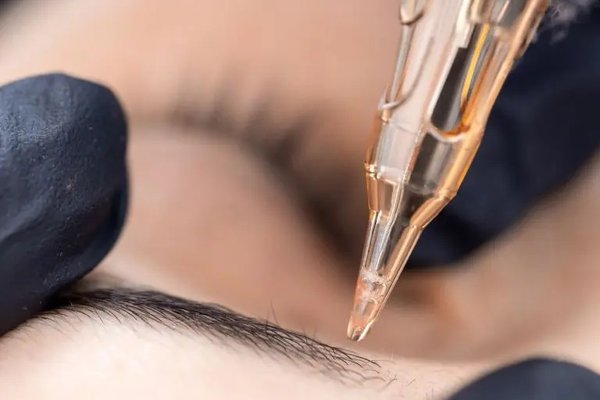 Is it painful to get an
eyebrow feathering tattoo?
Sorry to tell you, but no one can predict your feelings during a feathering tattoo procedure.

Everyone has different pain tolerance levels, so you won't know until you try. Since tattoo feathering implies skin incisions, you may experience unpleasant feelings. But we have two pleasant facts for you:


Firstly, most clients say that this procedure is not very painful;

Secondly, your master will apply a topical anaesthetic if needed.


The feathering tattoo procedure usually takes between 30 and 50 minutes, so it won't bring you considerable discomfort.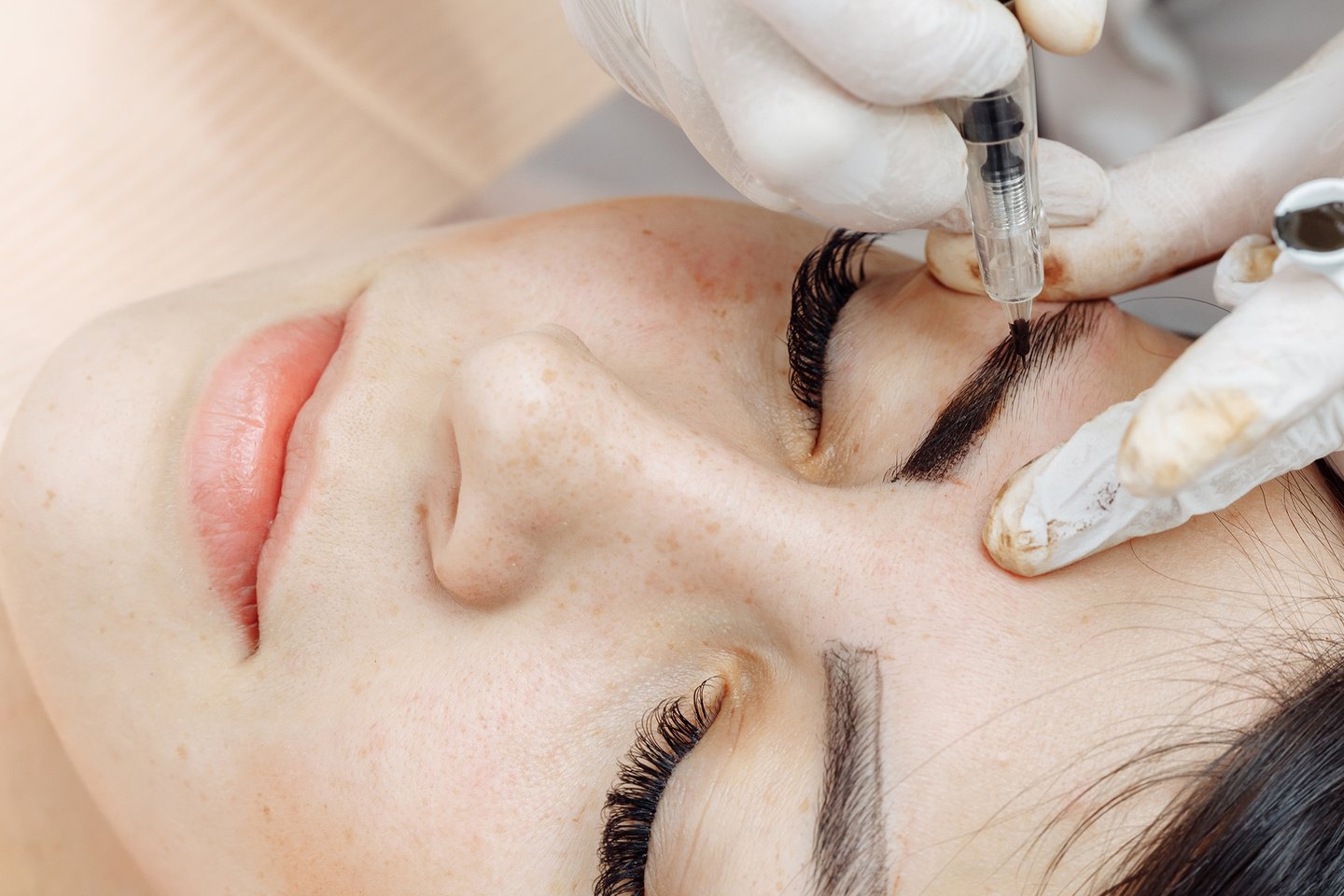 Choosing color palette
The main purpose of eyebrow feathering procedure is to make well-shaped and visually bushy eyebrows look as natural as possible.

For that reason before making the brows of your dreams you will have a consultation with the chosen master. During the appointment, you will discuss and choose the most popular brows shape and color.
Permanent makeup artists consider your hair and skin colors to find the most natural tone. For that reason, it is essential to find an experienced specialist who applies only high-quality pigments and disinfected tools.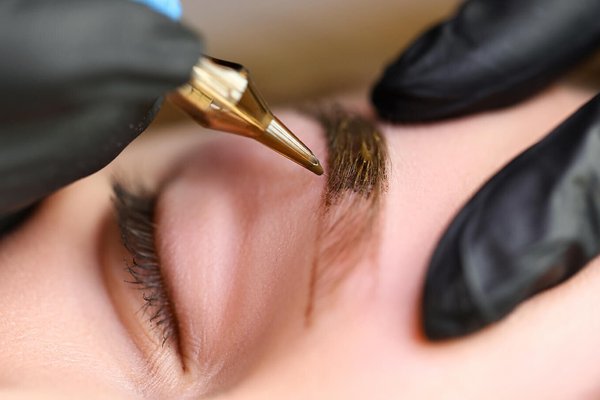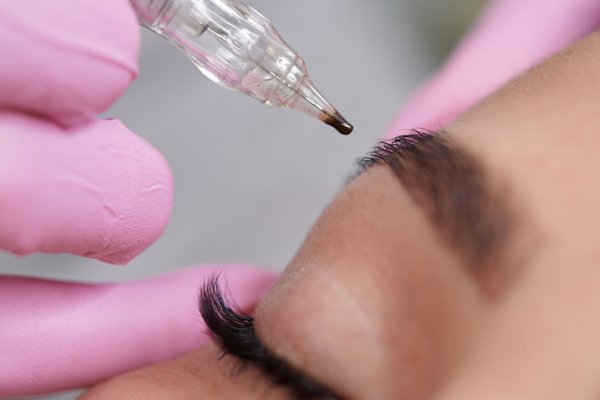 Eyebrow feathering tattoo
healing and aftercare peculiarities
The eyebrows healing usually takes between 5 and 7 weeks.

During this period, your brows will change from very dark to natural color. Don't be afraid because of slight swelling or itching. Such body reactions are absolutely common for skin rehabilitation. All these discomfort feelings will diminish 14 days after the procedure.
After the feathering tattoo procedure, you are not recommended to:


Sunbathe, visit sauna, and take long showers;

Rip off the scabs;

Wet the operated area;

Apply cosmetic products that are not agreed with your master.


To avoid inflammation and complications, wash eyebrows with antibacterial soap or saline 3 times a day. You should also avoid picking the scabs and sleeping on your stomach. These simple tips will help you gain high-quality and long-lasting results.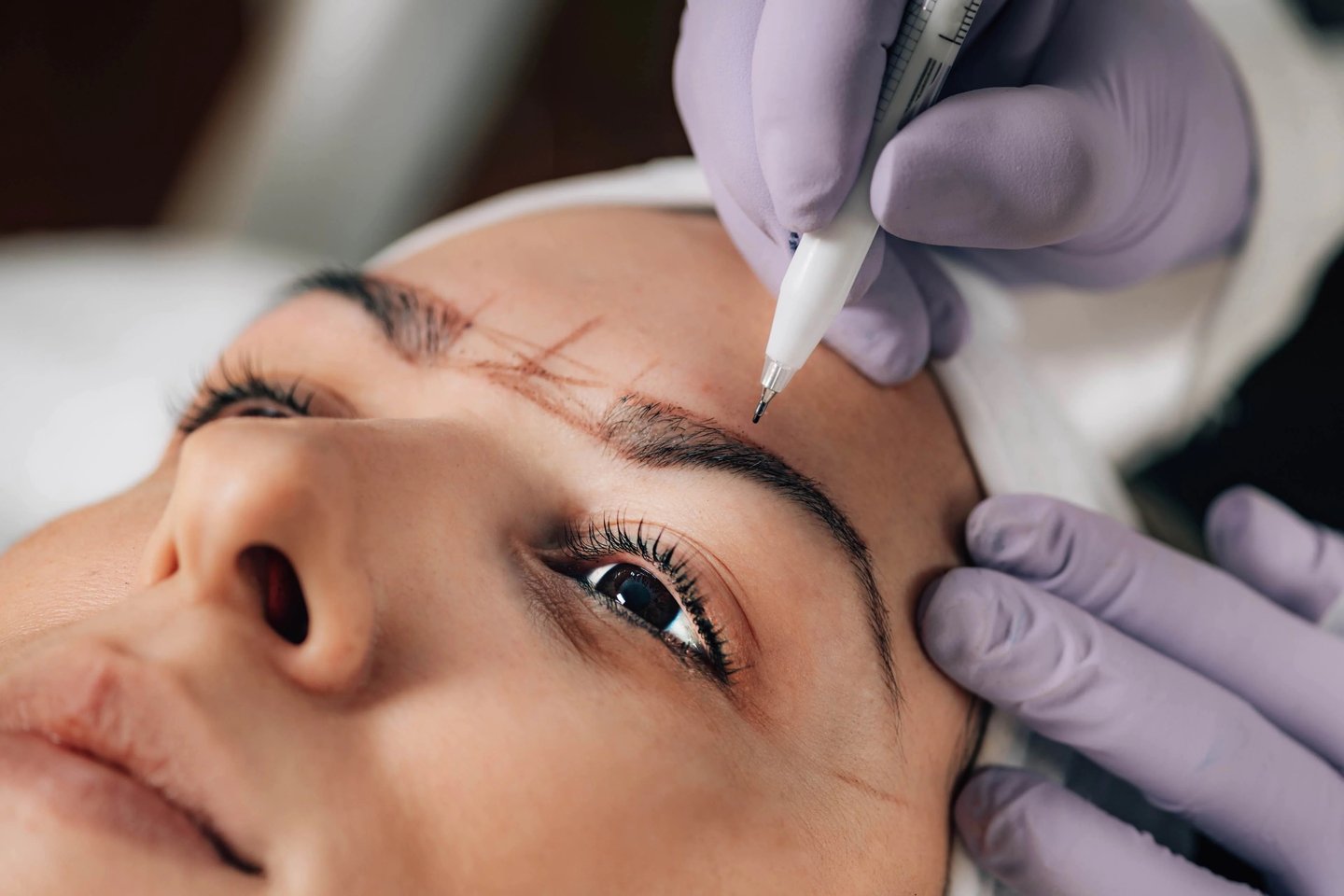 The advantages
of eyebrow feathering
Natural look

Eyebrow feathering is the most natural looking microblading type, since it aims at improving existing brows shape. With the help of a tattooing machine, a permanent makeup master makes skin cuts that imitate natural hair. After the procedure, your brows will look as if they have light makeup.

No faded colors

The pigment gradually fades over time but preserves its original color without changing the color in blue or red. It is explained by the high quality of pigments used for eyebrow feathering.

Good makeup base

The feathering tattoo emphasizes the natural beauty of the face and places image accents. At an affordable price, the client receives the perfect base for further development of their image. And if desired, the shading effect can be made more vivid and expressive with the help of an eyebrow pencil and shadow.

It is permanent

Permanent makeup is not a tattoo. The feathering tattoo effect is visually seen no longer than 2-3 years. And if you are tired of the eyebrow color or shape, you don't need to remove it. You can wait until the color fades or visit your master to make some corrections.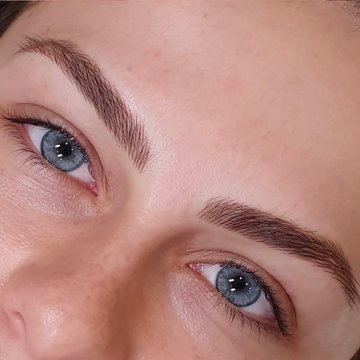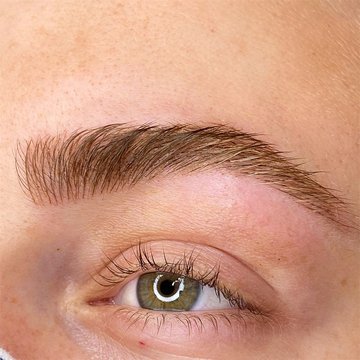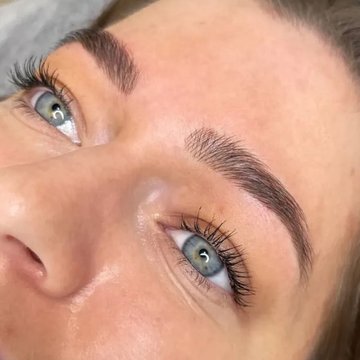 Drawing the line
Eyebrow feathering tattoo is an efficient way to get natural bushy brows and forget about eyebrow pencils and shadows for 2-3 years.

The procedure is safe and relatively easy to bear. So, your main task is to find an experienced permanent makeup master with a rich portfolio and follow professional advice from this person.