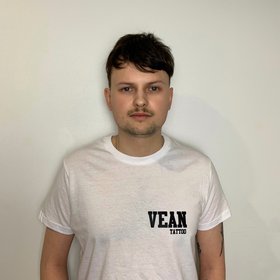 Evaldas Izotovas
City: Wolverhampton
Начало карьеры: 2015 г.
Current VeAn artist
Features:
Certified

Member of the tattoo association
Styles:
Old School
Neo-Traditional
Linework
Minimalism
Geometry
Japanese
Graphics
Traditional
New School
Dotwork
Information:
Hi everyone, my name is Evaldas.
I work in the tattoo industry because I've been drawing since I was a kid, I got interested in tattoo culture when skateboarding and graffiti came into my life and I always dreamed about getting my first tattoo.
Eventually I got too interested and became a tattoo artist myself.
I started 8 years ago, learning from my own mistakes, then I started studying with the best tattoo masters, learning academic drawing with them at night and then basically starting from scratch.
I work in dotwork, old school, neo-traditional, linework, traditional, new school, minimalist, graphic, geometric and Japanese styles.
I welcome anyone who wants to do something original and just talk :)